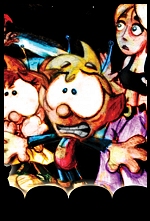 Right now, I'm in Montreal, Quebec – deep in the French heart of Canada – Best Manning a wedding of a good friend of mine, because he made me. The bastard. I'm not all that keen on traveling, and I'm even less keen on traveling to Canada, but the aforementioned bastard used our friendship against me, so in Canada I am, far from this here shopping guide (which I am, FYI, writing ahead of time, since the duties of a Best Man are incredibly time-consuming and leave little ability to do important things, like this guide). Barring running away with the bride, I should be back next week. Until then, let's get this sucker rolling…
I still don't know what the hell they were thinking with that godawful batsuit, but there's plenty of cool conceptual art and designs to be found in the hardcover The Art of Batman Begins: Shadows of the Dark Knight (Chronicle Books, $40.00 SRP), detailing the evolution of everything from the look of Gotham to the new take on the Batmobile.

Stripes remains a seminal film in the devilment of any young man reared in that bygone age known only as "The 80's." It's up there in the same pantheon as Ghostbusters, Caddyshack, Vacation, and The Blues Brothers, all of which are landmark – and lasting – comedic achievements. I don't think we necessarily need the extra 18 minutes contained in the Stripes: Extended Cut (Sony, Rated R, DVD-$19.94 SRP), but the good news is that they don't hurt the film – and more Bill Murray is always welcome. For purists, the original cut is featured as well, in addition to a brand-new retrospective documentary featuring newly-recorded cast interviews (including the elusive Murray). Now snap to attention, and begin belting "There she was, just a-walkin' down the street, singin'…"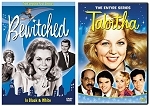 Signs are not pointing to a very good outing for the big screen version of Bewitched, but I don't much care since it facilitated the DVD release of the original series, starring Elizabeth Montgomery as homemaker/mother/sorceress Samantha Stephens as she tried valiantly to follow her husband Darrin's wishes and keep her powers a secret. Still funny after all these years, it's a must have set for those reared on early Nick at Nite. Sony has taken the unusual route of releasing not only the original black & white versions of the show's first season (it didn't go color until season 2), but also has released a separate set featuring the colorized versions of those episodes (Sony, Not Rated, DVD-$39.95 SRP each). Not really sure about the reasoning, but I don't much care as long as the B&W is available. Bonus features include a retrospective featurette and bloopers. And for the real completists, they've also released the entirety of the short-lived (and not very good) late-70's spin-off Tabitha (Sony, Not Rated, DVD-$29.95 SRP), which followed magical hijinks of Samantha & Darrin's now-grown daughter and her mortal brother Adam. You hear that, Fox? Now you have to release After M*A*S*H.
As genre programming goes, the modern relaunch of The Outer Limits was to Showtime what Tales from the Crypt was to HBO – though without the accolades and A-List talent. Which is a shame, because there was some good sci-fi being done over at Limits, which you can experience in the 6-disc Outer Limits: The New Series collection (MGM/UA, Not Rated, DVD-$69.96 SRP). Of the 36 episodes featured, the real standouts are Leonard Nimoy in a rather faithful (imagine that!) adaptation of "I, Robot" and Meatloaf as a Confederate colonel who terrorizes two Civil War re-enactors inexplicably thrown back in time. Good stuff. Each disc features documentaries and behind-the-scenes featurettes.
You know, I really hate the type of book that refuses to be put down after you pick it up. You know the type – interesting, engrossing… It holds you by the throat and won't let go. Well, Carl Gottlieb's The Jaws Log (Newmarket Press, $15.00 SRP) is just such a book. If you don't automatically recognize Gottlieb's name, he's an actor (in Altman's M*A*S*H) as well as a screenwriter. One of those writing jobs just happened to have been one of Spielberg's greatest films – Jaws. This book is essentially Gottlieb's diary during the year-long production ordeal. Revelatory is too weak a word to describe just how much information and insight is packed into this tome, recently re-released in a 30th anniversary edition. If you're a fan of Spielberg, Jaws, or just tales of Hollywood behind-the-scenes, then check this book out.

Shockingly, the additional gore found in the unrated version of Kevin Williamson and Wes Craven's spectacular horror misfire Cursed (Dimension, Not Rated, DVD-$29.99 SRP) in no way makes the film any more watchable, intelligible, or enjoyable. Which is sad, really, because the idea of the massively-foreheaded Christina Ricci going all feral would seem to be such a draw. Bonus features include behind-the-scenes featurettes and selected scene commentaries with SFX Makeup supervisor Greg Nicotero and actor Derek Mears (which, from an informational standpoint, is the most enjoyable part of the entire disc).
The 5th season of HBO's Oz (HBO, Not Rated, DVD-$64.98 SRP) was not the brutal prison drama's finest hour, but even sub-par Oz is a far sight better than most of the chum to be found on the boob tube. Season 5 finds the inmates living in the newly redesigned post-fire Emerald City, still full of the piss and vinegar we've come to know and love. The 2-disc set features audio commentary on the episode "Impotence" and deleted scenes.
Coach Carter (Paramount, Rated PG-13, DVD-$29.95 SRP) is another entry in the long line of flicks that present tough-as-nails coaches who whip their troubled teams into shape by making them better people through a firm hand (and usually based on a true story). Beyond that, all you have to know is this one stars Samuel L. Jackson as the eponymous coach, and he does a lot of firm-but-loving yelling. Bonus materials include deleted scenes, a music video, and a pair of featurettes.
Setting aside all of the myriad personal baggage attached to George Jones the person, there's no denying the visceral music of George Jones the performer and country legend. And, as befitting a legend, there are a slew of superstars that have lined up to duet with him over the years, most of which are featured on the expanded 2-disc reissue of his 1979 album My Very Special Guests (Epic/Legacy, $29.98 SRP). Those guests include Elvis Costello, Merle Haggard, Willie Nelson, B.B. King, Alan Jackson, Johnny Cash, Ray Charles, and over two dozen more.

Obviously attempting to cash in on his raised Bat-profile, we've got an Uncut Killer Collector's Edition of American Psycho (Lions Gate, Not Rated, DVD-$19.98 SRP), featuring Christian Bale as yuppie killer Patrick Bateman. The new bonus features include an audio commentary with director/co-writer Mary Harron and actor/co-writer Guinevere Turner, deleted scenes, "The 80's Downtown" featurette, a behind-the-scenes documentary detailing the journey from book to screen, and a video essay titled "The Pornography of Killing."
No one will confuse Hostage (Miramax, Rated R, DVD-$29.99 SRP) with fine cinema, but as an action/thriller, it punches enough buttons in its overwrought glory to make for a mostly satisfying (if numbing) night in front of the TV. Bruce Willis stars as John Mc… ummm… Jeff Talley, a former big city hostage negotiator who thought he'd left the stress behind after accepting a small town police chief job – but then a random crime escalates into a standoff, and yadda yadda yadda… you know the drill. Bonus features include audio commentary with director Florent Siri, deleted & extended scenes with optional commentary, and a behind-the-scenes featurette.
As manufactured but not quite as musically gifted in the songwriting department, there's an endearing bubblegum pop to The Partridge Family which is inescapable… You will hum this stuff, whether you want to or not. Check out the 17-track Come On Get Happy: The Very Best of The Partridge Family (Arista/Legacy, $11.98 SRP) and experience the addictive emptiness for yourself.