Another week draws to a close, and prep begins for yet another out-of-town jaunt, this time to sunny San Diego and supremely aggravating Comic-Con. Hey – you try and navigate your way through 60,000 people on a convention floor.
It's not available in stores yet, but you can pick up the complete third season of The Kids in the Hall directly from KidsInTheHall.com (A&E, Not Rated, DVD-$59.99 SRP). This time around, the 4-disc, 20 episode set features such classic skits as the flying pig, Chicken Lady spotting Rooster Boy, Mississippi Gary singing the after-death blues, and a man accusing himself of sexual harassment. Bonus features include audio commentaries with the kids on the two best-of compilations from the season, more classic live footage from the Rivoli Theater, and a slide show.
The third season of Monk (Universal, Not Rated, DVD-$59.98 SRP) shall henceforth be known as the season in which a brilliantly quirky series faltered after the firing of one of its key characters. Halfway through the season, actress Bitty Schram (Sharona Fleming) was dismissed and replaced with a carbon copy character that paled in comparison to Sharona's chemistry with the titular detective – which is a true shame, because this is a show that could have had some real legs if the writers didn't get lazy and the producers didn't get cheap. Bonus features include interviews with the cast and behind-the-scenes featurettes.
Admittedly, part of the enjoyment of watching hyper-cheeky chef Jamie Oliver in Jamie's Kitchen (Capital Entertainment, Not Rated, DVD-$29.98 SRP) is the wait to see if it all goes disastrously wrong. That brink of disaster is brought about by Oliver's decision to staff his newly-opened, first restaurant with 15 unemployed kids as chefs in order to prove his theory that passion for food is more important than formal qualifications. Truly brilliant TV.
I have some serious issues with the cinematic abomination that is Marvel's big-screen desecration of the Fantastic Four, but I was able to get the sour taste out of my mouth with the classic Lee/Kirby stories contained within the six available Marvel Masterworks volumes focusing on the fabulous foursome (Marvel, $49.95 SRP each). From their cosmic ray-spawned origin and tussle with the Mole Man in FF#1 all the way through Dr. Doom's wresting of the power cosmic from the Silver Surfer (concluding in issue #60), it's all here – including the FF's epic first battle with the world-devourer Galactus, the marriage of Reed & Sue, the Frightful Four, Namor, the Puppet Master, and much, much more. By golly, this *was* the World's Greatest Comic Magazine! What in the hell happened to the movie? Forget about it… Pick these up, along with the 4 FF Visionaries: John Byrne volumes, and you'll be feeling better in not time.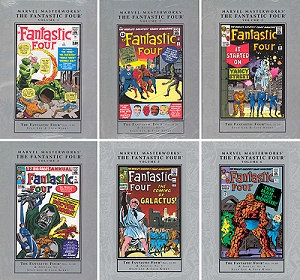 Hogan's Heroes found levity in the second World War, and M*A*S*H managed to do the same for the Korean conflict, but Vietnam has been a tough nut to crack on TV, be it comedy or drama. Besides China Beach, the only other show that approached the subject was Tour of Duty. Focusing on a group of diverse characters as they brave the Southeast Asian terrain, it played like the TV version of Platoon – and managed to pull it off. Wit the release of the third and final season (Sony, Not Rated, DVD-$49.95 SRP), you can now watch the entire run in one go.
There's something eerie about watching the footage found in World War I In Color (Capital Entertainment, Not Rated, DVD-$39.98 SRP). The "Great War" has always – without exception – been a black & white war in most people's minds. Even WWII has only recently become a color war, but the footage contained in this set is a revelation. Honestly, just pick it up and watch.
After wrapping up the first season, we're now into the first season 2 volume of the expanded Starburst Editions of Farscape (ADV, Not Rated, DVD-$24.98 SRP), which collects the first 7 episodes of season two on 2 dual-sided discs, with all the original bonus materials plus a few surprises, including the "Re: Union" episode for the first time on DVD.
Sony Legacy's nicely comprehensive 2-disc Essential collections keep on rolling, this time with a country legend and a big band icon. The Essential Dolly Parton (RCA/Legacy, $24.98 SRP) features 37 career-spanning tracks, from "Coat of Many Colors" right up to her wonderful cover of "Shine." The other must-have is The Essential Glenn Miller (Bluebird/Legacy, $24.98 SRP), the very epitome of the big band sound (with tunes including "In the Mood" & "Over There," how would you describe it?).
What do you get when you team Robert De Niro and creepy wunderkind Dakota Fanning as a recently mother-less father- & daughter whose upstate New York retreat is playing the mental heebie-jeebies on them? Hide & Seek (Fox, Rated R, DVD-$29.98 SRP) - a limp thriller that never manages to come alive and realize that the real scare-fest is in Fanning's preternatural performances. Bonus materials include not one, but FOUR different endings, an audio commentary, deleted/extended scenes, rough conceptual sequences, and a making-of featurette.

For many, the only reason they'd ever think of watching Prozac Nation (Miramax, Rated R, DVD-$29.99 SRP) – the true story of writer Elizabeth Wurtzel's disaffected formative years – is because it has the now legendary nude scene featuring Christina Ricci (look at the cover – they know what's going to sell this thing). Other than that novelty, the movie has nothing going for it, sadly. Great scene, though. Bonus features include the Anatomy of a Scene spotlight on the film.
Although everyone brought the best game they could to it, there's was just no click to the US version of the UK crime drama series Cracker, which starred Robbie Coltrane as the flawed police psychologist Gerry "Fitz" Fitgerald. For the American version, the late Robert Pastorelli took on the role of Fitz, and while he does a great job, it just doesn't measure up to Coltrane's original (which is no fault of Pastorelli – the character is just so perfect in Coltrane's hands that it's hard to accept anyone else). If they had done a completely original series, I think it would have been a hit, because the burden of translating a successful foreign series is a path fraught with danger. The Cracker set (Tango, Not Rated, DVD-$39.98 SRP) features all 16 episodes of the short-lived series.

The only thing really missing from the otherwise superb documentary The History of Talk Radio (Kultur, Not Rated, DVD-$19.99 SRP) is a look at the recent rise of "liberal" radio with the introduction last year of Air America. That's not the documentary's fault, however, since it was made when the airwaves were still wholly the domain of Limbaugh, North, and Schlessinger – all of which are featured here, along with Larry King, G. Gordon Liddy, Imus, Howard Stern, and more.
By now, any collaboration between Tim Burton and Danny Elfman is going to have its own eccentric, overly familiar quality, and the score to Charlie & The Chocolate Factory (Warner Sunset, $18.98 SRP) is no exception. But there's something to be said about sonic comfort food in a movie about an eccentric candymaker.

Stephen King hasn't had the best of luck – when you stack up the totality – when it comes to adaptations of his work. For every Shining you've got a Children of the Corn. Quicksilver Highway (Anchor Bay, Not Rated, DVD-$14.98 SRP) is a made-for-TV anthology of a pair of King's short stories – "Chattery Teeth" and "The Body Politic". While mostly mediocre, writer/director Mick Garris (who did so very well with The Stand) tries his best, and it does manage to have Christopher Lloyd as the disturbing storyteller, but it never quite amounts to anything more than a distraction. The disc features an interview with Matt Frewer and an audio commentary with Garris and his wife Cynthia.