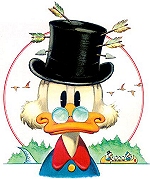 This week's column is pretty darn close to the definition of a "quickie," for the very acceptable reason that I'm currently embroiled in the full-motion nightmare that is the San Diego Comic-Con. If there were ever a vote proffered to add another level to Dante's vision of hell, I'd certainly cast mine for this headache of all cons. But c'est la vie, don'tcha know.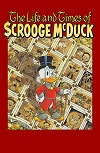 My top recommendation goes to the deluxe trade paperback reprinting of Don Rosa's Life & Times of Scrooge McDuck (Gemstone, $16.95 SRP). Taking all the threads and nuggets of trivia the legendary Carl Barks wove into the original tales of Duckburg's adventurous tycoon, Rosa crafts a linear rise of the greatest (and most wealthy) of the McDuck clan. The trade also includes Rosa's notes and commentary, as well. Now, if we could only get a hardcover collector's edition featuring this material plus all of the supplemental stories Rosa has added through the years, I'd be a happy Duck fan.
A deluxe collection celebrating the cinematic triumph that were the Bill & Ted flicks has been a long time coming, but the wait is over with the 3-disc Bill & Ted's Most Excellent Collection (MGM/UA, Rated PG, DVD-$29.98 SRP). From their initial jaunt through history to their encounter with death, it'' all here -–plus a bonus disc featuring a brand-spanking-new making-of documentary, a conversation with the screenwriters, an interview with guitarist Steve Vai, an air guitar tutorial, a gallery, video dictionary, radio spots, and the premiere episode of the cartoon series. Excellent!

Eager to get rid of the bad taste Marvel's live action Fantastic Flop… er… Four left? Dig into the complete run of the 1994-95 animated series (Buena Vista, Not Rated, DVD-$49.99 SRP). The first season was largely forgettable, but the second season was full of gems, most of which were adapted from classic Lee/Kirby and John Byrne FF stories.
In the grand tradition of double-dipping "Unrated" editions, add to the list an expanded cut of the 21st century's attempt at both Caddyshack and Meatballs – Dodgeball (Fox, Not Rated, DVD-$26.98 SRP). In addition to the restored and expanded scenes, there's a brand-new commentary (with Ben Stiller, Vince Vaughn, & writer director Rawson Marshall Thurber), 9 deleted/extended scenes with optional commentary, uncensored footage of the Dodgeball Dancers, bloopers, and more.
After their surprisingly ingratiating turn in Amelie a few years back, (unbelievably cute) star Audrey Tautou reunites with director Jean-Pierre Jeunet for A Very Long Engagement (Warner Bros., Rated R, DVD-$29.95 SRP). Faced with notice that the love of her life has died on the Somme front in 1919, 19 year-old Mathilde (Tautou) refuses to accept what she's been told. Instead, she decides that she will seek him out, defying the facts around her because she believes in her heart that she would know if he's dead. The 2-disc set features an audio commentary with Jeunet, a making-of featurette, "Paris in the 20's" featurette, and deleted scenes with optional commentary.

Making its DVD debut after the final set of its spin-off Xena, Hercules: Season 6 (Anchor Bay, Not Rated, DVD-$39.98 SRP) wraps up Kevin Sorbo's adventures as the legendary adventurer in fine form, although it's quite evident the steam was going out of the series (as was Sorbo's enthusiasm). Bonus features include audio commentaries, interviews with the cast & crew, a K.N.B. EFX group featurette, footage from the wrap party, a behind-the-scenes look at the final episode, alternate/never used main titles, and a photo gallery.
Continuing the series of epiphanies striking the music industry in the age of online downloading, Universal has begun releasing a line of Chronicles releases (UM, $29.98 SRP each) – essentially, they're collections of three classic albums from a given group. The first trio of releases feature Tears for Fears (The Hurting, Songs from the Big Chair, & The Seeds of Love), Kiss (Kiss, Hotter Than Hell, & Dressed To Kill), and George Strait (Right or Wrong, Does Fort Worth Ever Cross Your Mind, &Something Special).
The recent spate of shark attacks in Florida this summer make the release of The Discovery Channel's Anatomy of a Shark Bite (Sony, Not Rated, DVD-$14.94 SRP) sadly ironic. The documentary recreates the terrible ordeal of Dr. Erich Ritter – whose severe bite from a 350-lb bull shark is the only shark attack on a human being ever caught on film. The disc also features the bonus "Shark Week" episode Future Shark.

I will say this about Million Dollar Baby (Warner Bros., Rated R, DVD-$29.95) – it's not as maudlin or overwrought as Mystic River. Still, all of the heavy hallmarks of a Clint Eastwood film are there in this flick that's disturbingly similar to the last entry in the Karate Kid series, as Hilary Swank again finds herself being tutored in an arcane martial art by a grizzled old man, with boxing replacing Karate this go 'round. The 2-disc set features a roundtable with James Lipton (featuring Swank, Eastwood, and Morgan Freeman), a look at the parallels between the film and real life boxer Lucia Rijker, a behind-the-scenes featurette, and the theatrical trailer. A 3-disc edition featuring the soundtrack is also available ($39.98 SRP).
Her whine can shatter glass and deafen dogs, but Fran Drescher's star turn in The Nanny (Sony, Not Rated, DVD-$29.95 SRP) was an inexplicable – and long-running – success. C'est la vie. The 3-disc set features all 22 first season episodes, plus a retrospective featurette and an interview with Drescher.
Does anyone not like Weekend at Bernie's (MGM/UA, Rated PG-13, DVD-$14.95 SRP)? It's nearly impossible… and I really don't know why. It just is. It's almost frightening.