Coming back from any long, grueling, but ultimately productive trip means one thing – a heck of a lot of catching up. San Diego's annual Comic-Con is always a draining experience, and when you add a trip up to LA on top of that (more on the coolness finalized on that trip will be announced in the near future), it's just absolutely deadening. But, as Queen said, "Show Must Go On"…
Yeah, yeah, yeah – I know I'm a week behind, but I was out of town, for cripes sake. I'm sure most of you have already picked up your copy of Harry Potter and the Half-Blood Prince (Scholastic, $29.99 SRP), the penultimate chapter in the Potter saga. Who would have thought that Snape would have turned out to be a muggle? Or that Dumbledore was a spy for Voldemort the whole time? Heck, even I didn't see the revelation that Harry was really a Dursley coming. Boy, that was out of left field. Admittedly, though, I did expect Hermione and Ron to find out they were brother and sister… That was sooo telegraphed. And it was a pleasant surprise when Sirius walked out from behind that curtain… I knew he couldn't be killed by a metaphor. Now, where's Book 7?
If you've never had the good fortune to see one of post-Python Michael Palin's excellent travel documentaries/adventures, there's no better place to start than with the latest, as Palin navigates the vertical ends of the earth in Himalaya (BBC, Not Rated, DVD-$49.98 SRP). The 3-disc set features all 3 programs, as well as copious amounts of excised footage and revealing audio commentaries with Palin himself. I hope BBC gets off their collective keester and releases the rest of Palin's travel catalogue in the very near future.
You can cry drama from here to the Ozarks, but it's my opinion that the finest film ever produced by HBO is The Pentagon Wars (HBO, Rated R, DVD-$9.97 SRP). Starring Cary Elwes and Kelsey Grammer in the unbelievably true story of the Army's money pit production of the Bradley Fighting Vehicle – whose development was marred by short-sightedness, graft, frugality, and sheer incompetence. It's a truly sobering look at the development process of the modern war machine – which is why it's so wonderful that the film is one of the funniest comedies I've ever seen. Criminy, how I love this flick. The DVD features an audio commentary with director Richard Benjamin.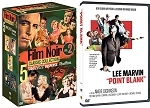 To sing the praises of Warner's remastered special editions at this point would certainly border on belaboring the point, but belabor it I shall, because they continua to do such a top-notch job with catalogue releases that most companies would simply dump and run with lackluster bare bones quickies. Case in point – the second of their "Film Noir" collections (Warner Bros., Not Rated, DVD-$49.92 SRP), featuring 5 genre keepers (Dillinger, The Narrow Margin, Born To Kill, Crossfire, and Clash By Night), all of which feature audio commentaries (John Milius talking Dillinger is priceless), with additional featurettes and trailers to boot. Pretty dang snazzy. And while you're at it, why not pick up the special edition of the classic Lee Marvin flick Point Blank (Warner Bros., Not Rated, DVD-$19.97 SRP), which is far better than its inferior Mel Gibson remake, Payback, and features an audio commentary with director John Boorman & Steven Soderbergh and a pair of vintage featurettes.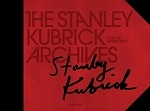 In this world, there are books, and there are BOOKS. The massive tome that is The Stanley Kubrick Archives (Taschen, $200.00 SRP) is just such a BOOK, and it revels in its exhaustive nature. Clocking in at over 500 pages, it's the most comprehensive look ever at the films, process, and mind of Stanley Kubrick, using his films – produced and unproduced - as the bones upon which to hang the story of a creative life. I've not always enjoyed Kubrick's films – in fact, there are a fair number I simply don't like at all – but there's never been any denying that they were, each and every one of them, exactly what he wanted to see on the screen. Full of photos, interviews, articles, and insights you'll only get from the Kubrick estate (including an audio CD with an early interview), the first edition has an even more enticing incentive for the true Kubriphile – a film strip taken from a 70mm print of 2001 owned by Kubrick. How can you possibly resist that?
The reason for the cancellation of Showtime's remarkably enjoyable Dead Like Me is still a mystery – it's not like they were overflowing with quality series. Still the 15 episodes featured in the second season (MGM/UA, Not Rated, DVD-$49.96 SRP) are the last we'll get - which is a damn shame, really, because how many other programs gave us the growing pains of a cute grim reaper? Bonus features include a pair of featurettes, deleted scenes, and a photo gallery.
No History Channel documentary has yet to even come close in approximating the incredible depth of the historical content and perspective offered up in 12-disc mega-collection The BBC History of World War II (BBC, Not Rated, DVD-$149.98 SRP). From the post-WWI unrest that led to the rise of the Nazi state, and the European political climate that facilitated it, right through the end of the war, this is about as comprehensive a set as you can possibly imagine. Also included is a 40-page booklet written by Greg Neale, founding editor of BBC History Magazine.
On the subject of war – and, to be more accurate, on the subjective nature of a war when you're actually on the ground – there's the documentary Gunner Palace (Palm, Rated PG-13, DVD-$24.99 SRP). Taken from the name of the bombed-out former Hussein pleasure palace which now acts as a base for US soldiers, Gunner Palace provides a first-person view of what it's like to actually be on the ground fighting in Iraq. Regardless of how you feel about the war, it's a fascinating document of an ongoing situation, and the people tasked with negotiating it. The DVD features deleted scenes and the theatrical trailer.

There's something not quite right with the world when Keanu Reeves is the best thing the big screen adaptation of DC/Vertigo's Hellblazer – renamed Constantine (Warner Bros., Rated PG-13, DVD-$30.99 SRP) – has going for it. It's unfortunate, really, since the elements are there to make a fine franchise out of the hell-fighting Constantine – but like Hellboy before it, the filmmakers can't seem to pull it all together. The 2-disc collector's edition features an audio commentary (with director Francis Lawrence, producer Akiva Goldsman, and screenwriters Kevin Brodbin & Frank Cappello), deleted scenes (including an alternate ending), a quartet of documentaries ("Conjuring Constantine, "The Production from Hell," "Imagining the Underworld," and "Foresight: the Power of Previsualization"), a music video, and trailers, plus an exclusive comic book featuring classic Hellblazer tales.
Compared to the relative disappointment that was the posthumous Genius Loves Company (admit it – it really was nothing to write home about, with much of its praise being more sentimental than accurate), the real genius duets are to be found in the re-release of Ray Charles' 1984 album Friendship (Sony Legacy, $ SRP). Focusing again on country music, the multi-talented Charles teamed up with legends including Willie Nelson, Johnny Cash, George Jones, and Merle Haggard, and the result is priceless. The remastered re-release features a pair of bonus tracks – "Baby Grand" with Billy Joel and "Everybody Has the Blues" with Tony Bennett.
Speaking of classic music, I get an endless kick out of anything that draws the curtain from in front of the creative process, revealing the machinations that led to the act of creation. That's why I enjoy the Classic Albums series, which takes viewers behind the process of landmark rock albums. In the past, I've recommended the releases focusing on Fleetwood Mac and Paul Simon, and this time I'm going to suggest you pick up the discs on Jimi Hendrix's Electric Ladyland and The Band's landmark eponymous album The Band (Eagle Vision, Not Rated, DVD-$14.98 SRP each)

Good golly, this a huge week for TV-on-DVD. How about if we hit all the highlights? First up, we've got a teaser "Best Of" collection to whet fan's schlock appetites for the premiere volume from the first season of He-Man and the Masters of the Universe (BCI, Not Rated, $24.98 SRP). Featuring 10 episodes from Filmation & Mattel's famous Conan knock-off, the 2-disc set also contains 2 brand new documentaries on the origins and creation of the show and its cast of memorable characters (a special shout-out to Orko is overdue, methinks).
If last year's Disney Treasures release of the very first week of Muickey Mouse Club shows from 1955 got you all keened out on seeing more of the 50's kiddie staple (my mom was a hat-wearing acolyte), then you'll probably want to pick up a copy of The Best of the Mickey Mouse Club (Walt Disney, Not Rated, DVD-$14.99 SRP), featuring 5 complete shows (two from '57, two from '62, and one from '64). If Annette and Cubby aren't your thing, try The Best of Britney, Justin, and Christina (Walt Disney, Not Rated, DVD-$14.99 SRP) which – as you might have guessed – focuses exclusively on the New MMMC era of those pop darlings, before they all went certifiably insane. Though if just a taste of the Mouse in question is all your jonesing for, grab hold of a brief overview of some of his finest early work via Vintage Mickey (Walt Disney, Not Rated, DVD-$19.99 SRP), sporting 9 classics including "Steamboat Willie."
I don't care what people say – I like Ringo Starr. I think he's the "fun" Beatle, providing music that isn't serious, schmaltzy, or spiritual – just a rockin' good time. I dug his last album, Ringorama, but I must admit that his latest, Choose Love (Koch, $17.98 SRP), has left me cold. Maybe it's because it doesn't seem terribly focused, or that the songs seem like jams more than tunes, but it there you go. I hope he can rebound on the next one 'cause, like I said, I loves me some Ringo.
Get your sci-fi fix with a trio of releases that run the gamut from schlocky entertainment to entertaining schlock. By the time we got to the third season of Sliders (Universal, Not Rated, DVD-$59.98 SRP) the cracks were beginning to show as the script quality slipped, but it still had John Rhys Davies – and dammit, anything with him is worth watching. How many of you remember all the Spielbergian hype that went into the premiere of the Amblin-produced Earth 2 (Universal, Not Rated, DVD-$49.98 SRP) back in the day, only to have to show sink without a trace after a single season? But Tim Curry was there, and that makes everything all right. The 4-disc set also features deleted scenes, a blooper reel, and bonus episodes of Sliders and Cleopatra 2525. Speaking of Cleopatra 2525 (Universal, Not Rated, DVD-$49.98 SRP), you can also on the complete series that bears the unforgettable tagline "The Fight For Earth Has Never Been Hotter!" How can you possibly resist that? The 3-disc set features deleted scenes, outtakes, and effects and stunts featurettes.
Don't let that stop you from picking up your very own copy of the astonishingly short first season of Tales from the Crypt (Warner Bros., Not Rated, DVD-$26.98 SRP). The 2-disc set features all 6 ghoulish inaugural episodes, featuring a brand-new introduction from the Crypt Keeper, an abbreviated version of Chip Selby's excellent Tales From the Crypt: From Comic Books to Television documentary, and a retrospective featurette on the first season.
I've never really warmed to the stories found in Genndy Tartakovsky's Samurai Jack, but there's no denying the beauty of its design and use of limited animation as a storytelling device rather than a hindrance. A rare and difficult accomplishment. The complete second season set (Warner Bros., Not Rated, DVD-$29.98 SRP) features a creator scrapbook, an episode pitch, and an audio commentary on "Episode XXV".
Nothing will brighten your weekend more than delving into the blatant, unsubtle life lessons to be found in the classic series of After School Specials (BCI, Not Rated, DVD-$12.98 SRP each), which are now available in a series of 6 "year" sets (1974-76, 1976-77, 1978-79, 1979-80, 1981-82, & 1982-86). Come on – don't you want to see Rob Lowe as "The Schoolboy Father"?


Screw you, Laguna Beach (Paramount, Not Rated, DVD-$38.99 SRP) for being yet another TV series to feature whiny rich teenagers complaining about the petty problems of their lives in paradise. These spoiled high-school seniors had cameras following them around, documenting their fabulous frailties for the Running Man audience that is MTV viewers. The first season set features deleted scenes, interviews, casting tapes, featurettes, and music videos.
And in this week's documentary corner – and in honor of the Kubrick spotlight above - we've got a pair of films that look at the creative impulse. The first is In the Realms of the Unreal: The Mystery of Henry Darger (Wellspring, Not Rated, DVD-$26.98 SRP). Darger was a janitor who had spent time in an asylum for feeble-minded children as a youngster and lived a relatively solitary life as an adult, but after he passed away in 1973, his landlady discovered an apartment full of nearly 300 paintings, some massive, and a fully illustrated epic novel. Using animation and voiceover, filmmaker Jessica Yu attempts to unravel the mystery of this self-taught, and undiscovered, genius. The other film is far funnier in a sort of American Movie kind of way. Put the Camera On Me (Wellspring, Not Rated, DVD-$24.98 SRP) is the story of filmmaker Darren Stein – specifically the filmmaker he was from the ages of 7 to 15 in the 80's. Tackling subject matter as surprising as child abuse to the Holocaust, Stein emerges as a director who managed – intuitively – to manipulate his friends in a way that's as shocking as it is familiar to anyone who experience the peer group politics of childhood. The disc features bonus short films, film festival Q&A sessions, and a trailer gallery.