Oy, the time flies! Where in the hol-lo-lo-ly heck has the summer gone? There's something criminally wrong with how fast it's disappeared… I mean, seriously – when I was a kid, the days just seemed to drag on and on… Until the last two weeks before school started, which seemed to rocket by. Stephen Hawking should look into that time dilation… Something in relativity must account for it… The Unified Theory of Summer can't be far off…

Before we get started, a quick programming note – be sure to check out The History Channel's supremely cool new series, Weird U.S., which premieres this Monday, August 1st, at 10pm/9c. Any show that investigates the urban legends, peculiar places, and strange stories that aren't written in history books is a must-see in my book.

Like a latter-day Mork & Mindy meets The Coneheads, 3rd Rock From the Sun featured an alien crew attempting to blend into human society. What set it apart from its predecessors was a brilliant ensemble cast headed by John Lithgow as High Commander Dick Solomon. Showing a complete willingness to go completely wacky in his performance (not seen since the preacher father in Footloose), Lithgow leads by example, and the rest of the troupe (including French Stewart, Kristen Johnson, Joseph Gordon-Levitt, and Jane Curtain) are up to the task. The 20 episodes comprising the first season (Anchor Bay, Not Rated, DVD-$39.98) prove the series hit the ground running, with none of the growing pains that usually hobble these initial TV-on-DVD sets. Bonus features include interviews with the entire cast, a behind-the-scenes featurette, TV spots, and a blooper reel. I can't wait to see the "Big Giant Head" episodes with Shatner in future seasons.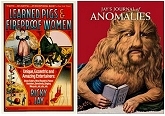 After devouring magician/historian/actor Ricky Jay's delightfully esoteric Extraordinary Exhibitions, I was delighted when NeedCoffee.com's Widgett Walls picked me up a pair of Jay's earlier books while on a recent jaunt to New York with his lovely wife Maegan. I would recommend both of those books – Learned Pigs & Fireproof Women (Noonday Press, $22.95 SRP) & Jay's Journal of Anomalies (Quantuck Lane Press, $25.00 SRP) – for anyone who wants a fascinating look at the heyday of sideshow eccentricities full of colorful entertainers.
Before they assembled into the ground-breaking comedy team whose influence is still felt to this day, the men who would one day form Monty Python worked on a pair of proto-Python sketch comedy series in the mid-60's - At Last The 1948 Show & Do Not Adjust Your Set (Boulevard Entertainment, Not Rated, DVD-£19.99 SRP each). Long thought wiped (the BBC practice of erasing tapes for reuse, regardless of the eventual historical importance of the programs contained on them), these 2-disc releases contain 14 recovered episodes, complete and uncut. With a cast list that includes John Cleese, Graham Chapman, Terry Jones, Eric Idle, Michael Palin, Marty Feldman, David Jason, Tim Brooke-Taylor, animation by Terry Gilliam (on DNAYS, which also includes musical performances by the Bonzo Dog Doo-Dah Band), these are true comedic treasures. Unfortunately, these releases are still only available in the UK, but they're well worth tracking down and picking up.

The episodes contained on the 3rd volume of Sealab: 2021 (Warner Bros., Not Rated, DVD-$29.98 SRP) are the last batch that managed the same sprit (and humor) that made me fall in love with the show in the first place. The demarcation point is the tragic death of actor Harry Goz, who provided the voice of the surreally hilarious Captain Murphy. After his passing, it's like the fight went out of the show… Watch the post-Goz eps on this set and you'll see what I mean. The 2-disc set features 13 episodes, plus the original pilot, an interview with Stormy Waters (political pundit), a pair of abandoned episodes, and audio commentaries (mostly gag).
Anyone who doesn't see Remington Steele (Fox, Not Rated, DVD-$39.98 SRP) as a clear primer for Pierce Brosnan's eventual inheritance of the Bond mantle must not have been watching too closely, as he's got the suave swagger down right from the start of the first season. As conceits go, RS's was a doozy – female PI Laura Holt can't get any clients, so she decides to remake her agency for a chauvinist world, changing the name to the "Remington Steele Agency," headed by the fictional Mr. Steele. What throws a wrench into her plans is the arrival of a man claiming to be Steele… Now come on, isn't that a brilliant 80's turn? The 4-disc set features all 22 first season eps, plus commentaries on a trio of episodes, and making-of featurettes.

You know, I actually enjoyed Not Another Teen Movie (Sony, Not Rated, DVD-$19.94 SRP)… which probably says more about the fatigue I was suffering from the late 90's/early 00's slew of teen "comedies" pelting our collective pop-conscious than any of the merits of the film. Still, you can double-dip back into that reactionary flick with the new unrated director's cut, loaded with 10-minutes more off-color funny, nudity, and giggle-inducing social satire. The disc also contains brand-new bonus features including a trio of behind-the-scenes featurettes, the uncensored Marilyn Manson "Tainted Love" video, director Joel Gallen's short film "Car Ride," audition footage, promos, and more.
Any film that begins by introducing Steve Martin as having been "born a poor black child" is a comedy classic from the word go, and so it is with Martin's big screen debut in Carl Reiner's The Jerk (Universal, Rated R, DVD-$19.98 SRP). The adopted son of a poor black sharecropper family, Navin Johnson (Martin) goes from rags to riches to rags on the back of an ingenious invention, and falls in love with a lady motorcycle racer. Trust me – you just gotta see it, particularly in its newly restored form.

Considering how many years it's been since the release of the first season, I despaired of ever seeing the second season of The Mary Tyler Moore Show (Fox, Not Rated, DVD-$29.98 SRP) on DVD. But lo and behold!, it's finally here, with bonus material to boot. Mostly recorded and compiled during the production process of the first set long ago, those bonus materials include audio commentary on select episodes, the brand-new documentary "8 Characters in Search of a Sitcom," the original 1973 documentary "Moore on Sunday," Emmy Award Show clips, another trivia challenge, the Mad Magazine parody of the show, a photo gallery, theme song karaoke track, and more. Finally! Get me season 3 before the decade is out, Fox… And bring Malcolm in the Middle: Season 2 with it…

High concept gimmick movies can go either way – they can be works of sublime genius, or confused, muddled messes. Twenty Bucks (Sony, Rated R, DVD-$24.96 SRP) – which follows a $20 bill from the ATM to the bank shredder, and all the lives it touches in-between - is of the former category. The gimmick works in large part to the cast – which includes Christopher Lloyd, Brendan Fraser, William H. Macy, Elisabeth Shue, Steve Buscemi, and Linda Hunt – with a few genuine surprises, and a lot of comedy, along the way. The DVD features a pair of audio commentaries with the cast & crew, and a pair of behind-the-scenes featurettes.
Xena fans who may have been hesitant to shell out the big bucks necessary to obtain all 6 seasons her mythical adventures will probably want to pick up the Xena: Warrior Princess 10th Anniversary Collection (Anchor Bay, Not Rated, DVD-$59.98 SRP), which features 16 fan-selected episodes from across the show's run, plus a bountiful bevy of extras, including interviews, audio commentaries, and featurettes – many of which are exclusive to this set (so even if you own all 6 seasons, you'll probably want to snag this as well).

Take your pop culture bucket to the kitsch well with a second season helping of The Brady Bunch (Paramount, Not Rated, DVD-$38.99 SRP). From Greg's science project to Jan's attempt to remove her "ugly" freckles with lemons (oh, the lessons you'll learn!) there's nothing finer than unfettered Brady-isms, looking better than anything you've ever seen in syndication.
Long maligned for admitted schmaltz like "Silly Love Songs" (which is intentional, ya philistines – listen to the words), I've mostly enjoyed the solo output of Paul McCartney. Not as artsy as Lennon, as spiritual as Harrison, or as happy-go-lucky as Ringo, Paul consistently charted a middle ground, regularly displaying the melodic hooks that drove many a Beatles hit. Those solo-era McCartney hits are celebrated on "Listen to What the Man Said" (Oglio, $11.98 SRP), which finds artists as diverse as They Might Be Giants, Semisonic, and Matthew Sweet taking on the tunes of the mighty Mac.

I'm still quite ticked that what is hands-down the most mediocre of all the Trek series manages to get the best range of extras in DVD form (Including bloopers! The irony!), but I shall refrain from repeating completely my utter hatred for the show if only to spare the feelings of the fans that it has. Suffice to say, those fans should be pleased with the 7-disc complete 2nd season of Star Trek: Enterprise (Paramount, Not Rated, DVD-$129.00 SRP), featuring audio commentaries on 2 episodes, a profile of Jolene Blalock, a spotlight on LeVar Burton's Trek directing, a retrospective on the 2nd season, an inside look at "A Night in Sickbay", deleted scenes, "Enterprise Secrets", and outtakes.
Frankly, I'm still enchanted by the world created by Kenneth Grahame in his classic tale The Wind in the Willows, and have been ever since I saw Disney's Mr. Toad's Wild Ride. The characters of Toad, Mole, Rat, & Badger continue their adventures in the second series set of Cosgrove Hall's wonderful stop-motion Wind in the Willows (A&E, Not Rated, DVD-$29.95 SRP) – which, if you haven't already, is well worth checking out.
It's fascinating to watch the History Channel's in-depth examination of arguably the 20th century's most influential president, Franklin Delano Roosevelt, in FDR: A Presidency Revealed (History Channel, Not Rated, DVD-$29.95 SRP). From his pioneering social reforms during the very depths of the Great Depression to his leadership during World War II, the ramifications of his landmark 3 terms in office are still being felt today, and this doc nicely dissects why, and how the challenges he faced compare to this post-9/11 world we find ourselves in. The 2-disc set also features a pair of A&E Biography episodes on FDR, plus a making-of featurette.

Be prepared for plenty more bawdy Brit humor with the third volume of the complete and unadulterated Benny Hill (A&E, Not Rated, DVD-$49.95 SRP), this time covering the years of 1975-1977. Yes, the laughs are often base, but sometimes a belly laugh is just necessary as an intellectual chuckle. The 3-disc set also includes the rare silent movie "Eddie in August."
While watching the "classic" 80's comedy (be aware, I use "classic" this way on films like Disorderlies and Summer School as well) Moving Violations (Anchor Bay, Rated PG-13, DVD-$14.98 SRP), you can't help but thinking that this is a perfect early 80's Bill Murray vehicle… which is probably why this late 80's flick stars Murray sibling John as a smartass sentenced to a character-filled traffic school, who runs afoul of a crooked cop and judge (Stacy Keach & Sally Kellerman) who plot to sell-off their impounded cars. The DVD even features an audio commentary with director Neal Israel… See, I told you it was a classic.
And speaking of Stacy Keach, he stars as the five-times-divorced, overbearing, abusive father of Christopher Titus in the criminally overlooked sitcom Titus (Anchor Bay, Not Rated, DVD-$44.98 SRP), which gets its DVD debut in a 6-disc set featuring the first two seasons. The set also contains audio commentaries, an interview with Titus about the real-world source of his comedy, a promo, and rehearsal footage.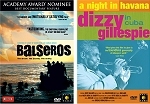 Balseros (Docurama, Not Rated, DVD-$26.95 SRP) is a slang term for Cuban rafters, and this documentary is the account of seven Cuban refugees as they risk their lives in shark-infested waters in pursuit of a better life in the summer of 1994. The film follows these refugees as they attempt to make a life in their new home – including some that, after being picked up by the U.S. Coast Guard, were detained at Guantanamo naval base for a year before being allowed onto American soil. On a somewhat lighter note (no pun intended), A Night in Havana: Dizzy Gillespie in Cuba (Docurama, Not Rated, DVD-$26.95 SRP) documents the famed bebop trumpeter's journey to the Cuban isle as headliner of the Fifth International Jazz Festival in Havana. Great doc, great jazz.

Anyone who claims not to watch even a snippet of America's Funniest Home Videos should they cross it whilst channel surfing is a complete and utter liar. Like any passing tragedy, it cries out for rubbernecking, and you can rubberneck to your heart's content with the 4-disc first volume of episodes from the show, featuring host Tom Bergeron (Shout! Factory, Not Rated, DVD-$39.98 SRP). Hey – at least it's not from the Saget years.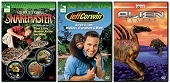 How about a trio of releases from The Discovery Channel and Animal Planet? First up is a pair of releases from two of Animal Planet's more popular hosts – Austin Stevens – Snakemaster: In Search of the Giant Lizard, Monster Rattler, & More and The Jeff Corwin Experience: Out on a Limb – Monkeys, Orangutans & More (Sony, Not Rated, DVD-$14.94 SRP each). Also available is the forward-thinking look at the odd forms of extraterrestrial life we may find one day on an Alien Planet (Sony, Not Rated, DVD-$14.94 SRP). The DVD also features extended interviews from Stephen Hawking, Jack Horner, and more. Faaaascinating.
It's taken a few years, but you can now pick up the complete 6th & final season of Dr. Quinn: Medicine Woman (A&E, Not Rated, DVD-$89.95 SRP). Containing all 22 episodes, the 6-disc set also features an audio commentary with stars Jane Seymour & James Keach on the episode "Point Blank," and cast biographies.

It still smacks of a Friends wannabe, but the UK series Cold Feet is ingratiating on its own merits, including an agreeable cast and writing that, while not brilliant, is certainly entertaining. The Complete 3rd Series (Acorn, Not Rated, dVD-$39.98 SRP) features all 8 episodes plus a photo gallery.