"Get up every morning slaving for bread, so that every mouth can be fed…" Yeah, it's another week, another shopping guide, another way to drop all the hard-earned money that could be going to much better use somewhere else – but won't, because it's so much more fun to drop it on toys, books, CD's, and DVDs. You know it's true… As a wise man once said, "Rama-lama ding dong." Admittedly, that wise man was completely nutters.
It's time to light the lights, as Disney finally manages to do something right by the Muppets and begin releasing long-awaited complete season sets of The Muppet Show (Walt Disney, Not Rated, DVD-$39.99 SRP). All 24 episodes are fully (and nicely) restored and remastered, and while the show didn't really find its footing until season 2 (when the nascent Piggy, Fozzie, and Gonzo found here finally gel into the characters we know and love), there's a lot of great material here. Finally learning the lesson the Henson Company never did, the set features some choice nuggets from the vaults, including the original (and truly hilarious) pitch for the show, original "Sex and Violence!" pilot, and original promo spots. Here's hoping future sets will give us the Muppets Valentine Show special, the Of Muppets & Men documentary, and – if all my wishes come true – the complete 1979 episode of The Tonight Show hosted by the Muppets. Come on, people… Make this happen.

If you want a harrowing look at Disney not doing right by The Muppets, than look no further than the abysmally bad Muppets Wizard of Oz (Walt Disney, Not Rated, DVD-$24.99 SRP), as Kermit and the gang get shoehorned into playing second fiddles to the glassy-eyed Ashanti in an adaptation of the classic children's story, while desperately trying to bring some of their classic appeal to an ill-conceived morass. Bad Disney. Bad. The DVD features outtakes, a behind-the-scenes featurette with Pepe, and an extended interview with Quentin Tarantino about the uber-bloody "Emerald Duel" excised from the film.
You can't get a bigger knife in my back that the big screen version of Marvel's classic hero quartet, The Fantastic Four. Reading the behind-the-scenes Fantastic 4: The Making of the Movie (Titan Books, $19.95/£14.99) is quite illuminating, revealing much of the hubris blended with sheer idiocy that made a trainwreck out of brilliant source material. Much better is Comics Creators on Fantastic Four (Titan Books, $17.95/£14.99), in which 14 of the artists and writers who have left their mark on the FF – including Stan Lee, John Byrne, Roy Thomas, Walter Simonson, Joe Sinnott, and Paul Ryan – discuss the creative forces that shaped their tenures with the "World's Greatest Comics Magazine."
So what would happen if you decided to make a TV show that combined the narcissism of American Psycho's Patrick Bateman with the greed and power-lust of Wall Street's Gordon Gekko – and that man was your protagonist? That show existed, albeit briefly, on Fox in 1996, and it was called Profit (Anchor Bay, Not Rated, DVD-$29.98 SRP). And it lasted 4 brilliant episodes before being cancelled. Even if audiences were ready for the corporate climb of charismatic sociopath Jim Proft, the network certainly wasn't. Well, you can judge for yourself now that the complete series is available on DVD – including 4 never-aired episodes – with interviews and audio commentaries.
The internet is chock full of lists and petitions full of people clamoring for this or that to get released on DVD. When it comes to older "classic" titles, there have been consistent and plaintive calls for the release of the classic flicks featuring sleuthing couple Nick & Nora Charles, AKA The Thin Man series. As portrayed by William Powell and Myrna Loy, the memorable series presaged everything from Hart to Hart and Moonlighting to Romancing the Stone and Mr. & Mrs. Smith. The 6 flicks comprising the series – The Thin Man, After the Thin Man, Another Thin Man, Shadow of the Thin Man, The Thin Man Goes Home, and Song of the Thin Man – are all lovably featured within The Complete Thin Man Collection (Warner Bros., Not Rated, DVD-$59.92 SRP), which also contains a bonus 7th disc featuring a pair of documentaries on Powell & Loy, and an episode each of the radio and TV series. There's another one to scratch off the request list.
It seems like every group and artist under the sun is getting a greatest hits collection from the Mighty Mighty Bosstones (Mercury, $9.98 SRP), Rick James & Friends (Motown, $9.98 SRP), and even a 2-disc overview from Cher (Geffen, $19.98 SRP) – which includes both her solo output and hits with Sonny. Also on my playlist is the 2-disc Reggae: Gold (Hip-O, $19.98 SRP), which contains the most infectiously wonderful reggae tune of all time – Desmond Dekker's "Israelites."
After the untimely death of Grateful Dead keyboardist Brent Mydland, the Dead's September, 1990 concert date was cancelled. At the last minute, though, the Jerry Garcia Band stepped in to fulfill the date, and what occurred was a rather poignant pair of sets that are captured in their entirety on Jerry Garcia Band: Live at Shoreline 9/1/90 (Rhino, Not Rated, DVD-$19.99 SRP), in 5.1 surround. The disc also features interviews with Robert Hunter and band members, plus a mini-documentary.
When arrogant businessman Malcolm King (Anthony Anderson) decides the only way to foil his ex-wife's impending divorce settlement windfall is to stage a kidnapping, his careful plan goes awry when he makes the mistake of depending on his intelligence-deficient mistress (Regina Hall) and her incompetent ex-con brother (Charlie Murphy). King's Ransom (New Line, Rated PG-13, DVD-$27.95 SRP) is one of hose comedies that, in the 80's, would be made classic by endless repeats on cable (you know who you are, Brewster's Millions). If we have only one thing to thank Dave Chappelle and Chappelle's show for, it's giving the world the joy of Charlie Murphy. The DVD features an audio commentary (with Anderson, Jay Mohr, and director Jeff Byrd) deleted scenes, a behind-the-scenes featurette, and a gag reel.
Call it soft rock, but I've still got a place in my heart for those mellow tunsemith's of the 70's – just not the Manilow or Orlando type. No, my threshold is the laid-back So-Cal rock of bands like the Eagles and America, whose hits included "Ventura Highway," "Tin Man" and the immortal tale of going through the desert on a "Horse With No Name." All those and more are contained in their 1979 concert film America: Live at Central Park (Capitol, Not Rated, DVD-$14.98 SRP). Even more than the performances themselves, it's a remarkable visual document of the city itself – always a plus. The DVD features an audio commentary with director Peter Clifton.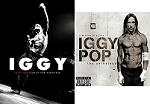 About as 180 from America as you can get is Iggy Pop and his concert film, Live at the Avenue B (Virgin/EMI, Not Rated, DVD-$19.98 SRP). Shot in Brussels and with a set that stretched all the way back to The Stooges – and backed by his ace band, The Trolls – it was a hardcore night to remember, brilliantly captured in 5.1 surround. Also available is the 2-disc A Million in Prizes – Iggy Pop: The Anthology (Virgin, $24.98 SRP), the perfect companion to the DVD.
Every time another batch of DVDs hits stores, my theory that eventually every TV show will get a release (at least until SAG works out residuals for disc sales) is reinforced. Want proof? This week we've got the release of the complete first & second seasons of Dennis Weaver as the fish-out-of-water cowboy deputy in New York, McCloud (Universal, Not Rated, DVD-$39.98 SRP), the complete first season of the sleuthing Police Commissioner and his significant sleuthing other, McMillan & Wife (Universal, Not Rated, DVD-$39.98 SRP), Fred Dryer in the complete second season of Hunter (Anchor Bay, Not Rated, DVD-$39.98 SRP), and the complete third season of Columbo (Universal, Not Rated, DVD-$39.98 SRP)… which even features an episode of the short-lived spin-off attempt, Mrs. Columbo.

The remastered reissues of the Herb Alpert & the Tijuana Brass continue with a trio of new releases – The Beat of the Brass, Sounds Like, & Herb Alpert's Ninth (Shout! Factory, $13.98 SRP each). I do love me some brass.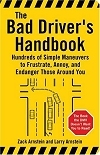 So, how do you use bribes to get your license? Or avoid tipping off other drivers with turn signals? Or get a good sleep while at the wheel? Maybe you want to scare the bejeebus out of pedestrians, or keep driving when you're blind as a bat? All these secrets and more are revealed in The Bad Driver's Handbook: Hundreds of Simple Maneuvers to Frustrate, Annoy, and Endanger Those Around You (Santa Monica Press, $12.95 SRP). Finally, a practical book.
It didn't exactly leave with a bang, but fans will be happy that, with the release of the complete 3rd season of Roswell (Fox, Not Rated, DVD-$59.98 SRP), they can finally have the full run of the alien teen drama that made Tabasco geek shorthand. The 5-disc set features all 18 eps, plus select episode commentaries, "Class of 2002" featurette, and "Shiri Appleby's DVD Tour to Japan" featurette.
Why has it taken for so long for Scarecrow (Warner Bros., Rated R, DVD-$19.97 SRP) to hit DVD? I mean, come on… It stars Gene Hackman and Al Pacino as a pair of hard luck drifters trying to rebuild their lives – one just out jail and one back from 5 years at sea and eager to see the child he's never seen – and heading cross-country. Both actors are at the height of their powers, and the film is a brilliant piece of Americana, like celluloid Steinbeck. Bonus features include a vintage featurette and the theatrical trailer.
If you want a perfect portrait of the price of freedom, look no further than Jonathan Demme's documentary portrait of the assassinated Haitian journalist and freedom fighter Jean Dominique, The Agronomist (New Line, Rated PG-13, DVD-$27.95 SRP). Assembled from over 10 years of footage, it's a fascinating look at the owner and operator of Haiti's only free radio station, and his struggles against the oppressive regimes it survived through, until his still-unsolved assassination in 2000.