Right now, I'm probably prepping for major shindiggery at this year's Dragon*Con in Atlanta, sitting in a hotel room and contemplating the next night's FilmFest with Widget Walls. Or I'm passed out from exhaustion. The latter is the safe bet.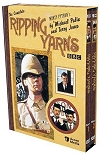 After Python wrapped, its 6 members went to the four winds, finding projects of their own to pursue, with the results being shows like Fawlty Towers & Rutland Weekend Television, and movies like Jabberwocky. Longtime writing partners and friends Terry Jones and Michael Palin, however, stuck together and mined the absurdly pulpy children's adventure novels of their youth. The resultant show was Ripping Yarns, an unfairly forgotten masterpiece of parody that evokes the worlds of those novels – from prison escapes and bullies to murder and high adventure – while exquisitely skewering them. All 9 episodes are featured in the 2-disc Complete Ripping Yarns (Acorn, Not Rated, DVD-$39.99 SRP), plus audio commentaries with Palin & Jones, a deleted scene, the Comic Roots feature on Palin from 1983, a restoration clip, and the option to watch the episodes sans laugh-track. Smashing good!
I'm okay with the double dip on The Blues Brothers for what is titled the 25th Anniversary Edition (Universal, Rated R, DVD-$22.98 SRP). Why? Well, not only does it contain the extended cut that made its debut on the original DVD, but it also sports the theatrical cut of the film – both of which also have been completely remastered. As far as bonus materials go, the documentary on the initial release is joined by an introduction to the film by Dan Aykroyd, interviews, a featurette on the many BB spin-offs, a remembrance of Belushi, and a behind-the-scenes spotlight on a BB concert. My only regret? Universal's love of the horrible flipper disc.
The hundreds of full-color images contained in Visions of Mars (Abrams, $29.95 SRP) are a breathtaking view of a once-alien – now almost familiar – world. Still, the more you see of the red planet, the more enticing its allure becomes. Maybe one day we can remember the joy of space exploration and get people excited again about boldly going…

Compared with the more mainstream antics of the show's black & white first season, by the time we get to the third (and final) season of Gilligan's Island (Warner Bros., Not Rated, DVD-$39.98 SRP) is a surreal, almost Fellinni-esque affair. You get Gilligan as Dracula & Hamlet, Mary Ann becomes Ginger, Phil Silvers washes up as a Hollywood producer, a Gilligan look-alike spy, and more insanity. Bonus features include a Sherwood Schwartz commentary on the aforementioned Silvers episode "The Producer," and "Gilligan's Island: A Pop Culture Phenomenon" documentary.

If you had asked me a year ago if Hugh Laurie would headline not only a great show on American TV, but also one that managed to avoid Fox's notoriously fast axe, I would said "No chance in hell." Well, there must be plenty of chances in Hades, because House (Universal, Not Rated, DVD-$59.98 SRP) is a wonderful show, spotlighting Laurie as the brilliant Dr. Gregory House, who has an abominable bedside manner with an amazing knack for saving patients. Good thing someone didn't ask to bet me. The complete first season contains featurettes on the concept, medical cases, Dr. House, a set tour, and Laurie's casting session.
While we're talking tact – or lack thereof – I can't help but mention the release of the most awkward talk show ever committed to tape, Knowing Me, Knowing You (BBC, Not Rated, DVD-$29.98 SRP). Host Alan Partridge (played to perfection by Steve Coogan) is equal parts ego, ignorance, & smarm, all of which are focused on making his talk show – a rolling disaster – a huge success. Nobody does awkwardness like the Brits. The 2-disc set features the complete 6 episode run, the Christmas special "Knowing Me, Knowing Yule," audio commentaries (sadly with no Coogan at all), Comic Relief segments, the original test footage, promos, and "Ruralan."

It may be a blatant attempt to cash in on what they thought would be the massive success of the Dukes of Hazzard flick (whatever happened to that?), but fans can get their inner redneck on with the Roscoe-baiting fourth season (Warner Bros., Not Rated, DVD-$39.98 SRP) adventures of Bo & Luke, as well as their bizzaro contractual counterparts. Clocking in at a massive 9 discs (thanks to a 27-episode season), bonus features include an audio commentary on "Double Dukes" (with Wopat, Schneider, & Bach) and "The Dukes Story" cast & crew featurette.
I've been waiting years for a reissue of the stereo mixes of the Motown classics to come out, and with the 4-disc Motown Box (Shout!/Motown, $59.98 SRP), my wait is over. Some of these tracks are even superior to the well-worn Mono originals, but that's all a matter pr personal taste (just as I prefer the Beatles Anthology version of "Ob-la-di" to the original White Album cut.
As brilliant and funny as ever, the fourth season of Curb Your Enthusiasm (HBO, Not Rated, DVD-$39.98 SRP) has become quite poignant after the passing of Anne Bancroft, who guest-starred in the finale with husband Mel Brooks as Larry David opened on Broadway in the Max Bialystock role in The Producers. The cameos were hilarious, and it's a nice button for a season that fired on all cylinders, as Larry stumbled and kvetched his way towards that Broadway debut, angering co-stars (accidentally spearing Ben Stiller in the eye is a classic comic moment), friends, and strangers alike. But why, oh why, are there no bonus features?
Though the show ended with an ego-meltdown, there's no denying the legacy – and hilarity – to be found through 90% of the run of Roseanne. The sitcom was a groundbreaking look at a working class family far from New York or LA – Lanford, Illinois, to be exact – and you couldn't help but feeling, with all their foibles, failures, bickering, and yes, love, that you knew (or possibly even were) the Connors. Thank goodness we're finally getting the show on DVD, starting with that landmark first season (Anchor Bay, Not Rated, DVD-$39.98 SRP) – which is packed with bonus features, including an interview with Roseanne, highlights, an interview with John Goodman, and bloopers. It'd be nice to have Roseanne's original Domestic Goddess stand-up special on a future release, if someone can find a way to make that happen.

Every generation has a guilty pleasure show, be it Dynasty or Melrose Place, and I think, with its second season pushing even beyond the already strained boundaries of the first, Nip/Tuck (Warner Bros., Not Rated, DVD-$59.98 SRP) has achieved that lofty perch most often occupied by shows produced by Aaron Spelling. From blind love and porn stars to life coaches with secrets bulging, season 2 was out to push plenty of buttons. The 6-disc set contains all 16 episodes, plus deleted scenes and a featurette on the three loves of Dr. Troy.

My grandmother is a big true crime buff, and the story of North Carolina author Michael Peterson's murder trial – he stood accused of murdering his wife, who was found in a pool of blood on the stairway of the couple's upscale Durham home – is one she would be fascinated by. Was it murder? Was it an accident? Documentarian Jean-Xavier de Lestrade is given unprecedented access to Peterson's lawyers, family, and home for his documentary series The Staircase (Docurama, Not Rated, DVD-$39.95 SRP), and the 2-disc set (featuring all 8 episodes as they originally aired on the Sundance Channel, plus bonus footage) is as gripping as any movie you've seen. The DVD also features additional interviews, a making-of documentary, and more.
Yeah yeah yeah – we all know the story of the ho-to-riches classic Pretty Woman (Touchstone, Rated R, DVD-$19.99 SRP), so what new do we get with this "15th Anniversary Edition"? Well, you get a brand new transfer, a new audio commentary with director Garry Marshall, footage from the wrap party, "The Pretty Woman Tour" of LA, the original production featurette, Natalie Cole's "Wild Women Do" video, a blooper reel, and the original theatrical trailer. So there you go.
In s bid to squeeze one more dollar from the fanbase, the 5 surviving Pythons (and one deceased) have all selected their favorite sketches to be presented in a series of 6 Monty Python: Personal Best collections (A&E, Not Rated, DVD-$19.95 SRP each). So how are they ensuring that they get those nickels & dimes out of you? Well, each Python (save for the dead one) have contributed new linking material for their respective sets. First out of the gate are the collections of Eric Idle (who reprises his reporter character, last seen in the Rutles sequel) and Michael Palin (who revisits, in character, the scene of the legendary fish-slapping dance). Sadly, the new linking material isn't stellar – age is a harsh mistress – but the material stands up as it always has.
Why did Disney have to go and ruin the warm fuzzies still lingering from their quite enjoyable Lilo & Stitch by cranking out another of their crass cheapie sequels? Why? Can anyone answer me? Why is there a Lilo & Stitch 2: Stitch Has a Glitch (Walt Disney, Rated G, DVD-$ SRP)? Based on the title, can you guess something goes wrong with the experimental killing machine AKA Stitch? Whoda thunk it? The DVD features a background featurette on Experiment 626 and a music video. It'd be nice if we actually got the long-promised deluxe edition of the original flick rather than this pap.

Long before the hot-tempered perfectionist tirades of super-chef Gordon Ramsay, there was Gareth Blackstock – the short-tempered head chef of the prestigious Le Chateau Anglais restaurant. A master chef with a microscopic fuse, both staff and customers are completely at the mercy of Blackstock's tirades. As Blackstock, Lenny Henry made his mark on the Britcom landscape, creating a character that has made it through three enjoyable series, all of which are contained in Chef!: The Complete Collection (Warner Bros., Not Rated, DVD-$59.92 SRP). Bonus features include interviews with Henry and co-star Caroline Lee Johnson and an appearance by Henry on BBC's Good Food Show.
Who cares about story when you can simply sit back and watch the amazing physical feats accomplished by martial artist Tony Jaa in Ong-Bak (Fox, Rated R, DVD-$27.98 SRP). The only true inheritor of Jackie Chan's "I can't believe he did that live!" crown, take a look at this flick and see and be amazed for yourself. The DVD features behind-the-scenes stunt footage, a live Tony Jaa performance, "The 8 Movements of Muay Thai," and a rap video with Jaa.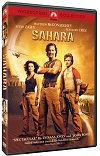 For anyone who thought National Treasure wasn't popcorn movie enough, feast your fried retinas on Sahara (Paramount, Rated PG-13, DVD-$29.95 SRP), when an adventurer (Matthew McConaughey), his wiseacre buddy (Steve Zahn), and a beautiful doctor (Penelope Cruz) set their sights on the ultimate treasure, and you'll never guess where it is. Like I said, it's brainless bombast, but after crap like Fantastic Four, it can only look better by comparison. The DVD features a pair of commentaries (from director Beck Eisner and Matthew McConaughey), a trio of featurettes, and deleted scenes with optional commentary.
In what can only be described as a tidal wave, HBO has decided to empty its vaults of 18 catalogue titles, including theatrical, but mostly their TV movies. With casts that include John Lithgow, Tom Berenger, Kevin Spacey, Rick Moranis, Phil Hartman, Eric Idle, Michael Caine, Burt Lancaster, James Garner, Bill Pullman, Martin Mull, Beau Bridges, James Coburn, Ben Kingsley, Gabriel Byrne, and more. The titles released are: Body Language, Traveling Man, Doomsday Gun, Loving Couples, Shot Through the Heart, Head Office, Arthur Ashe: Citizen of the World, Blue Ice, Go Tell The Spartans, Strapped, The Heist, Dead Silence, Mistrial, Dance With Death, Mom and Dad Save the World, The Second Civil War, Weapons of Mass Distraction, and The Late Shift (HBO, Various, $9.99 SRP each). Whew! Of the lot, the best of the bunch are the last four… But that's just my opinion… And it's right.


As he mulls another run for the presidency, you can watch the adaptation of Senator John McCain's memories of his war service Faith of My Fathers (Sony, Rated PG-13, DVD-$24.96 SRP). Surprisingly, it manages to be a nice little biopic with plenty of insight into what made McCain the man he is, including his time as a POW in Vietnam. The DVD also includes an interview with McCain on the set.

It's taken a while (and the release of most of the series individually), but we're finally getting a complete box set of all 9 outings of the long-running comedy As Time Goes By (BBC, Not Rated, DVD-$179.98 SRP), starring Judi Dench and Geoffrey Palmer as two lovers reunited after 40 years. The set features interviews and excerpts from Judi Dench's BAFTA tribute.