I'm back. Huzzah. The Needcoffee FilmFest went great, Dragon*Con was surreal as ever, and even the Adult Swim panel I moderated went off with only a minor hitch. Shock all around.

Before I jump into the deep end of a massive guide, let me give a hearty shout-out and recommendation to the amazing caffeinated Foosh Mints from Vroom Foods. With 100mg of caffeine in each winterfresh bite, it was the only thing that got me home safe after an exhausting jaunt down to Atlanta and a 9 hour drive home. Truly, these mints (and their chocolate cousins, Buzz Bites) are a miracle of food science.

It's been a few years since the fans began lobbying via their "Bring Back the Magic" campaign for Fraggle Rock DVDs, and they've finally arrived in complete season form. What's nice about the episodes contained within the Complete First Season (HIT, Not Rated, DVD-$44.99 SRP) is that the show hit the ground running, with even the shakiest of the early episodes clearly marking the patch the show would eventually take. Pitched as Jim Henson's show for world peace, it's still a stunning accomplishment that Fraggle Rock was never preachy, always fun, but with quite powerful lessons about friendship and understanding. And oh, the songs! Next only to Sesame Street, it's the children's show with the most stellar songwriting, and is just as listenable to adult ears as they were when I was a kid myself. Where HIT has also excelled with this set is the 50+ minutes of interview featurettes with most of the surviving principal performers, writers, and producers (hey, Jerry!). If that weren't enough, they've also thrown the original Down At Fraggle Rock behind-the-scenes documentary hosted by Jim on there, and included a reproduction of his original concept notebook. All I can say is that Season 2 – and a music box set – better be on its way soon.

If you're like me, you're still a bit pissed at the "Oh, come on!" ending of Lost's first season (Buena Vista, Not Rated, DVD-$59.99 SRP). Still, not since the pre-crap build of the X-Files has a cult show been able to suck audiences in with a dense mythology that teased and taunted more than it really answered anything, yet still attract a loyal (and sizeable) audience. As the second season premiere looms, now's the time to revisit the first season and scrape around for clues… Or just watch the scene of Hurley hauling-Hurley across that airport terminal trying to make the doomed flight. Crikey, I love me some Hurley. The 7-disc set features 4 commentaries, audition tapes, more featurettes than are humanly imaginable, deleted scenes, bloopers, the MoT&R Paley Festival spotlight, and much more. Sadly, lottery ticket not included.
As if their marvelous handling of the Complete Peanuts weren't enough to delight comics fans from here to Timbuktu, Fantagraphics has released the first volume of Hank Ketcham's severely underrated Dennis the Menace (Fantagraphics, $24.95 SRP). The first volume spans the period between the strip's 1951 launch to 1952, and even this early material is clearly the Dennis that became popular enough to one day spawn a TV show. They've also re-released Ketcham's autobiography, The Merchant of Dennis the Menace (Fantagraphics, $24.95 SRP). Now where in the hell is the complete Pogo, treated with the same care and reverence?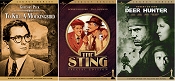 Following on the heels of other studios, Universal launches their Legacy Series of deluxe editions spotlighting classic films from their library with a trio of releases that definitely fit the bill, starting with the long-awaited 2-disc edition of To Kill a Mockingbird (Universal, Not Rated, DVD-$26.98 SRP). First and foremost, there's the remastered picture. The bonus materials - which include an audio commentary with director Robert Mulligan and producer Alan Pakula, an interview with actress Mary Badham, Gregory Peck's Oscar speech and AFI tribute, a making-of featurette, the theatrical trailer, and a massive documentary on Peck – are merely gravy on a stellar piece of film history. The other pair of flicks to get the gilded treatment are Redford & Newman's The Sting (Universal, Rated PG, DVD-$26.98 SRP), with behind-the-scenes featurettes, and Robert De Niro in the still powerful Vietnam-era The Deer Hunter (Universal, Rated R, DVD-$26.98 SRP), which includes an audio commentary (with cinematographer Vilmos Zsigmond & film journalist Bob Fisher), deleted/extended scenes, and the theatrical trailer.
If you're as thoroughly clueless about the world of wine as I am – and you happen to be a big Python fan – then there's no better teacher of the arcane world of the grape's fermented magic than John Cleese's Wine for the Confused (Koch, Not Rated, DVD-$19.98 SRP). From the importance of grape varieties, temperature, and soil to the art of developing a palette in determining which wine is the best for you, Cleese is an affable host. The DVD also features additional thoughts and tips from Cleese, as well as extended interviews.
Cleese is also features, along with a bevy of other Brit comic luminaries, in The Funny Blokes of British Comedy (BBC, Not Rated, DVD-$19.98 SRP), a clip show celebrating the finest men ever to engage in verbal surreality or blatant slapstick across the pond.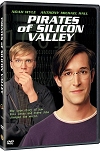 Not only was Pirates of Silicon Valley (Warner Bros., Not Rated, DVD-$19.98 SRP) a nice encapsulation of the rise and rocky relationship of Microsoft's Bill Gates and Apple's Steve Jobs, but it also marked the return of Anthony Michael Hall (whose performance as Gates is brilliant in its cutthroat nerdiness). The DVD features an introduction from Noah Wyle (whose Jobs manages to be even more cutthroat and evil than Gates) and a TV spot.

If bonus features are what you're looking for, the 10th Anniversary Edition of Toy Story (Walt Disney, Rated G, DVD-$29.99 SRP) is really not going to excite you much if you already own the Ultimate Toy Box edition that came out a few years back. No, you'll really want to snag this latest double-dip for the remastered picture and sound, which vastly improves upon that prior release. There are new bonus features to be found, though, including the "Legacy of Toy Story" featurette, deleted scenes, a sneak peek at Cars, and reminiscences from the production team – including the late Joe Ranft.
From Birth of a Nation to The Matrix, the mysterious power of film editing is explored in The Cutting Edge: The Magic of Movie Editing (Warner Bros., Not Rated, DVD-$14.98 SRP). Masters of the cut discuss their craft, a process that can mean success or failure by the frame, in a candid and revelatory doc that's sure to be on must-watch lists for aspiring filmmakers everywhere.
Ah, but the geekery continues with the first volume collecting the first season of that 80's catty classic, Thundercats (Warner Bros., Not Rated, DVD-$64.92 SRP). Featuring 33 of the first season's 65 episode run, the series looks and sounds better than it ever has before… Which is much-appreciated during those dramatic Mumm-Ra transformation scenes. Poor man's Skeletor? I think not. Not only that, but the bonus featurette features fans of the show… including Wil Wheaton. Yes. Wil Wheaton.
Please tell me you've begun listening to me and are starting to pick up the Disney comics that Gemstone has been putting out… Get off that damn superhero fixation and wake up to the classic stories of Carl Barks, Don Rosa, William Van Horn, and more. This month brings the deluxe Uncle Scrooge #345 & Walt Disney's Comics #660 (Gemstone, $6.95 each), and the regular edition Mickey Mouse and Friends #280 & Donald Duck and Friends #331 (Gemstone, $2.95 each). Come on, people! Restore my faith in humanity…


Anyone who thinks the Valerie Plame case was the first in which a CIA operative's identity was revealed for political purposes will want to read My Father the Spy (Harper Collins, $24.95 SRP), John Richardson's investigative memoir of a father he didn't really know until much later in his life, who was a founding member of the CIA, a cold warrior, and a pivotal player in the overthrow of the South Vietnamese government – as well as being a father of two children. Just for its portrait of an operative's double-life as a husband and father, it's worth picking up the book.
Okay, by the time you got to the 3rd season of 21 Jump Street (Anchor Bay, Not Rated, DVD-$44.98 SRP), you couldn't but wonder at the IQs of kids who still believed the 40 year-old undercover cop in chem class was just a fellow high school student. But hey, this is the season that gave us Richard Grieco and a guest appearance by Peter Deluise's dad Dom, so all's forgiven.
If Shaun of the Dead left you wondering what an American take on the same concept would be – namely a funny zombie flick – look no further than Dead & Breakfast (Anchor Bay, Not Rated, DVD-$19.98 SRP), a cheeky little horror romp that finds a group of six friends taking a wrong turn into a creepy Texas town filled with zombies, murder, and an inn that AAA forgot. Bonus features include a production commentary (with the director, SFX supervisor, and a pair of the actors), a cast commentary, deleted/extended scenes, bloopers, and trailers.
Wicca's first family returns with the complete second season of Charmed (Paramount, Not Rated, DVD-$49.99 SRP), as the Haliwell sisters (Prue, Piper, & Phoebe) battle old foes and even manhood (a frightening Shannon Doherty in the most disturbing make-up job you'll ever see). There are absolutely no bonus features to speak of… Come on, not even any whine sessions from Alyssa Milano?

I have a theory that MacGyver is actually a distant relative of Star Trek's James Montgomery Scott, aka "Scotty." Just think about it – they're both engineering miracle workers, and both their shows are owned by Viacom. I'm just saying. Think about my not-completely-oddball theory as you partake of the complete third season of MacGyver (Paramount, Not Rated, DVD-$38.99 SRP)
It's become positively frightening just how many TV-to-DVD releases have begun hitting stores (and your wallet). In fact, let's burn through the rest of the list lickety-split – starting with the fourth season of Married With Children (Sony, Not Rated, DVD-$39.95 SRP), which features all 23 episodes but no special features (although it does have my favorite episode of all, as Sam Kinison guests as a Christmas spirit in "A Bundyful Life"). Both the first & second seasons of the short-lived classic (and Barbershop precursor) That's My Mama (Sony, Not Rated, DVD-$29.95 SRP each) – though I'm miffed that Sony decided to use the edited syndication cuts for the majority of the episodes, Jebus knows why. For animation fans, there's the penultimate fourth volume of Garfield and Friends (Fox, Not Rated, DVD-$39.98 SRP). For TV buffs, you'll be happy to know that the complete third season of Dallas (Warner Bros., Not Rated, DVD-$39.98 SRP) contains the legendary "Who Shot J.R.?" finale – plus a brand new documentary and a pair of commentaries from Patrick Duffy and Linda Gray. The 25-episode second season of Doogie Howser, M.D. (Anchor Bay, Not Rated, DVD-$39.98 SRP) features brand new interviews with Neil Patrick Harris and Max Casella, photos, and a quiz. You could follow the further adventures of Caine in the third & final season of Kung-Fu (Warner Bros., Not Rated, DVD-$39.98 SRP), with special features including an introduction and commentaries from David Carradine, as well as a video journal of Carradine's trip to the Shaolin Temple Monastery. Mourn the loss of Rerun with the complete third season of What's Happening!! (Sony, Not Rated, DVD-$ SRP).
It's hokey in parts, sure, but the original House on Haunted Hill (Fox, Not Rated, DVD-$9.98 SRP) is still a classic, and features one of Vincent Price's most pricelessly campy performances. This restored version presents the film in both black & white and color options, as well as an audio commentary with MST3K's own Mike Nelson.

If you want a great "starter pack" for a given artist, I've become quite keen on Universal Music's Chronicles series of releases, which package a trio of a given artist's classic albums into one set. This week, I'd like to recommend the one featuring B.B. King (MCA Records, $29.98 SRP) which contains the albums Live at the Regal, Blues Is King, & Live In Cook County Jail. Right on.
Psychological thrillers don't get any better than The Cabinet of Caligari (Fox, Not Rated, DVD-$14.98 SRP), as young lady seeks help at the wrong house after her car breaks down. The ominous looking mansion is owned by Dr. Caligari, who begins to take our young protagonist on a trip inside her psyche that bodes ill, but she can't get out of the house – and none of the other people there seem willing to help. Hey, it was written by Robert Bloch, so what do you expect?
When his New York Apartment faces demolition, Harry Golden (Art Carney) decides to set out for L.A. with his cat Tonto to live with his 3 grown children. After arriving, however, he decides that happiness is not in the offing in that arrangement, so instead decides to explore America with Tonto at his side, living the last big adventure. Carney won an Oscar for Harry & Tonto (Fox, Rated R, DVD-$9.98 SRP), and it's no wonder why, since he plays Harry with a humor and grace that makes the film instantly endearing. The disc features an audio commentary with director Paul Mazursky, TV spots, and the original theatrical trailer.
Not content to rest on the first volume's laurels (and a fine volume it was), anime fans will want to snag their own copy of the highly anticipated Anime Companion 2 (Stone Bridge Press, $18.95 SRP). For anyone who's ever been confused by a Japanese comic or cartoon, this is a necessary addition to your shelf, as its extensive glossary clears up even the most obscure reference.
When it to adapting the classics – be it Shakespeare, Austen, Wilde, or Wodehouse – there's no place better than the BBC. Sure, they're productions can veer towards stuffy and lush, but at least they consistently manage to hew close to the text (making them fodder for ever lazy high school teacher and student). Such is the case with the 6 adaptations contained in The Charles Dickens Collection (BBC, Not Rated, DVD-$59.98 SRP) – Oliver Twist, Martin Chuzzlewit, Bleak House, Hard Times, Great Expectations, and Our Mutual Friend. The set also features Simon Callow's recreation of Dickens reading the scene between Sikes and Nancy in Oliver Twist, Denholm Elliott in The Signalman, a 30-minute documentary on the Victorian society portrayed in Our Mutual Friend, and a behind-the-scenes teaser.
Imagine my surprise when I learned that The Morning After (Warner Bros., Rated R, DVD-$19.97 SRP) I had just popped in was not the post-nuclear bomb cautionary tale that traumatized me as a child, but instead a taut whodunnit? directed by Sidney Lumet and starring Jeff Bridges, Jane Fonda, and Raul Julia. Boy, what a shock. The DVD features an audio commentary with Lumet and the theatrical trailer.