I'm writing this week's column in-between frequent power losses, as the wind howls and the rain pounds down, and Hurricane Ophelia teaches a few lessons about how hard it is to get work done during a "weather event." While nowhere near the disaster of Katrina, this will still end up being a significant flooding event for us here in Eastern Carolina (Ophelia is a sloooooow moving storm), so here's hoping everyone out there made it safely to higher ground.
During the power outages, I've been using a truly nifty device to get some reading in – the Lumos Book Light from LightWedge ($34.95 SRP), which also happens to be themed especially for Harry Potter fans (hence the name). Gone are the days of flashlights, penlights, and awkward head lamps (I've used them all), as the Lightwedge technology employs white LED light shown through an optical grade piece of flat acrylic that lays across the page you're reading, providing a bright, evenly-lit reading experience. It runs off of 4 AAA batteries, which provide up to 40 hours of illumination (and you never need to change the bulbs). Where was this thing when I was a kid? The Lumos light features interchangeable Potter themed buttons with iconography including Harry's glasses, a wand, the snitch, an owl, a broom, and the Gryffindor crest. Brilliant.
As the new TV season gets rolling, I find myself almost completely disinterested in all of the new fare (and much of the returning offal) being offered up, instead finding solace in a trio of classic series whose DVD rollout rumbles along at a nice clip. Still entirely featureless (And what's up with that? The early seasons at least got *something*…), there's the complete sixth seasons of Frasier & Cheers (Paramount, Not Rated, DVD-$38.99 SRP each) – the latter introducing Kirstie Alley's Rebecca Howe – and the third season of Taxi (Paramount, Not Rated, DVD-$ SRP). I sincerely hope they put the cast's farewell Tonight Show soiree, live from the Boston bar that inspired the series, on Cheers's 11th season set.
The fourth volume of SCTV: Network 90 (Shout! Factory, Not Rated, DVD-$89.98 SRP) collects the final batch of episodes from the show's NBC run, featuring the rise of Martin Short and a few classics ("Sweeps Week," "Towering Inferno," Ed Grimley, and the Happy Wanderers Salute to John Williams). Gone were Dave Thomas, Rick Moranis, and Catherine O'Hara (save for a guest appearance during the Christmas episode), but there are still plenty of gems to be found. The 6-disc set features an interview with Short, home movies of the cast & crew, Sammy Maudlin at Second City, Canadian TV references revealed, and a featurette with the producers. Does this mean we can finally get sets of the original seasons of the show?
If you're a fan of The Office – or just offbeat British comedy in general (you know, the smart people) – you'll probably dig Peep Show (BBC, Not Rated, DVD-$24.98 SRP). Gosh, how do I describe such a unique premise… In the show, you see the lives of roommates Jeremy & Mark through their eyes – and inner monologues. Jeremy is a wannabe pop star, Mark is an obsessive loser, and their thoughts and actions are truly hilarious. Think of it as a small-screen take on Being John Malkovich, without all the arty pretension. Bonus features include audio commentary on a pair of episodes and six specially filmed bonus scenes.

Teasing their upcoming restorations of both King Kong and The Wizard of Oz, Warners has released a stunningly clean and dynamic special edition of everyone's favorite chariot race, Ben-Hur (Warner Bros., rated G, DVD-$39.92 SRP). The four disc set features a luxurious 2-disc presentation of the film with commentary from Charlton Heston and film historian T. Gene Hatcher. Disc 3 features the Thames Television restoration of the 1925 silent version with full orchestral score, while the fourth disc contains a brand-new documentary ("Ben-Hur: The Epic That Changed History"), the 1994 documentary "Ben-Hur: The Making of an Epic," screen tests, vintage newsreels, trailers, highlights from the 1960 Academy Awards ceremony, and an audiovisual recreation of the film via stills, storyboards, sketches, music, and dialogue.
It's fitting that the 4-disc box set collecting Donovan's hits and rarities, Try for the Sun (Sony Legacy, $4.98 SRP), is covered in purple faux-suede, as – along with the Beatles and Cat Stevens – no other artist truly represents the whimsical, folky flower power pop of the late 60's. With hits like "Mellow Yellow," "Season of the Witch," "Hurdy Gurdy Man," "Sunshine Superman," and the storyful "Atlantis" (which was later turned into the tale of the submerged "Atlanta" in an episode of Futurama). Full of rarities and live tracks – plus a DVD featuring an unreleased 1970 documentary – it's just the set you need to mellow out this weekend (and after this hurricane-filled week, that's exactly what I'll be doing).
So you're trying to impress your wife and prove your manhood – but you're pretty much the stereotypical picture of a weakling data entry specialist who may have trouble doing both. So what do you do? You set out on a quest to take part in some truly far-out competitions the world over, including bullfighting, sumo wrestling, arm wrestling, and even running backward, and then you write an engagingly funny and poignant book about your journey. That book is The Underdog (Villard, $21.95 SRP), by Joshua Davis, and I suggest you check it out.
The BBC are not giving an inch when it comes to releasing the recent relaunch of Doctor Who on DVD here in the states (yeah, like no one downloaded it either, Beeb – wake up), but they are giving fans a pair of classic Who releases – the Patrick Troughton-era The Mind Robber and the Tom Baker-era Horror of Fang Rock (BBC, Not Rated, DVD-$24.98 SRP each). As per usual, both discs are loaded with extras, including audio commentaries, featurettes, galleries, and more thank you can shake a Dalek at (NOTE: shake a Dalek at your own risk).

You can take your Crawfords and your Hepburns – for me, the ultimate in screen allure – and mystery – was Greta Garbo. On the eve of her 100th birthday (on the 18th), why not pick up a copy of the comprehensive Greta Garbo: The Signature Edition box set (Warner Bros., Not Rated, DVD-$99.92 SRP). Featuring 10 classics starring the starlet whose large, luminous eyes enthralled a generation of moviegoers, this is yet another entry in Warners excellent presentation of their library. The films include Queen Christina, Grand Hotel, Ninotchka, Anna Karenina, Camille, Mata Hari, Anna Christie, TCM Archives (with three silent films - The Temptress, Flesh and the Devil, & The Mysterious Lady), and the TCM documentary Garbo. Each disc gets at least the original theatrical trailer, with Grand Hotel, Camille, and the silent classics disc getting the lion's share of goodies, including commentaries, documentaries, and featurettes.
All is right (or at least better) in a world that has Ali G. Much like Jon Stewart's Daily Show, Da Ali G Show manages to deflate not only the personalities of the day – through the brilliantly clueless interview style of Ali G (Sacha Baron Choen) – but also the American culture, through Baron's other creation, Borat. The complete second season (HBO, Not Rated, DVD-$29.95 SRP) features unseen and uncensored bonus material, including Ali G's commencement speech at Harvard, an interview with Noam Chomsky, visits to a historic naval vessel, Borat learning about American football in Texas (plus getting a hunting lesson and lunching with the Arizona Republican Party), Bruno gossiping with a Hollywood stylist and visiting a psychic, and more.
Even though I've already read the book, I find listening to Jim Dale's performances in the Potter audiobooks to be equally as enjoyable, and that still holds true for The Half-Blood Prince (Random House Audio, $75.00 SRP). He's (almost literally) portrayed a cast of 1,000's by this point, and it's worth it just to see what vocal acrobatics he'll unleash in each new installment.

It's hard to sum up just how disappointed I was in the big screen version of Douglas Adams's genius Hitchhiker's Guide to the Galaxy (Touchstone, Rated PG-13, DVD-$29.99 SRP). Maybe the most difficult hurdle to leap was that it's simply not very funny – and that, as an adaptation of an Adams work, is a true crime. Very, very sad… Especially with the cast, who could have accomplished so much more given the right script and direction (particularly Martin Freeman's Arthur Dent). Bonus features include deleted scenes (both real and fake), an additional guide entry, a "So Long" sing-along, a pair of audio commentaries, and a making-of featurette.

I'm frightened by how enjoyable I find the shows contained in the second volume of Jamie Oliver's cooking show Oliver's Twist 2 (Capital, Not Rated, DVD-$29.98 SRP). Maybe that's because he's just so darn cheeky, in that disarmingly yet irritatingly British way. It's like a cooking show with Hugh Grant's little brother.

Am I the only one perpetually freaked out by the works of Sid & Marty Krofft? I'm sorry, but if they weren't on something, than they've got some serious issues going on upstairs. Case in point – the characters featured in the complete first season of Sigmund and the Sea Monsters (Rhino, Not Rated, DVD-$34.95 SRP). What in the hell are they? Why do they haunt my dreams? Bonus features include audio commentaries with actors Johnny Whitaker & Scott Kolden, commentary from Sid Krofft, and interviews.
I'm a history buff – longtime readers know that – and there's nothing I find more fascinating than viewing historic events from a different perspective. That's exactly what you get with a pair of titles that present color footage from the WWII archives of Germany and Japan. The first is Hitler in Color, which spotlights the rise and fall of Hitler and his German Reich, and the other is Japan's War, focusing on the Empire's rise and fall )Rhino, Not Rated, DVD-$9.95 SRP each). Both titles are narrated by Brian Cox, and feature rare footage, most of which has never been seen.
Golly, golly, golly – DVD never ceases to stun me. Or, more accurately, what gets released on DVD, as the format becomes a cheap and easy way for studios – desperate for more content – search every nook and cranny of their archives for flicks to unleash upon the public. What that means is that alongside such classics as Donald Sutherland & Jane Fonda in Klute (Warner Bros., Rated R, DVD-$19.97 SRP), you get cupboard classics like the 70's, Gary Busey-heavy Cannonball Run precursor The Gumball Rally (Warner Bros., Rated PG, DVD-$14.97 SRP), John Ritter as an unlikely superhero in Hero At Large (Warner Bros., Rated PG, DVD-$14.97 SRP), and even that most perennial of Mark Hamill jokes, Corvette Summer (Warner Bros., Rated PG, DVD-$14.97 SRP). Ain't that just an embarrassment of… somethin'?

If you want the most iconic of the Brady Bunch's early seasons, then look no further than season 3 (Paramount, Not Rated, DVD-$38.99 SRP). Not only does it have Peter's cracking voice, but you've got Marcia stalking Davy Jones, "Marcia, Marcia, Marcia!", Greg's uncool car, and a trip to the Grand Canyon. We still haven't got any more bonus features since the first season's tease, but the episodes themselves have never looked better.

Okay, so a themed 4-episode collection of the classic Ray Walston/Bill Bixby sitcom, My Favorite Martian: Time Travelers (Rhino, Not Rated, DVD-$14.95 SRP), is all well and good, but where's the complete season 3 release that was originally supposed to happen? Save the themed releases for later – give us the sets now!

Maybe it was just me, but the second season of Las Vegas (Universal, Not Rated, DVD-$59.98 SRP) just didn't seem to have the same schlocky, postmodern Love Boat joi de vivre of the first season – which is not to say that the sophomore season was a dud. Anything with James Caan can't be a complete write-off… Okay, unless it's Mickey Blue Eyes. But it's got Jon Lovitz, too! Everybody loves Lovitz! Bonus features include a gag reel and a VIP tour of the Palms casino.
Any soundtrack that has the glorious chutzpah to put the full version of Joe Scarbury's "Theme from Greatest American Hero" on it is a soundtrack I want on my shelf. The soundtrack in question? The 40 Year-Old Virgin (Shout! Factory, $18.98 SRP), which also has tracks from James Brown ("I Got Ants In My Pants"), Asia ("Heat of the Moment"), Lionel Richie ("Hello"), and the criminally overlooked Dr. Hook ("Sharing the Night Together"). Oh, and it has Steve Carrell's deleted karaoke version of "The First Time" as well… Priceless.
I'm a sucker for stories that interweave into a tapestry, and Crash (Lions Gate, Rated R, DVD-$28.98 SRP) is one of those flicks, as a group of Los Angelinos are brought together in various vehicular ways – from racist cops making abusive traffic stops to character-revealing accidents – that never devolve into cute plot devices… Which is the danger these sometimes too-clever films often face. The DVD features an introduction by director Paul Haggis, a behind-the-scenes featurette, audio commentary (with Haggis, Don Cheadle, & Bobby Moresco), and trailers.

Did you know that Cracker Jack was introduced at the 1893 Chicago World's Fair? I didn't, until I watched Expo: Magic of the White City (Inecom, Not Rated, DVD-$24.95 SRP), a documentary which takes viewers on an in-depth tour of one of the wonders of the 19th century, a precursor for the many innovations – and societal, political, and economic upheavals – to come. The DVD features a commentary with World's Fair historian David Cope, behind-the-scenes featurettes, a production commentary, and deleted scenes. Highly recommended for history buffs, like myself.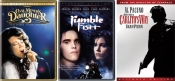 No that there's an easy cash bandwagon, or anything, but a trio of Universal titles are also getting all gussied up with new editions sporting brand-new transfers and bonus features. While the bonus features are the same as the original special edition release, the Loretta Lynn biopic Coal Miner's Daughter (Universal, Rated PG, DVD-$19.98 SRP) gets a sparkling new transfer and improved sound. The second of Francis Coppola's S.E. Hinton adaptations, Rumble Fish (Universal, Rated R, DVD-$19.98 SRP) is also all spiffy, with new features including an audio commentary with Coppola, deleted scenes, a making-of featurette, a spotlight on the score, a music video, and the trailer. Finally, there's "Ultimate Edition" (Does anyone really believe that PR move anymore?) of Al Pacino's over-acting tour-de-force (though nowhere near Scarface levels) as drug kingpin Carlito Brigante in Carlito's Way (Universal, Rated R, DVD-$22.98 SRP), with deleted scenes, an interview with director Brian De Palma, a making-of featurette, and more.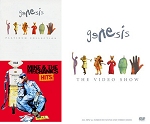 Malign them all you want, but one of the very first CDs I ever got from my many BMG music club accounts was a Genesis greatest hits collection. Sure, by the time of that collection – the Phil Collins era – they had all the self-important maudlin bombast of every other 80's pop group. I didn't care. I don't know why I didn't care, except I did enjoy tunes like "Invisible Touch," "You're No Son of Mine," and "Land of Confusion." All of those and more are remastered and featured on the 3-disc Genesis: Platinum Collection (Rhino, $24.98 SRP). Also available (and boy, what a time capsule it is) is Genesis: The Video Show (Rhino, Not Rated, DVD-$19.99 SRP), featuring all of those videos that got almost endless MTV rotation "back in the day" – including the epic "Land of Confusion" video with the Spitting Image puppets that fostered many a Reagan-era nightmare. And speaking of maudlin bombast, you can also grab the greatest hits collection of Genesis member Mike Rutherford's group Mike & The Mechanics (Rhino, $11.98 SRP) featuring the single biggest maudlin tune of the 80's, "The Living Years." Yeah, I like that tune, too. Sue me.
If there's one thing you can say about Everybody Loves Raymond – and I mean this as a compliment and not a slight – is that if you've seen one season, you know exactly what to expect from any other. Over its run, the show remained remarkably consistent in tone and quality, and was like the comfort food of ensemble comedies. That maxim is absolutely true for the fourth season (HBO, Not Rated, DVD-$44.98 SRP). The 5-disc set features all 24 episodes plus audio commentaries on 4 eps (with Phil Rosenthal, Ray Romano, Brad Garrett, Patricia Heaton, and writers Lew Schneider & Aaron Shure), deleted scenes, and bloopers.
Following up on their stellar Rock Icons release comes another collection of Dick Cavett Show episodes – and if I ell you that the title is the Ray Charles Collection (Shout! Factory, Not Rated, DVD-$24.98 SRP), can you guess who the spotlight is on? The set features 3 complete episodes featuring Brother Ray, along with guests like Tony Randall, Margaret Mead, and John Lindsay. Bonus features include episode introductions and an interview featurette with Cavett.

Punk: Attitude (Capital, Not Rated, DVD-$39.98 SRP) is the most comprehensive and entertaining look at the history and development of the Punk movement of the 1970's, from its disaffected origins to its mainstream death, featuring interviews with the performers, writers, and people who were front and center in the period, as well as more performances than you can violently shake a stick at. The 2-disc set features additional interviews, segments, featurettes, and more.
Straight from the recently launched Military channel comes a pair of fascinating releases for the military enthusiast near and dear to you. The first is the 3-disc collection of Battlefield Diaries (Sony, Not Rated, DVD-$39.95 SRP), which presents the wartime experience via firsthand accounts illustrated with photos, video, and interviews – sort of like a souped-up Ken Burns. The other doc is Ace in the Hole (Sony, Not Rated, DVD-$19.94 SRP), which tells the tale of the search for and eventual capture of Saddam Hussein.
If you need just one reason to get Legends: Live at Montreux 1997 (Eagle Vision, $14.98 SRP) – featuring the combined might of Eric Clapton, David Sanborn, Steve Gadd, Marcus Miller, and Joe Sample – it's for the truly kick-a** version of Layla. Once that's pulled you in, though, there's over a dozen other cuts from this concert that will have you wishing a companion CD was available.