"Again???" Yes, Rocky, it's time for another season of Rocky & Bullwinkle & Friends (Classic Media, Not Rated, DVD-$39.98 SRP) on DVD! Featuring 33 complete episodes (including the "Three Moosketeers," "Topsy Turvy World," "Lazy Jay Ranch," and "Missouri Mish Mash" story arcs), the original live Bullwinkle Puppet intro/outro clips, a best of Bullwinkle Follies, and a peak at Season 4 (which better come quick!). Of course, if you're a fan of the & Friends part of the show and want a more concentrated package, pick up the first volumes of The Best of Fractured Fairy Tales, The Best of Mr. Peabody & Sherman, and The Best of Dudley Do-Right (Classic Media, Not Rated, DVD-$12.98 SRP each), featuring 15 classic installments apiece. Hu-freakin'-zzah!


You can't throw a rock without hitting independent dramas… Be they coming-of-age, stranger in a strange land, generation gap, female empowerment, male empowerment, alternative lifestyle empowerment – whatever. The world is full of them. Independent comedies, however, are a much, much rarer beast – because, frankly, comedy is much, much harder to do. Just ask any actor and they'll tell you. It's easier to jerk a tear out of an audience than it is to get them to laugh intentionally. Maybe that's why Martin & Orloff (Anchor Bay, Not Rated, DVD-$19.98 SRP) was such a revelation – here was an independent comedy that was actually *funny*. The mind reels and the universe quakes. So what's it about? It's about a marketing man (Martin) and his shrink (Orloff). Martin designs mascots and has unsuccessfully tried to commit suicide, so he tries therapy with psychiatrist Dr. Orloff instead – and to say that the therapy is unorthodox would be an understatement. Written (along with Katie Roberts) and starring Upright Citizens Brigade members Matt Walsh and Ian Roberts, it features exactly the kind of brilliantly offbeat humor fans of the UCB have come to expect. It's also loaded with cameos, including Andy Richter, Tina Fey, Rachel Dratch, H. Jon Benjamin, David Cross, and Amy Poehler. The DVD features audio commentary (with Walsh, Roberts, and director Lawrence Blume), deleted scenes, an alternate ending, makeup tests, astronaut striptease, bloopers, the theatrical trailer, and a fold-out board game.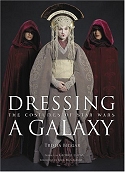 I've been (rightfully) critical of Lucas's disastrous story for and direction of the Star Wars prequels, but I can't fault the often beautiful costume design of Trisha Biggar. She managed not only to retain the aesthetic of the original trilogy, but to expand it into the new territory featured in the prequels – if only Lucas could have done the same, the world would be a far better place. Biggar's work is the focus of the extensively illustrated deluxe hardcover Dressing a Galaxy: The Costumes of Star Wars (Abrams, $50.00 SRP). Even for someone like me, who detests the prequels, this book is worth adding to the collection.

I think Ron Howard's Apollo 13 is a greatly flawed film bogged down in Howard's pretentious perpetual clutch for awards glory (which made flicks like A Beautiful Mind & Cinderella Man frustrating affairs for me). As far as flicks that capture the spirit of adventure, courage, danger, and insanity that made up America's space race in the 60's, nothing approaches The Right Stuff – except for Tom Hanks's multi-hour HBO mini-epic From the Earth to the Moon (HBO, Not Rated, DVD-$99.98 SRP). With a stellar cast and fidelity quite rare in these kind of historical dramatizations, it's a beautiful accomplishment that still holds up. Thankfully, HBO decided to revisit the original DVD release with a fully remastered new edition (the anamorphic picture alone is worth it), featuring expanded bonus materials in addition to the featurettes found on the original release.
Not since The Last Waltz has a film so eloquently captured musicians that defined a generation, so it's no surprise that the filmmaker behind Waltz is also the one that paints such a vivid portrait of the legendary Bob Dylan in No Direction Home (Paramount, Not Rated, DVD-$29.99 SRP). Featuring never-before-seen footage, interviews with contemporaries, and rare concert performances, it's an essential edition to any music-lover's library. Bonus features include additional rarities, including TV and live appearances.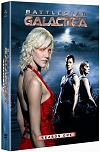 Everyone who was too impatient to wait for the full special edition release and instead buckled and bought Best Buy's bare bones release of the re-imagined Battlestar Galactica's first season are most likely kicking themselves as the 5-disc edition, with bonus features (Universal, Not Rated, DVD-$59.98 SRP), hits shelves. Bonus features include audio commentary on the feature (with director Michael Rymer and exec producers David Eick & Ron Moore), deleted scenes, 8 behind-the-scenes featurettes, and artwork.

Introduced to their work via their collaboration with the Nitty Gritty Dirt Band, I was fascinated by the PBS American Experience spotlight on The Carter Family: Will The Circle Be Unbroken (PBS, Not Rated, DVD-$19.99 SRP). Though they only recorded from 1927-1943, their legacy formed the foundation of American folk, bluegrass, and country (and was prominently featured in the Coen's O Brother).
The 365 Days series from Abrams Books is the very epitome of a great coffee table book – they're thick, half-size hardcover tomes that cry out "Pick me up!!" and feature (as the title suggests) 365 entries of photos and accompanying text, that's easy to just open up to any spot and browse through. The two latest entries are Creating the Worlds of Star Wars and The Beatles (Abrams, $29.95 SRP each). The Fab Four tome features many rarely seen pics of the Moptops , while the Star Wars tome is loaded with behind-the-scenes snaps (2/3 of which are from the prequels) and text from John Knoll, as well as a bonus CD of additional pics and videos.

He's revisited all but a couple of his other flicks, so why shouldn't Kevin Smith take another pass at his misunderstood post-Clerks failure Mallrats with a brand-new 10th anniversary cut (Universal, Not Rated, DVD-$26.96 SRP)? Incorporating much of the deleted footage featured in the previous DVD release, it's a much less popcorny flick. The DVD also features the original theatrical version, an audio commentary (with Smith, Jason Mewes, Ben Affleck, Jason Lee, Scott Mosier, and Vincent Pereira), a Smith Q&A, a look back at the film, a making-of featurette, a reunion Q&A, original cast interviews, Smith's "Build Me Up Buttercup" music video, and outtakes.
Get your hands as soapy as can be with the complete first season (extended and uncensored!) of Desperate Housewives (Buena Vista, Not Rated, DVD-$59.99 SRP), a show that managed to save the Radio Shack career decline of the fine Teri Hatcher, who no longer has to plug cordless phones at the holidays. Bonus features include audio commentaries, deleted scenes, a behind-the-scenes featurette, an interview with creator Marc Cherry, a wardrobe featurette, and much more.
It's a growing trend, raunchier comedies are double-dipping on DVD with unrated editions, editing back in MPAA-unfriendly scenes. Add Scary Movie 3.5 (Dimension, Not Rated, DVD-$19.99 SRP) to that list, which slightly expands David Zucker's first film in the SM franchise, and features a new commentary (with Zucker, producer Robert Weiss, and writers Craig Mazin & Pat Proft), deleted scenes (with optional commentary), and additional bonus materials carried over from the original release, including an alternate ending, outtakes, a making-of documentary, and more.

With Disney's ongoing decimation and outsourcing of their once visionary Imagineering department, projects like The Imagineering Field Guide to the Magic Kingdom of Walt Disney World (Disney Editions, $9,95 SRP) – a handy guide in which the Imagineers take you on a tour of the construction, trivia, and minutiae of the "Happiest Place on Earth" – all the more poignant since it's an era that's passing as Disney eviscerates its creative legacy. Oh well… At least you have a great guide.
Can you believe that even Heathcliff and the Catillac Cats (Shout! Factory, Not Rated, DVD-$34.98 SRP) is getting a release on DVD? Though he predated the introduction of fat cat Garfield, Heathcliff has always been viewed as the poor man's comic strip cat, which I think is a bit unfair. The set features 24 unedited episodes, an interview with current Heathcliff cartoonist (and nephew of creator George Gately) Peter Gallagher, a gallery of the cat through the years, and original promos.

Re-inserting over 20 minutes of footage and new bookend segments that bring it more in line with S.E. Hinton's novel, the new edition of Francis Coppola's The Outsiders (Warner Bros., Not Rated, DVD-$26.99 SRP) – titled, appropriately enough, The Complete Novel – is expanded, remastered, and packed to the gills with enough bonus features to start a turf war over. Those bonus features include a new introduction & commentary from Coppola, an intro & commentary from the actors (including Rob Lowe, Diane Lane, C. Thomas Howell, Matt Dillon, Patrick Swayze, and Ralph Macchio), 10 more minutes of additional scenes, a making-of doc, a casting featurette, castmembers reading selections from the book, an S.E. Hinton featurette, an NBC Today segment, and the theatrical trailer.

Surprisingly, I've come to appreciate Adam Sandler's acting range. In fact, I'd even go so far as to say he's better at mixing drama and comedy than Jim Carrey, who always seems like he's trying too hard to be taken seriously. Unfortunately, Sandler's remake of The Longest Yard (Paramount, Rated PG-13, DVD-$29.95 SRP) – in the role as the jailed football star forced to pull together a ragtag team of inmates to take on the sadistic warden's guard team – just never seems to bridge the gap between it's lighter moments and the darker moments that the original flick (starring Burt Reynolds, who's cast here as an inmate who coaches the team) pulled off so well. Still, it's enjoyable enough, but certainly not the classic the original has become. The DVD features an audio commentary with director Peter Segal, deleted scenes with optional commentary, behind-the-scenes featurettes, a gag reel, and a music video.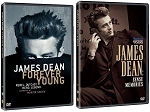 Those still fascinated by the mystique of James dean will most likely want to pick up a pair of docs winding their way to DVD, James Dean: Forever Young & James Dean: Sense Memories (Warner Bros., Not Rated, DVD-$19.97 SRP each). Both feature clips and interviews with friends and colleagues, and together they paint a comprehensive portrait of a young man whose legacy has long outlived his brief career.

If you're still refraining (for some unknown reason, though I will accept economics) from buying the season sets, you will probably want to at least pick up Spongebob Squarepants: Absorbing Favorites (Paramount, Not Rated, DVD-$16.99 SRP), featuring 9 classic episodes ("Ripped Pants," "Mermaidman and Barnacleboy," "Karate Choppers," "Gary Takes a Bath," "Jellyfish Hunter," "The Fry Cook Games," "Club Spongebob," "Plankton's Army," and the 2-part lost episode "The Sponge Who Could Fly").
As far as titles go, The Sixties: The Years That Shaped a Generation (PBS, Not Rated, DVD-$24.99 SRP) pretty much sums up what the documentary is about, exploring the politics & culture that would have ramifications for decades to come, through interviews and archive footage. Much like his confessional Fog of War, I still find former Defense Secretary Robert McNamara's insights to be the most fascinating.
In retrospect, it seems like a genius idea – take two of the most brilliant (and entertaining) magicians ever to grace the footlights and send them to a trio of the world's most mysterious locations to root out the ancient precursors of today's magic acts. The locations were China, India, and Egypt, the magicians were Penn & Teller, and the program was Penn & Teller's Magic & Mystery Tour (Acorn, Not Rated, DVD-$24.98 SRP). The DVD features all three programs, additional footage, and production notes. Their performance of the cups & balls under the hieroglyphs of an ancient Egyptian tomb (purported to feature glyphs depicting the trick) is positively brilliant.
The list of quality TV shows cancelled before their time is longer than my arm, but DVD continues to provide a second life for these series, the latest being the release of the complete first and second season run of Michael Mann's Crime Story (Anchor Bay, Not Rated, DVD-$39.98 SRP each). In his follow-up to Miami Vice, Mann cast Dennis Farina as a grizzled cop on the trail of the ruthless mobster Ray Luca (Anthony Denison) in the gritty milieu of 60's Chicago to the decadent bright lights of Vegas. Thank you, DVD… And yes, I still want The Jackie Thomas Show.
While we're on the subject of shows axed too soon, add Ned & Stacey to that list, which is getting a release of its complete first season (Sony, Not Rated, DVD-$39.95 SRP). Starring Thomas Haden Church and Debra Messing as a pair of mismatched people in a marriage of convenience, it was a whip-smart sitcom that made TV a brighter place… And was therefore destroyed. The 3-disc set features audio commentary on the pilot and a 20-muinute retrospective featurette.
I'm not completely in the doom & gloom category that views the final episodes of the original run of Ren & Stimpy – available in the 3-disc The Ren & Stimpy Show: Season Five and Some More of Four (Paramount, Not Rated, DVD-$38.99 SRP) – as a complete disaster. True, they were not the best of the run, but they also aren't the apocalypse acolytes of John K. make them out to be. The set features 13 audio commentaries and an interview with R&S.
History buffs will devour the contents of The LBJ Tapes: The Johnson White House Tapes (Kultur, Not Rated, DVD-$39.99 SRP). The title is pretty self-explanatory, as the 4-disc set features audio & video – almost all of it previously unreleased – that provides a candid portrait of the goings-on behind closed doors of the administration that presided over one of the most tumultuous periods in US history.
I've said it before, but only the 80's could give us the touchy-feely platitudes of Highway to Heaven (A&E, Not Rated, DVD-$59.95 SRP)… Until the 90's sent us into sugar shock with the saccharine platitudes of Touched By An Angel. Highway, however, was leavened by the serene, big-haired presence of Michael Landon as helpful angel Jonathan Smith, who travels the country setting people's lives straight, accompanied by gruff ex-cop Mark Gordon (the much-missed Victor French, whose sarcasm went a long way towards deflating the preachiness). The 7-disc complete second season features all 24 episodes and commentary with Cindy Landon & producer Kent McCray on "The Torch."