It's been a long, long, not terribly good week, and I don't know about you, but I can't wait for this weekend to hit and for a little R&R and some distance to set in while watching, reading, and enjoying some much-needed entertainment.

In all honesty, the direct-to-DVD Family Guy movie, Stewie: The Untold Story (Fox, Not Rated, DVD-$29.98 SRP) is little more than 3 raunchier-than-normal episodes strung together under the umbrella of Stewie going off in search of what he believes to be his real father, with Brian in tow. In other words, it's basically a road movie, which is what some of the best episodes of the series have been. Special features? There are special features? Of course there are! There's an uncensored audio track, an audio commentary with the usual behind-the-scenes suspects, and an animatic comparison.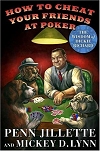 Who amongst you could possible resist a book with the title How to Cheat Your Friends at Poker (St. Martin's, $19.95 SRP), especially when it happens to be cowritten by one Penn Jillette (with Mickey D. Lynn)? Ostensibly the "Wisdom of Dickie Richard", an inveterate – and highly successful – card shark (and if you believe that, I've got a bridge I'd like to talk to you about), it's a con's delight, filled with tips, tricks, and strategy for the burgeoning hustler in all of us… Even though most of the techniques would take a nook like me a lifetime to perfect. I'm not a cardplayer, so I just read the tome as an enjoyable (and often funny in its acerbic tone) look behind the curtain at a world best experienced at a distance.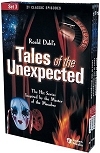 Pick up the third volume of Roald Dahl's Tales of the Unexpected (Acorn, Not Rated, DVD-$39.99 SRP), featuring stories much more creepily surreal than anything found in its American counterparts The Twilight Zone or The Outer Limits.

"HOGAAAANN!!!" Col. Klink's worst nightmares return in the complete second season of Hogan's Heroes (Paramount, Not Rated, DVD-$38.99 SRP), featuring all 30 remastered episodes but, sadly, no bonus features. Why can't we even get a Richard Dawson interview?

The Evil Dead franchise has been a reliable – and perpetually re-released – cash cow for Anchor Bay. I can't fault them with their latest dip – the Evil Dead 2: Book of the Dead Edition (Anchor Bay, Not Rated, DVD-$39.98 SRP) – since it does go back and remaster the video and audio, as well as dropping a few more brand-new bonus materials (in addition to that creepy foam Book o' the Dead packaging, this time with a screaming audio feature when you poke it in the eye). The bonus materials include an audio commentary (with Sam Raimi, Bruce Campbell, Scott Speigel, & Greg Nicotero), a behind-the-scenes featurette on the special effects with Tom Sullivan, "The Gore the Merrier" featurette, and the trailer.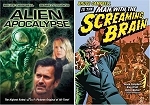 While we're talking Bruce, what else has Sir Campbell been up to lately? Well, you can now own both of his recent Sci-Fi Channel tele-movies – Alien Apocalypse & Man With the Screaming Brain (Anchor Bay, Not Rated, DVD-$14.98 SRP each) – in which you not only get to see him as an astronaut battling an insecty alien invasion with the help of Xena's Renee O'Connor, but also as a murdered industrialist whose brain is fused with that of a likewise murdered KJB agent, who together team-up (in one head) to find their gypsy murderer. Yes, you heard that right. Both discs feature commentaries and behind-the-scenes featurettes, with the majority of the goodies on Brain.
But we're not done! Any audio version of a book titled Make Love!* *the bruce campbell way (Rykodisc, $29.98 SRP), written by the be-chinned b-movie wonder Bruce Campbell, and read by performer's performer Bruce Campbell, is an audiobook worth owning and, I daresay, cherishing. Seeing as how this, his first novel, is the story of a B-actor's attempt to star in a major, super-duper Hollywood blockbuster – even if it kills him – it's not hard to make the leap into thinking there must be a grain of truth in the often bizarre, thoroughly enjoyable proceedings laid before us. Well, there's also the clue that Campbell calls it an autobiographical novel, but frankly, I'm more keen on my brilliant analysis… because it makes me look better. Hearing Campbell read it is just icing on the cake.

As a non-sports fan, sports-related flicks have a rather hard time of it with me. There's a certain entertainment threshold they have to reach or they face automatic dismissal. Amazingly, The Farrelly Brothers romantic comedy – which I now dub "romedy" – about the burgeoning relationship between an analyst (Drew Barrymore) and a middle-school math teacher (Jimmy Fallon). The only thing getting in the way of bliss? His unfortunate fanatical devotion to the perpetual also-ran Boston Red Sox. Can she deal with his insanity as the season progresses, or will it tear them apart? And could the cursed Sox actually – gasp! – win? It's about as middle-of-the-road as you can get, but I still found Fever Pitch (Fox, Rated PG-13, DVD-$29.98 SRP) to be a charming little trifle, and it also managed to sport a Fallon performance that didn't make me want to drive nails through my TV (Hello, Taxi!). Bonus features include deleted scenes, an audio commentary with the Farrellys, featurettes, the Fox Movies "Making a Scene" spotlight, gag reel, and the trailer.
Chris Carter, the spin-off pariah, had his greatest success with Millennium – and it only lasted 3 seasons. That 3rd and final bleak, defeatist season is now available on DVD (Fox, Not Rated, DVD-$59.98 SRP). Maybe it was the overwhelmingly depressive tone that made it such a pain in the a** to watch. The only saving grace? Weathered, lived-in Lance Henriksen as ex-FBI profiler Frank Black, who starts the season as a soon-to-be ex- member of the Millennium Group and facing the ramifications of the plague that has swept the country and killed his wife. Oh, it's all so friggin' complicated. In true Carter fashion, the show gets its epilogue via an episode of The X-Files, which is included in the set, as are a season 3 making-of doc, "Between the Lines" featurette, and commentaries on select episodes.

And if that has you pining for The X-Files, the 3rd volume of the Mythology crib notes, Colonization (Fox, Not Rated, DVD-$39.98 SRP) is now available, featuring 16 episodes from seasons 5-8, plus another installment of the "Threads of the Mythology" documentary and audio commentary on select episodes.

It's refreshing to look back on the punkish roots of early Elvis – Costello, that is – in The Right Spectacle: The Very Best of Elvis Costello – The Videos (Rhino, Not Rated, DVD-$19.99 SRP). Not only do the 27 videos remind me of how out there Costello could be, but also what MTV was before the decline into pabulum. Also included are rare TV performances that, alone, is worth the price of admission.
Why is Gilmore Girls so watchable? And good, even?!?! I feel almost guilty enjoying the ongoing dramedy of the mother/daughter team of Lorelai and Rory, as the Dragonfly Inn opens, love blooms, and things get even more soapily complicated in the complete fourth season (Warner Bros., Not Rated, DVD-$59.98 SRP), featuring all 22 episodes plus additional scenes, a collection of romantic moments, on on-screen factoids.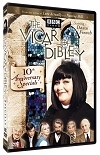 Just when you think you have a Britcom run completely in hand, they go off and do specials – which is just what happened with last year's Vicar of Dibley holiday specials (BBC, Not Rated, DVD-$24.98 SRP). Dawn French is back as everybody's favorite female vicar, with outtakes and a Comic Relief sketch rounding out the bonus features.
Napoleon, Caesar, Cortes, King David, El Cid, Andrew Jackson – all of these historical figures and more are featured in the History Channel's The Conquerors (History Channel, Not Rated, DVD-$49.95 SRP), a 12-part spotlight on the men who's conquests altered the course of history, be they territorial or cultural. And, while we're on the subject of conquerors – or, as they used to be known, explorers – you should pick up the companion piece Conquest of America (History Channel, Not Rated, DVD-$49.95 SRP), a 4-part series that examines men like Hudson, Bering, and Coronado – men who explored a new continent and, in some cases, brought violence and destruction along with knowledge. Always fascinating.

Peruse some of the finest, funniest advertising parodies ever to hit the printed page, crafted by those madcap maestros of yesteryear at Mad in the collected skewering of Madison Avenue to be found in MADvertising (Watson-Guptill, $24.95 SRP), which even features some of the original ads themselves.
It's nowhere near as clever and endearing as Ice Age, but Fox's second CGI outing, Robots (Fox, Rated PG, DVD-$29.98 SRP) is enjoyable enough (and not nearly as cloying as Shrek 2). In a world of robots, a cutthroat business-bot and his Lady MacBeth-bot mother hatch a plot to overthrow the benevolent inventor of the bot city (Mel Brooks) and stop supplies of replacement parts - forcing the existing robots to either fork over big-bucks to upgrade or risk becoming broken down "outmodes" destined for the scrap heap. Their savior? A young inventor named Rodney (Ewan MacGregor), his scrappy sidekick (Robin Williams), and a ragtag band of allies. Bonus features include audio commentaries, deleted scenes, character featurettes, tests, and more.

The Pretender (Fox, Not Rated, DVD-$39.98 SRP) was one of those series that I always intended to watch, based on its premise alone, that I just never got around to watching during its run. That premise found a genius named Jarod on the run from the think-tank facility that raised him after taking him from his parents at a young age, who used his unique abilities for financial gain. When he learned of this, he escaped from the Centre (a suitably creepy name for a thin-tank, no?) and went looking for his real identity, while assuming various fake ones at will and righting any wrongs he runs across. Think of it as Quantum Leap sans sci-fi. The complete second season is now out, featuring all 21 episodes plus audio commentaries on select episodes and behind-the-scenes featurettes.
If I were to choose a clear demarcation point where Enterprise went from mediocre to abysmal, it would be the wretched "Xindi Arc" or season 3 (Paramount, Not Rated, DVD-$129.99 SRP). A half-a**ed attempt to bring some kind of scope and gravitas to a show suffering from flat characters and sub-par writing, all it managed to do was sharply define how wrong-headed the show was… Which is a shame, because some wonderful things could have been done with the pre-Kirk, pre-Federation concept. But alas, 'twas not to be. Bonus features of the 7-disc set include deleted scenes, outtakes, and the usual bevy of featurettes and a character spotlight (this time on Connor Trinneer & Trip Tucker).

It may mean little to me, but my dad loves the original Gone in 60 Seconds (BCI, Rated PG, DVD-$24.98 SRP) – mostly due to the cars featured throughout. What can I tell you? He's a car nut. Well, for fans of the original, BCI has put together a stellar deluxe special edition, including a remastered print of the film, behind-the-scenes featurettes, an audio commentary, interviews, and more.
In the flurry of post-Survivor copycats eager to jump on the high adventure reality show bandwagon, never did I think that the Jerry Bruckheimer produced The Amazing Race would take off. Never. I mean, just the logistical nightmare of a clutch of teams traversing the globe seemed insurmountable – though I did expect it to be a spectacularly entertaining failure. Still, there's a globe-hopping glee to the first season (Paramount, Not Rated, DVD-$38.99 SRP), particular since it was filmed pre-9/11 (in fact, the show premiered just 6 days beforehand). In addition to all 13 episodes, there are up to 30 minutes of additional scenes per episode, a quartet of audio commentaries, and a trio of featurettes.

Long before Bruckheimer decided to make a foray into the now-crowded procedural drama landscape, there was Dick Wolf's Law & Order, which has now spawned it's own spin-offs. One of those, Special Victims Unit (the one about sex crimes starring Mariska Hargitay, Christopher Meloni, Ice-T, B.D. Wong, and Richard Belzer, in case you need a cheat sheet), is getting it's 2nd season release (Universal, Not Rated, DVD-$59.98 SRP), with special features including profiles of Hargitay and Meloni, and more.

If you're Fred Hembeck, than you're probably going to rush out to buy the double feature of the original Hayley Mills Parent Trap and its made-for-TV sequel that, amazingly enough, is titled The Parent Trap II (Walt Disney, Not Rated, DVD-$19.99 SRP). What, they couldn't go all the way and wrap it up with the final Mills Trap outing in III? What a gyp! The first disc features both films, while the second disc essentially cannibalizes the Parent Trap "Vault" release from a few years back, with behind-the-scenes featurettes and retrospectives on the original film.

I'm telling you – unless something earth-shaking happens on the subject of DVD residuals, every TV series, from the famous to the obscure, will eventually wind their way to DVD. Case in point – the release of episodes from The Life and Legend of Wyatt Earp (Rhino, Not Rated, DVD-$34.95 SRP). Was this show on *anyone's* radar? Seriously… Was it? Well, it doesn't matter, because it's here now, and it's actually a great old-school TV western, starring Hugh O'Brian as Earp and covering everything from Dodge City to the O.K. Corral. The 4-disc set features interviews with O'Brian and Mason Dinehart III (Bat Masterson), an Earp timeline, a featurette on High O'Brian Youth Leadership, and a bio of producer Louis F. Edelman.
If you're enamored by the plastic surgeons of Nip/Tuck and want to know how accurate it is to the real life cutters, look no further than E!'s reality outing Dr. 90210 (E!/Hart Sharp, Not Rated, DVD-$39.99 SRP), the first season of which looks at the life of one of those aforementioned "self-esteem enhancers," based in that infamous zip code. The 3-disc set features all 13 episodes, plus bonus stories and outtakes. The final cut? Nip/Tuck is a lot more accurate than you'd like to believe.

Somebody, somewhere, is probably giddy that Tony Orlando & Dawn: The Ultimate Collection (R2, Not Rated, DVD-$49.99 SRP) exists… They're probably listening to "Tie a Yellow Ribbon" on their iPods right now, giggling like a schoolgirl. Well, this 3-disc collector's is for them, featuring the best moments spanning their 1974 CBS summer replacement debut through their 1977 Rainbow Hour exit, with special guests (spanning the range from Danny Thomas to Alice Cooper) and bonus materials including a Tonight Show segment, footage from Fridays (now where is *that* DVD set???), and a Carol Burnett Show sketch.
It's hard to not watch The Adventures of Sharkboy and Lavagirl in 3-D (Dimension, Rated PG, DVD-$29.99 SRP) without seeing it as a huge masturbatory exercise of self-sufficient (and self-indulgent) filmmaker Robert Rodriguez. It's all well and good to make a children's adventure flick inspired by one of your kids – I'm down with that – but do you think you could have at least made it, you know, good? Even watchable would have been nice. Add to that the fact that the DVD features the same red/blue crappy 3-D that sunk the home video experience of Spy Kids 3-D (lenticular is the only way to go, people), and you get a flick that only exists as a glorified home movie. Bonus features include a making-of featurette and an audio commentary with Rodriguez.