Right now, I feel like I've been hit by a Mac truck, drug a few dozen yards, then backed over by a steamroller. That, my friends, is what exhaustion is all about. But sleep is for more fortunate souls – I, on the other hand, forge ahead like a drowsy madman…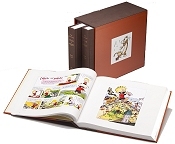 A bit of the magic may have worn off towards the end of the strip (and it was probably the right decision to walk away when he did), but Bill Watterson's Calvin & Hobbes remains one of the finest comic strips ever to grace the newspaper page. Like a cross between Dennis the Menace, Little Nemo, and Peanuts, the ongoing adventures of Calvin and his stuffed tiger Hobbes were a joy to visit day after day, not only for the humor, but also for Watterson's beautiful artwork. It was that pursuit of quality that led to years of friction between Watterson and newspaper editors across the country, who continually cut costs over the past half-century by gradually shrinking the comics page from the luxurious grandeur of its early 20th-century origins, when strips would regularly fill entire pages (a far cry from the postage stamps of today). Watterson won eventually won that battle, and the later strips have much more room to breathe and feature unconventional layouts. Much like the massive Complete Far Side, our boy and his pet tiger get their due with the gargantuan The Complete Calvin & Hobbes ($150.00 SRP), containing every strip - dailies and Sunday (in full color) – plus a new introduction from Watterson, presented on premium paper and housed within an impressive slipcase. Oh – and it's heavy. Very heavy. Good golly, this is almost hernia heavy. But it's also bliss.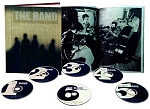 But what did I listen to while partaking of C&H? Well, I devoured the 5-disc The Band: A Musical History (Capitol Records, $89.98 SRP), that's what I did. From their barnstorming days backing early rocker Ronnie Hawkins across Canada to backing Dylan when he went electric, to producing their landmark debut Music From Big Pink (whose "The Weight" would be made legendary thanks to a little independent flick called Easy Rider) and winding up with their farewell concert documented in Martin Scorsese's The Last Waltz, every leg of The Band's history is presented across the set. There's album tracks, sure, but there's also dozens of rarities, alternate takes, demos, and live performances to make this a beggar's banquet, and ultimately a fitting tribute to band that can clearly and without contest lay claim to being pioneers. The set also features a bonus DVD with rare performances, including rehearsal and concert footage, as well as The Band's (unprecedented) 3 sets from their SNL appearance just prior to filming The Last Waltz.

Ba-dump ba-da-da-da bump ba-dump… Come on – you know that sounds familiar. That's right – it's the theme to Alfred Hitchcock Presents (Universal, Not Rated, DVD-$39.98 SRP), the complete first season of which hits DVD in all its suspenseful glory. The 3-disc set features all 39 episodes, plus interviews with Hitchcock's daughter Pat and associate producer/actor Norman Lloyd. Classic stuff, people!
Want more Hitch?. Well, the first thing you can do is pick up the special edition of Hitch's psychological tour-de-force Lifeboat (Fox, Not Rated, DVD-$19.98 SRP), with an audio commentary from film professor Drew Casper, a making-of featurette, and a still gallery. If you're still looking for more, than you can find 9 of his public domain flicks (from his early career) in The Essential Alfred Hitchcock Collection (BCI, Not Rated, DVD-$19.97 SRP), which contains Champagne, Murder!, Number Seventeen, 39 Steps, The Skin Game, Jamaica Inn, Easy Virtue, The Manxman, The Farmer's Wife, and the bonus program Alfred Hitchcock: The Master of Suspense.
First of all – don't get rid of your original Columbia/Tristar DVD release of Jim Henson's classic holiday special Emmet Otter's Jugband Christmas (HIT, Not Rated, DVD-$11.99 SRP). Thanks to the splintering of Jim's legacy at the hands of his children, Kermit the frog is now owned by Disney, while Emmet Otter is owned by the Jim Henson Company – and, thanks to that, Kermit's original intro (during which he first rode a bicycle onscreen) and outro to the special have been excised. Okay, now that we've got that straight, the new edition has a lot going for it – in fact, it's wonderful (save that glaring omission). Not only has the picture been remastered, but there are bonus features, including a behind-the-scenes featurette, deleted scenes (many of which were in the original broadcast), a lost song, bloopers, and even a sing-along. All thanks must go to Craig Shemin for really pulling out all the stops and bringing together the best edition of this perennial favorite yet. Now, here's hope someone will wise up (or the Muppet Holding Company will be sold to someone who cares) and the special can finally by released whole and uncut. Oh, and while you're grabbing Emmet Otter, why not make the wait for the complete second season of Fraggle Rock a little bit easier by picking up the latest single-disc release, Doin' Things That Doozers Do (HIT, Not Rated, DVD-$11.98 SRP)?

I really miss the Nickelodeon I grew up with in the early 80's – the Nick of You Can't Do That On Television, Nick Rocks music videos, Mr. Wizard, and the cartoons imports from UK animation studio Cosgrove Hall. One of those classic cartoons, Danger Mouse, made its DVD debut last year from A&E, and now we finally get the companion piece with the complete first season of Count Duckula (Capital Entertainment, Not Rated, DVD-$39.98 SRP). Once villainous, the evil count is resurrected by means of an ancient ritual – gone terribly wrong, when his faithful butler Igor and maid Nanny accidentally substitute a bottle of ketchup instead of blood. Instead of his bloodsucking former incarnation, he's now a mild-mannered vegetarian who sets out on far-flung adventures around the world, teleporting from his ancient castle. Where in the heck's the feature film???? The DVD features an interview with Brian Cosgrove, an interview with producer/artist John Doyle, a "how to draw" segment with Mike Whaite, a restoration featurette, and a photo gallery. I'm already salivating for season two.
Halloween is the only time that the bottom-barrel release of 5 schlocky "classics" from the bowels of Warners' catalogue would actually get me excited, but what can I say? Halloween was made for schlock, and you can't get more intense than Demon Seed, Dracula A.D. 1972, Private Parts, A Stranger Is Watching, and – wait for it! – Night of the Lepus (Warner Bros., Rated PG/R, DVD-$19.97 SRP each). Killer rabbits, people! And Bones! Killer freakin' rabbits! Hey, if it worked for Monty Python…
And while we're talking Python, if you still haven't treated yourself to the complete series, now's the time to pull the trigger and pick up The Complete Monty Python's Flying Circus 16-Ton Megaset (A&E, Not rated, DVD-$199.95 SRP), containing the entire 45-episode run, plus the 2-disc Monty Python Live!. If you already own the previous releases, don't worry – there's nothing new here save for the slimline packaging and bundling of the Live! into the set. If you don't own the previous releases, what the hell are you waiting for?
Years before the rise of Python and right after the surreality of the Goons, Britain's satire movement began with Beyond the Fringe (Acorn, Not Rated, DVD-$24.99 SRP). The quartet of brilliant minds behind the show – first performed at Scotland's Edinburgh Fringe Festival before moving on to London's West End and then Broadway – were Peter Cook, Dudley Moore, Jonathan Miller, and Alan Bennett (all fresh from college and bursting with anti-establishment acerbity). This disc features the only filmed performance of the legendary show in its entirety.
And if that piques your interest in one of the finest comedy minds ever to write a sketch, the late Peter Cook, there's the Cook bio-flick Not Only But Always (Acorn, Not Rated, DVD-$24.99 SRP), starring Rhys Ifans as the troubled genius. The DVD features an audio commentary with writer/director Terry Johnson, career highlights of Cook and Dudley Moore, and filmographies.

With the release of Cinderella (Walt Disney, Rated G, DVD-$29.99 SRP), every classic Disney animated flick save for the elusive Song of the South has been released on DVD (although a few, including Lady & the Tramp and 101 Dalmatians, are out-of-print). First off, the restoration of the picture and sound are stunning (and thankfully, the morons in marketing have not decided to add any "should have stayed deleted" scene back in – Aladdin, Lion King, and Beauty & the Beast, I'm looking at you). Sadly, we don't get the much-missed audio commentaries of early Disney special edition DVDs (John Canemaker would have been most welcome… Stop going middle-of-the-road on these classics, Dis… including the godawful ESPN "Cinderella Stories"), and the behind-the-scenes material is constructed for presentation to the mentally deficient, but there are some choice nuggets in the bonus materials, which include deleted scenes, The Art of Mary Blair featurette, unused songs, a 1922 Disney Laugh-o-Gram of Cinderella, a Mickey Mouse Club excerpt, a making-f documentary, a tribute to the Nine Old Men, original trailer & TV spots, and more. So, where is Song of the South?

Another week and another shout-out to IGN Comics columnist (and comics legend, natch) Fred Hembeck, as the complete third season of his beloved Spongebob Squarepants (Paramount, Not Rated, DVD-$49.99 SRP) hits DVD with 3-discs packed with 37 episodes plus the pilot, a "how-to-draw" segment, and pop-up trivia. Let's see you google that, Fred…
The Warriors come out to play-ayy in a new Ultimate Director's Cut edition (Paramount, Not Rated, DVD-$19.99 SRP), featuring an expanded cut of the 80's classic (it's like The Outsiders meets Escape From New York). Bonus features include an introduction from director Walter Hill, 4 featurettes ("The Beginning," "Battleground," "The Way Home," and "The Phenomenon") and the original theatrical trailer.

I have a theory – let's call it the "Theory of Documentary Legitimacy." It states that everything ever produced – no matter how good or bad – will eventually be the subject of a documentary seeking to legitimize its importance. Case in point is the documentary Inside Deep Throat (Universal, Rated NC-17, DVD-$27.98 SRP), which examines the impact of the most notorious – and highest-grossing – porn film ever made. My theory has legs, methinks…
The Interpreter (Universal, Rated PG-13, DVD-$29.98 SRP) is one of those films that has a good cast but just never manages to engage in the energy and interest that the director obviously sees in the material. In this instance, the director is Sydney Pollack, and the film is about a United Nations translator (Nicole Kidman) overhears plans for an assassination, but she becomes emerges as a suspect as a federal agent (Sean Penn) digs deeper into her past. Sounds like a great premise for a thriller, right? I just wish it were on the screen. The DVD features behind-the-scenes featurettes (including a must-see one on widescreen vs. full screen, for all of you cinematic luddites out there), deleted scenes, and an alternate ending.
It can be a sad affair when a classic 60's rock band reunites after years of being apart for the kind of epic date that one hopes will not only evoke memories of past glory, but also give you just as much of a thrill sans the pity that comes from a performance by performers clearly past their prime. Thankfully, the reunited trio of Ginger Baker, Jack Bruce, and Eric Clapton featured on the 2-disc Cream: Royal Albert Hall – London, May 2-3-5-6 2005 (Rhino, Not Rated, DVD-$29.98 SRP) features none of those awkward moments, but instead spotlights a group that still knows how to jam even after decades of separation (ironic that this release comes on the heels of The Band's box set, since it was Clapton's experience listening to their stunning Music From Big Pink that prompted his departure from Cream). Bonus features include additional songs, an alternate take, and interviews.
It was during the fourth season of Smallville (Warner Bros., Not Rated, DVD-$59.98 SRP) that the cracks in the Superman prequel's premise began to show. Viewers had already endured years of X-Files-lite as Kryptonite monsters aplenty imperiled the thickheaded residents of Smallville, only leavened by the ongoing subplots involving the always-watchable Luthors (Jr. & Sr.). By now, everyone and their brother should know that Clark Kent has super-powers, but – like I said – it's a town of thickheaded dolts. Oh, and Lois Lane shows up. Huh? Would you just make him Superman already? The 6-disc set features a behind-the-scenes look inside the writers room, a featurette on Lois Lanes past and present, audio commentary on a trio of episodes, and deleted scenes. Still, I believe Welling as Superman before Singer's boy toy Brandon Routh.
It's time for another intoxicating round of "Hi, Bob!" as the second season of The Bob Newhart Show (Fox, Not Rated, DVD-$29.98 SRP) hits DVD. Unlike the bare bones S1 release, we get a brand-new making-of featurette and audio commentaries on select episodes. That's worth a glass right there!
You know, I still can't make it al the way through David Cronenberg's The Fly (Fox, Rated R, DVD-$19.95 SRP) without taking at least one "walk away from the gore" break. It's still as disturbing today is it was on its original release, and it's getting the 2-disc special edition whizbangery, with an audio commentary from Cronenberg, behind-the-scenes documentaries, deleted scenes, an alternate ending (that must be seen, if only for the trivia), promotional featurettes, test footage, TV spots, trailers, and more. Not nearly on the same level is the sequel, The Fly II (Fox, Rated R, DVD-$19.95 SRP), featuring the "eh" tale of Goldblum's son – and yet it gets the 2-discery as well, with an audio commentary, an alternate ending, deleted scenes, a documentary on the Fly movie series, a behind-the-scenes documentary, featurettes, trailers, and more. Buzz buzz.
As a concept – iconic cartoon archetypes stuck together in a Big Brother/Surreal World-esque reality show – I can get behind Comedy Central's Drawn Together (Paramount, Not Rated, DVD-$26.99 SRP). As executed, however, it's only intermittently funny – which is a shame, because the concept certainly supports the potential for brilliant pop culture comedy. In far defter – and less puerile – hands, it could have been that… Instead, it's just flatter than is 2-D cartoon characters. The 2-disc set features all 7 first season episodes, plus audio commentaries, deleted scenes, four never-before-seen segments, and a karaoke sing-along.
I can't fault David Duchovney for the self-penned story of his directorial debut, House of D (Lions Gate, Rated PG-13, DVD-$27.98 SRP). In principle, it's a nice coming-of-age story (aren't all small directorial debuts?) about an artist (Duchovney) revisits the events that changed his life as a 13 year-old, when his best friends were a mentally challenged janitor and a detainee in New York's Women's House of Detention (Erykah Badu). It's a poignant, funny flick… Until the janitor ham-fists his way through his scenes… And that's what I fault Duchovney for… Since he's the one who cast Robin Williams. Why, David? Why? Bonus features include a commentary with Duchovney, deleted scenes, behind-the-scenes and interview featurettes, an alternate ending, and trailers.
It's not the season sets one would hope for, but it's obvious Warners is testing audience response with their inaugural batch of Television Favorites (Warner Bros., Not Rated, DVD-$9.97 SRP each) – single disc editions featuring either 6 (for comedies) or 3 (for hour-longs) episodes from across a show's run. The first round of samplers highlights F Troop, Maverick, Chico & the Man, and – oddly, since there already are season sets – The Dukes of Hazzard. Of this group, I hope full-on sets for F Troop and Maverick aren't too far off!
Documetary nuts (like myself, okay?) will want to sample a trio of Docurama's latest (Not Rated, DVD-$26.95 SRP each) – the Academy Award-winning Who Are The Debolts? And Where Did They Get Nineteen Kids?, a fascinating look at a couple and their extended family; Resident Alien, chronicling the adventures of New York's flamboyant cult figure Quentin Crisp; and the pretty self-explanatory Guerilla: The Taking of Patty Hearst, which focuses on the freakish kidnapping of the publishing heiress by the Symbionese Liberation Army.
As a series, the ongoing adventures of cynical investigative reporter Carl Kolchak's run-ins with the supernatural were nowhere near as clever or well-written as the initial pair of telemovies. However, the real reason that Kolchak: The Night Stalker (Universal, Not Rated, DVD-$39.98 SRP) remains a must-see series is for the always wonderful performance of Darren McGavin in the title role. And just in time for Halloween, all 20 episodes are yours to own in one handy-dandy box set. Now if only it would get the taste of that horrid remake out of my mouth…
All roads seem to lead back to The Band this week, as I also took the time out to listen to the man who made them his backing band during the most seismic period in his career, right before they went solo – a man named Bob Dylan. Bob Dylan – No Direction Home: The Soundtrack (Sony Legacy, $24.98 SRP) doubles as both the accompanying audio release to Martin Scorsese's brilliant documentary, as well as the 7th volume of Sony's equally brilliant Bootleg Series. Like the film, the 2-disc set spotlights – through rare unreleased tracks, including alternate takes and live cuts of classic tunes – only a small early chunk of Dylan's early career, ending just when he went electric… A defining moment in rock history that closes disc 2, as the audience attitude prior to Dylan & The Band launching into a rocking "Like a Rolling Stone" is summed up in a brutal shout of "Judas!"
On the soundtrack front (Quiet? No…), there's Howard Shore's ersatz Copeland for Cronenberg's A History of Violence (New Line Records, $16.98 SRP), and Rachel Portman's evocative Dickensian riff to Roman Polanski's Oliver Twist (Sony Classical, $18.98 SRP).
Star Trek: Nemesis was a colossal disappointment. Actually, that's being quite kind to it… It was atrocious. As a swan song for the Next Generation cast, it made me want to reach for a shotgun and put that swan out of its misery. Still, Paramount had to finish its series of Special Collector's Edition (Paramount, Rated PG-13, DVD-$19.99 SRP) for the Trek film franchise, and Nemesis is the last to get that treatment – even if the previous edition contained a fair amount of bonus features. Returning from the previous edition is director Stuart Baird's commentary, the deleted scenes (now expanded) and 4 featurettes ("New Frontiers: Stuart Baird on Directing Nemesis," "A Bold Vision of the Final Frontier," "A Star Trek Family's Final Journey," and "Red Alert! Shooting the Action of Nemesis"). New to this 2-disc edition are an audio commentary with Rick Berman (feh), text commentary from the Okudas, 11 featurettes ("Nemesis Revisited," "Storyboarding the Action," "Build and Rebuild," "Four-Wheeling in the Final Frontier," "Shinzon Screen Test," "The Enterprise-E," "Romulan Lore," "Shinzon & The Viceroy," "Romulan Design," "The Romulan Senate," and "The Scimitar"), storyboards, props, and trailers. What a sad, sad exit.