As Jackson Browne once sang, I'm running on empty… This past week has been a hectic maelstrom of projects coming together, including some special coverage that's launching next week revolving around one of the finest comedies ever to grace the boob tube (that's called a tease – keep an eye out next week to see what al the hubbub's about). But hey, let's get this sucker rolling…
It's not too much of an understatement to say that I was caught completely off-guard by Batman Begins (Warner Bros., Rated PG-13, DVD-$30.97 SRP). After the wretched devolution of the original franchise in the late 90's, I'm understandably gun-shy about any attempt to venture back into the Batcave. Admittedly, I was not overly enthused by the initial images of Christian Bale's rubber batsuit and the testostertank Batmobile, but shock of shocks, director Christopher Nolan and writer David Goyer managed to pull off a Batman flick that reinvigorated the franchise without ignoring the character's roots or mythology, and – unlike the Marvel movies to-date – wasn't ashamed of those 4-color roots. It goes without saying that you should pick up the 2-disc deluxe edition, which features all of the behind-the-scenes goodies like production featurettes, plus a 72-page comic with a trio of Batman tales that influenced the film.

So, after watching Batman Begins's surprisingly enjoyable reboot of the Batman franchise, I revisited the quartet of flicks contained in the Batman Movie Collection (Warner Bros., Rated PG-13, DVD-$79.92 SRP) – Batman, Batman Returns, Batman Forever, and Batman & Robin. Looking back, anyone who didn't see the seeds of the camp tragedy of Schumacher's outings right from the outset of Burton's overly-goth take are blind… Sadly, I was one of them. Bad Ken. Bad. Fully remastered, all 4 films get a deluxe 2-disc special edition treatment, with audio commentaries and copious documentaries, all newly produced (with participation running the gamut from Jack Nicholson to Sean Young… And yes, we get insight into her infamous Catwoman outfit lapse in sanity). The best feature of all, though? Joel Schumacher's mea culpa for Batman & Robin.
Oh, but we're not done with the bat just yet – not when you can pick up Batman: The Complete 1943 Movie Serial Collection (Sony, Not Rated, DVD-$29.95 SRP). Based on the timeframe, it should be little surprise that these serials found the caped crusader caught up in the war effort, with the villain of the piece being a heavily caricatured stereotype (read: racist) Japanese baddie intent on bringing down America.

It took a few years, but by the time we get to the latest volume of The Complete Peanuts (Fantagraphics, $28.95 SRP), covering the period from 1957-1958, the strip as we know it has finally begun to emerge in full force. The main development has to do, surprise, with Snoopy, who begins standing up and developing his inner dialogue. What's even more wonderful is just how truly funny the strip was during this period… And dark. This volume features an introduction by Jonathan Franzen. But come on - where's my Pogo, people?
This month's Donald Duck and Friends (Gemstone, $2.95 SRP) features a real Halloween classic – Carl Barks's comics adaptation of the Donald cartoon Trick or Treat (you remember – the one with Witch Hazel and Huey, Dewey, & Louie teaming up to give plenty of tricks to a stubborn Unca Donald). As if that weren't enough ghoulish fun, your local comic shop is giving away free ashcans of the original back-up feature to that story, "Hobblin' Goblins." Get 'em both, people!
Is there anyone – anyone – who can exude as much cool as Quincy Jones? It's astonishing and, frankly, a bit frightening. If you think I'm kidding, check out the remastered editions of From Q With Love (Qwest, $19.98), Back on the Block, and Q's Jook Joint (Qwest, $13.98 SRP each). These are some phenomenally soulful yet swinging albums. Heck, even his soundtrack to The Color Purple (Qwest, $19.98 SRP) – newly remastered – is a must-listen. Cool man… cool.

From the triumphs to the tragic, every animated feature released in the US since 1926 is covered in animation historian Jerry Beck's essential Animated Movie Guide (Chicago Review Press, $26.95 SRP), a tome that should be on the shelf of any self-respecting cartoon fan. Jerry's a friend of mine (even if he rarely returns calls – hey Jerry!), and I can heartily recommend you pick up just about every book he's written, as they're all exactly the kind of well-written reference books that you'll find yourself returning to again and again.

The 10-episode collector's sampler set released a few months back was merely a teaser for the deluxe special edition of He-Man and the Masters of the Universe Season One: Volume One (BCI, Not Rated, DVD-$49.98 SRP), which contains the first 33 episodes of the 80's toy commercial classic. The relaxing of FCC rules was a boon to toy companies, who jumped up and down at the chance to craft cartoons that could be little more than glorified ads for their product lines, and He-Man was a glorious example of that. I don't know what was in the kool-aid, but we drank deeply, we children of the 80's, putting shows like He-Man, GI Joe, Transformers, and their ilk on pop culture pedestals, so much so that a special edition release of something this schlocky feels, not only right, but completely justified, dammit. Oh, and I loved Orko as a kid. My favorite character. There… I've said it. The 6-disc box set features 2 in-depth documentary features on the creation and production process of the show, an animated storyboard for the episode "The Taking of Grayskull," detailed profiles, and even a pair of collectible postcards (by Alex Ross and Bill Sienkiewicz, no less). More kool-aid, please…
On first viewing, I didn't like The Big Lebowski (Universal, Rated R, DVD-$19.98 SRP). Which upset me. I mean, I had enjoyed the other Coen flicks I'd seen up to that point, and was looking forward to their latest effort… But again, I just didn't like it, at all. Then I watched it again, and – don't ask me why – but it all just clicked, and I finally "got" the film. Now I love it's quirky, laid-back tone that's every bit as eccentric as Jeff Bridges's The Dude. The next-to-last of their films to get special treatment (come on – where's that Hudsucker Proxy special edition???), the film gets a brand new introduction from "film preservationist" Mortimer Young, a carry-over of the making-of documentary featuring interviews with the elusive Coen Brothers, and a gallery of Jeff Bridges's photography.
George Romero's return to his zombie infested reality hits DVD just in time to make it into your Halloween viewing line-up, right after Night of the Lepus (Yeah, Widge – you know who you are). Land of the Dead (Universal, Unrated, DVD-$29.98 SRP) finds humanity reduced to isolated pockets in fortified cities, faced with a zombie army that is – shock! – evolving! Ach! The unrated version is the way to go, featuring all the extra gore your little hearts desire. Bonus features include behind-the-scenes featurettes on everything from the make-up effects to a zombie casting call.
You pretty much know what you're getting with the Saw: Uncut Edition (Lions Gate, Not Rated, DVD-$26.98 SRP) – more gore, natch. Bonus features include 2 audio commentaries, a behind-the-scenes featurette, an alternate storyboard sequence, "Full Disclosure Report" on the Jigsaw investigation, director James Wan's original short film, trailers, and an on-set preview of Saw 2. What's really mesmerizing, however, is the packaging, which features a blood packet under the case that simulates a pool of dripping blood across the cover. It's the creepiest packaging I think I've ever seen, so kudos!
I'm not a big fan of the CSI franchise, but I had to check out the Big Apple spin-off CSI: New York (Paramount, Not Rated, DVD-$64.99 SRP) when I learned that its lead was Gary Sinise, making his network series debut as Detective Mac Taylor, the head of New York's Crime Lab. The first season is a shaky affair, as the series is clearly finding its footing, but the always-enjoyable Sinise (okay… except for Snake Eyes) is worth the effort. The 7-disc set features audio commentaries on 7 episodes, plus 5 behind-the-scenes featurettes.
After seeing Frank Sinatra's performance as a strung-out heroin addict in the 1955 Otto Preminger classic The Man With The Golden Arm (Hart Sharp, Not Rated, DVD-$24.99 SRP), you'll probably agree with me that he was robbed of the Oscar that year, despite the "honor" of a nomination for Best Actor (overlooked is the always-welcome presence of Darren McGavin). The 2-disc "50th Anniversary Edition features commentary with film historian Ken Barnes, an audio/visual presentation of the recording session for Sinatra's unused title song, interviews with Sinatra and composer Elmer Bernstein, and the original theatrical trailer.
Okay, I'll admit it – even though I'm a guy, I enjoyed The Sisterhood of the Traveling Pants (Warner Bros., Rated PG, DVD-$28.98 SRP). Author Ann Brashares' best-selling novel about the first summer apart for a quartet of lifelong friends whose discovery of a single "perfect" pair of pants becomes a means of communication as they separate, each taking a week in the jeans before passing them along in what proves to be an eventful two months for them all, managed to push my buttons. Just like Fried Green Tomatoes. Don't look at me!!! Bonus features include additional scenes with optional director commentary, select commentary from the stars, featurettes, and a conversation with the author.
Of the network newsanchors of my generation, I always gravitated more towards Tom Brokaw (we all have our favorite), but I always respected ABC's Peter Jennings as a journalist with integrity (a true rarity these days). The 2-disc Peter Jennings Collection (Anchor Bay, Not Rated, DVD-$24.98 SRP) features 6 of the late newsman's acclaimed full-length documentaries – "How To Get Fat Without Really Trying," "Ecstasy Rising," "LAPD," "Guantanamo," "From the Tobacco Fields," and "No Place To Hide." While Brokaw focused on his Greatest Generation, Jennings went out and did Murrow's legacy of investigative journalism proud.
I'm still on the fence regarding whether I like Dualdiscs or not. For those not familiar, Dualdiscs feature regular CD audio on one side, and 5.1 surround and DVD video features on the other. Honestly, I think it depends on which titles get the treatment – but releases like Bill Withers's classic Just As I Am and The Soul of Nina Simone (Sony Legacy, $19.98 SRP each) are an excellent start. The Withers disc features documentary on the making of the album, while the Simone disc contains rare live performances and her first ever national TV appearance on Ed Sullivan. Gimme more stuff like this, and I'm sold.
Even over a decade later, I still only half-understand what they heck is going on in Oliver Stone's miniseries Wild Palms (MGM/UA, Not Rated, DVD-$14.94 SRP), which stars James Belushi as a pawn/player in a tale of greed, sex, religion, and virtual reality in a dark future Los Angeles. Funny thing is, I like it. But really – if anyone knows fully what's going on, write me.
The remastering fairy has finally made her way to Bruce Lee, showering her spiffening pixie dust over a quintet of flicks from the master's catalogue, all of which are collected in the Bruce Lee: Ultimate Collection (Fox, Not Rated, DVD-$49.98 SRP). The flicks in question are The Big Boss, Fist of Fury, Way of the Dragon, Game of Death, and Game of Death II. Bonus features include celebrity & martial artist interviews, outtakes, trailers, photos, and more.
I always feel sorry for a remake that doesn't manage to run rings around a mediocre original, and I felt sorry for the new take on The Amityville Horror (MGM/UA, Rated R, DVD-$28.95 SRP). Maybe it's that it brings nothing really new to the hoary cursed house genre played so poorly in the original and given very little life here, either – which is a shame, because producer Michael Bay was able to bring that elusive "something new" to his Texas Chainsaw Massacre remake. Still, no matter, what I say, I know you'll pick this up and give it a spin on Halloween. I just know it. Bonus features include an audio commentary, deleted scenes, behind-the-scenes featurettes, and a discussion of the real DeFeo murders.
Okay, now I'm scared. Somebody, somewhere, must be holding a small child hostage. How else could one explain the face that not only does the mediocre Daredevil get a bloated-but-still-mediocre DVD Director's Cut, a pitiful sequel that no one asked for in Elektra, and that Elektra gets its own bloated-but-still-pitiful DVD Director's Cut (Fox, Not Rated, DVD-$26.98 SRP)? With 2-discs, no less! Somebody find that kid, please. Bonus features include an audio commentary (with director Rob Bowman & editor Kevin Stitt), behind-the-scenes documentaries, deleted scenes with optional commentary, galleries, trailers, and more.
Wasn't Will Smith great, before the big-movie paydays, in the simpler time of The Fresh Prince of Bel-Air? Smith rarely uses his remarkably sharp comedic skills nowadays (Hitch being a slight exception), and instead – much like Tom Hanks – has decided to seek "important" roles. Forget that! Watching the second season of Fresh Prince (Warner Bros., Not Rated, DVD-$29.98 SRP), I couldn't help but feel disappointed at the loss to comedy. The bonus bloopers are a hoot as well.
Holiday season momentum is building, and gift sets are becoming more and more frequent – including an upcoming spate of classical musical releases from multiple studios. The first down the pike is the 3-film American Movie Musicals Collection (MGM/UA, Not Rated, DVD-$29.96 SRP), which sports a trio of MGM classics – Guys & Dolls, West Side Story, & Fiddler on the Roof. Both Dolls and West Side are bare bones, but Fiddler features an audio commentary with director Norman Jewison & star Topol.
And while we're talking holiday gifts (and MGM sets), how about the complete Sabata Trilogy (MGM/UA, Rated PG-13, DVD-$35.95 SRP), starring both Lee Van Cleef and Yul Brynner as the avenging gunslinger with the gunsight eyes. The three films in question are Sabata, Adios, Sabata, and Return of Sabata, and they're a perfect way to spend a lazy Sunday afternoon.
If you were a kid in the late 80's, you probably owned a Nintendo. Sometimes, I think they were government-issued brainwashing apparatus. Ownership of a Nintendo also meant you probably subscribed to Nintendo Power magazine and also watched at least a couple of installments (even if you won't admit it) of 1989's Super Mario Bros. Super Show!, with cartoon versions of your pixel heroes and live action wrap-arounds starring Captain Lou Albano as Mario. The Super Mario segments are coming next year, but right now you can buy the complete Legend of Zelda (Shout! Factory, Not Rated, DVD-$29.98 SRP), which featured the animated adventures of Link as he defends Princess Zelda and the kingdom of Hyrule against the evil wizard Ganon. Ain't nostalgia a sucker-punch?
Never never never (never) did I ever envision that Fern Gully: The Last Rainforest (Fox, Rated G, DVD-$19.98 SRP) would ever get a 2-disc special edition. It's a likeable enough animated feature, sure, but it's far from being a classic – but you wouldn't know that from the copious bonus features crammed in here, including an audio commentary with the filmmakers (director Bill Kroyer, coordinating art director Susan Kroyer, and art director Ralph Eggleston), behind-the-scenes featurettes, a music video, trailers, and more. The end, truly, is nigh.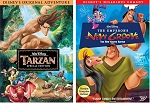 It's almost an insult that Disney is releasing such useless half-a**ed editions of Tarzan and The Emperor's New Groove (Walt Disney, Rated G, DVD-$29.99 SRP each) instead of re-releasing the stellar collector's editions from a few years back, which were compiled at a time when Disney still cared about sets that would appeal to animation fans. Both were prime examples of how to do Disney DVD right, with 2 discs full of information and behind-the-scenes materials. These new single-disc editions strip those materials down to a pair of audio commentaries, deleted scenes, cursory featurettes, and insipid music videos.