First of all, I hope each and every one of you have check out the inaugural batch of videos from our just-launched Scrubs blog. If not, head on over and give 'em a gander.
Will the evil Count Olaf finally triumph over the resourceful yet perpetually mistreated Baudelaire orphans? Will we finally learn the one true meaning of V.F.D.? Who is Lemony Snicket? Why is the sky blue? All of these questions and much more are left mostly unanswered in the penultimate chapter of the Series of Unfortunate Events titled – rather appropriately – The Penultimate Peril (Harper Collins, $11.99 SRP). In some ways, I enjoy these books more than Potter – which, in large part, is probably because I only have to wait a year between these. But it all comes to an end next year… And frankly, I can't wait to see how it all wraps up.

It's been said by quite a few other reviewers, but Paul McCartney's latest, Chaos and Creation in the Backyard (Capitol, $28.98 SRP), is awfully similar in tone and style to his first solo effort, McCartney. After the retro, hard-rocking outings of the past few years, he's pared down to the basics again, playing most of the instruments himself on most of the tracks. I've never full understood how people can put Lennon on a pedestal and yet tear down McCartney for "trite" lyrics – who ever said that every single song must be a message? Can't sheer musicality be a message just as powerful if the listener enjoys it? Enough with all the McCartney bashing – sometimes the world does need silly love songs, and there's nothing wrong with that. The deluxe edition release is the one to grab, as it contains a bonus DVD with a making-of documentary and videos.
I'm of two minds about James Cameron's massive homage to big budget uber-epics, Titanic (Paramount, Rated PG-13, DVD-$29.99 SRP). Part of me detests its coy, treacly, Spielberg-on-speed love story, which still manages to grate all these years later. The other part, though, is the one that made me see it in theaters a total of 6 times (yes – 6 times… almost 20 hours in a theater). When I was in elementary school, I became enthralled by the story of Titanic's ill-fated voyage after reading accounts of Dr. Robert Ballard's discovery of the ship in National Geographic, which led me to check out Arthur Lord's novel of the disaster, A Night To Remember, from my school's library… Over 40 times. I would return it and check it back out again, reading and re-reading it, until finally – when my school was being torn down to be rebuilt "bigger and better" and I was moving on to middle school – the librarian gave it to me. It still is one of the kindest, most treasured gifts I've ever received. And, frankly, it's that part of me which marveled at Cameron's recreation of the ship itself, bringing to cinematic life what I had only read about – including the ship's awful, yet mesmerizing demise. To see that on the big screen, I sat through the most god-awful of cliched love stories – and I was fine with it, because I got to see what I wanted. Watching the newly remastered 3-disc special edition (presented in anamorphic video for the first time, across two discs), I had the luxury of fast-forwarding through all the treacle and getting to the good stuff. As far as bonus features go, there's a brand new commentary with Cameron, a "cast & crew" commentary (with Kate Winslet, Gloria Stuart, Lewis Abernathy, Jon Landau, & Rae Sanchini), and a historical commentary (with Titanic experts Don Lynch and Ken Marschall – my favorite of all the commentaries, naturally), plus branching behind-the-scenes vignettes. There's also an alternate ending, over 45 minutes of deleted scenes with optional commentary (many of which were excised historical snatches), a ship construction time-lapse, a presentation on the dive to Titanic (with optional Cameron narration), videomatics, visual effects breakdowns, a "1912 Newsreel" shot during the filming, a cast & crew gag presentation. Oh – and the insipid Celine Dion video. Either way, for a Titanic buff like me, I'm thankful that Cameron made a movie that had enough visual fidelity that I still enjoy fast-forwarding to all the good stuff.

It's one of my holiday picks this year, but here's an early shot across the bow – go get yourself a copy of Rick Moranis's country album, The Agoraphobic Cowboy (ArtistShare, CD-$14.95, Download-$10.95). Yes, that Rick Moranis. And it's great.
No holiday season is complete without the classic journey into L. Frank Baum's land of Oz, and I remember marking many a Thanksgiving watching The Wizard of Oz (Warner Bros., Rated G, DVD-$49.92 SRP) after a day of Macy's parade and turkey galore. The newly remastered 3-disc collector's edition is truly a wonder to behold, featuring picture and sound that trumps the already-stellar edition from a few years back. Honest to goodness, the film has never, ever looked this good. The 3-disc set is loaded to the green gills with an audio commentary (with historian John Fricke and featuring archival cast & crew interviews), a restoration featurette, retrospective documentaries, behind-the-scenes featurettes (I love the spotlight on the making of the twister sequence), deleted scenes, rare audio, outtakes, galleries and – even more spectacular – pre-1939 Oz films going all the way back to 1910. Making the package all the more classy are portfolio reproductions of the film's programs and advertising materials. Oh, what a world!
The still-in-glorious-black-and-white second season of Bewitched (Sony, Not Rated, DVD-$39.95 SRP) welcomed the arrival of Darrin & Samantha's baby Tabitha, the first appearance of Paul Lynde as Uncle Arthur, and the final appearance of Alice Pearce as nosey neighbor Gladys Kravitz (the role was taken over by Sandra Gould after Pearce's death). One of the great things about DVD is you rediscover why shows like this are so timeless, and it all comes down to strength of concept, great actors, and funny writing. I know – it's' a shocking revelation, but it's also a rare alchemical alignment. I could watch Agnes Moorehead's Endora all day long and still not solve the cognitive dissonance of her earlier roles in films like Citizen Kane and The Magnificent Ambersons. Thankfully, we at least get a nice blooper reel in this set… Even that little bit is a treat.

See Los Angeles through the lens of the greatest noir films ever in L.A. Noir: The City as Character (Santa Monica Press, $19.95 SRP). Featuring stills, behind-the-scenes pix, and photos of how the locations look today, it's a fun flipper for and film buff.

My childhood will always be indelibly marked by the sights and sounds of the TV shows my young, supple brain was exposed to, and for that reason alone I shall never forget the opening narration of Hart to Hart, spoken by cartoonishly gruff-voiced butler Max (Lionel Sander), the loyal retainer of sleuthing socialites Jonathan and Jennifer Hart (Robert Wagner & Stefanie Powers). Clearly a Thin Man for the 80's, they would inevitably find themselves neck-deep in a murder mystery, one that would draw them away from their devil-may-care, jet-setting lifestyle for the length of an episode, before they'd return to tennis and poolside caviar. And you know what? I dug it… Which says a lot for just how charismatic Wagner and Powers were, and how hypnotic Stander's opening narration was. I kid you not – it haunts me to this day. The complete first season set (Sony, Not Rated, DVD-$49.95 SRP) features all 23 episodes, plus an audio commentary on the pilot and a retrospective featurette on the first season.
It's nowhere near the depth and quality of the classic Timm/Dini Batman animated series, but at least the concept behind Batman vs. Dracula (Warner Bros., Not Rated, DVD-$24.98 SRP) is something I think has a lot of potential, even if I'm not a fan of this anime-esque incarnation of the caped crusader. Bonus materials include behind-the-scenes featurettes and interviews with the voice talent.
Soak up every moment of In Living Color: Season 4 (Fox, Not Rated, DVD-$39.98 SRP) – it was the last bright, shining moment before Wayans brothers started bailing left and right, leaving a sad, pathetic shell of a show that could only look bad in comparison with its ground-breaking early seasons. Sadly, there are no bonus materials…

The first season of Tales from the Crypt was almost ludicrously brief, but the second season (Warner Bros., Not Rated, DVD-$39.98 SRP) was the first full outing, and it featured all the macabre, often gory, but always sly irony that made the series a keeper. Crypt always featured a wonderful range of guest stars, and this season is no exception, featuring turns from Don Rickles, Demi Moore, Harry Anderson, Jeffrey Tambor, Teri Hatcher, Kelly Preston, Iggy Pop, Patricia Arquette, William Hickey, Bobcat Goldthwait, and even a directing turn from Governor Arnold Schwarzenegger. Bonus features include a behind-the-scenes "shockumentary" and a look at Crypt on the radio.

There's nothing more depressing than listening to classic Bill Cosby albums – another, Inside the Mind of Bill Cosby (Geffen, $9.98 SRP), has just hit CD. Why, you ask? It makes me wonder why so gifted a comedian has turned his back on that gift… Bill, where did al the funny go? You had it once. Can you get it back? Or at least try? Please? If anything even close to a routine like "The Invention of Basketball," it's worth your time and effort.
Sydney (Jennifer Garner) goes Black-Ops and the world verges on zombie apocalypse in the fourth season of Alias (Buena Vista, Not Rated, DVD-$59.99 SRP), and that's not even counting the shocking final moments of the season finale. The 6-disc set features audio commentaries, interviews, deleted scenes, a Director's Diary, behind-the-scenes featurettes, and a blooper reel.

Now available in stores, the complete third season of The Kids in the Hall A&E, Not Rated, DVD-$59.95 SRP) contains such classic skits as the flying pig, Chicken Lady spotting Rooster Boy, Mississippi Gary singing the after-death blues, and a man accusing himself of sexual harassment. The 4-disc, 20 episode set features include audio commentaries with the kids on the two best-of compilations from the season, more classic live footage from the Rivoli Theater, and a slide show.
Produced by Sam Raimi, American Gothic (Universal, Not Rated, DVD-$49.98 SRP) was a great, atmospheric show about an evil sheriff (Gary Cole) and his plans for the idyllic town of Trinity, South Carolina – plans the he was determined would not be derailed, not even by local doctor Matt Crower (Jake Weber). So what happens to great genre shows? It was cancelled, of course! But now you can get the entire 22 episode run, which includes 4 episodes that never made it to air, plus 15 deleted/extended scenes.
As soon as I finished looking through the entirety of Manga: Masters of the Art (Collins Design, $24.95 SRP) – a lavishly illustrated behind-the-scenes look at the world of the Japanese comic artform – my first impulse was to go back to the beginning and look again. And again. Beautiful stuff.

If the tepid, uninspired soundtrack to Chicken Little (Walt Disney, $18.98 SRP) is any indication, Disney had better start worrying if the sky is falling on their foray into Pixar territory. It's almost embarrassing how desperately hard it tries to emulate Shrek, from classic rock to characters breaking into karaoke classics, it's a derivative melange that feels more manufactured than entertaining. Something tells me this Chicken Little is a Big Turkey.
Woody Allen decides to get all intellectual with Melinda and Melinda (Fox, Not Rated, DVD-$27.98 SRP), a mostly-clever film that looks how the single action of a stranger crashing a swank New York dinner party can be spun out to be either a tragedy or a comedy. The usual Allen All-Star Cast is here, including Will Ferrell, Wallace Shawn, Chloe Sevigny, Amanda Peet, Josh Brolin, and Steve Carrell. Like all other Allen DVD releases, there are zero bonus features. Bah!
The status quo was basically unchanged (once Dick defeated evil Dick, of course), but the second season of 3rd Rock from the Sun (Anchor Bay, Not Rated, DVD-$ SRP) is most-remembered as the season which featured the two-part 3-D special, which brought the alien's dreams to life with pretty decent effects for a TV budget (the set even comes with a pair of glasses). Bonus features include a John Lithgow interview, behind-the-scenes featurettes, an alternate ending to the 3-D episode, and bloopers. Now when do we finally get Shatner as the Big Giant Head?

Mickey's got nothing on the titular star of Cosgrove Hall's classic Danger Mouse (A&E, Not Rated, DVD-$29.95 SRP) – who cares if you're beloved by millions when there's a superspy rodent in the world, with a faithful hamster by his side? The Complete Seasons 3 & 4 features another 14 episodes – but sadly, no extras. A&E - take a cue from the recent Count Duckula set and get us some DM goodies!

Point Pleasant (Fox, Not Rated, DVD-$39.98 SRP) is one of those shows that have become all too cliché in the past few years – a genre series quickly axed by Fox. The (alarmingly frequent) ultimate clash between good and evil centers around a young girl who washes up on the sand of the small beach town of Point Pleasant, but her presence begins to have increasing effects upon the people around her (remember that whole looming "battle" thing?). As with and cancelled series, there's no real resolution in the 13 episodes contained in the 3-disc set, but there's at least enough atmosphere to make it worth a spin.
Buckle your swashes and practice your alphabet before popping in James Horner's surprisingly enjoyable score for The Legend of Zorro (Sony Classical, $18.98 SRP). Mask optional.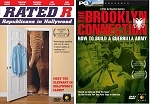 Documentary time again, people! Eternally referred to as a liberal bastion, the elephant in the closet is the subject of Rated R: Republicans in Hollywood (Docurama, Not Rated, DVD-$19.95 SRP), which looks at the growing conservative movement in Tinseltown, from Schwarzenegger's gubernatorial win to interviews with avowed conservatives Drew Carey, Patricia Heaton, John Milius, and more. Meanwhile, The Brooklyn Connection: How To Build a Guerilla Army (Docurama, Not Rated, DVD-$26.95 SRP) focuses on Florin Krasniqi and the army he was able to build running guns from the US to Kosovo after his cousin is killed in an attack on the Yugoslav army. Fascinating stuff.
The second (and final) season of The Munsters (Universal, Not Rated, DVD-$49.98 SRP) makes it to DVD in time for Halloween, but it's the bonus features that make this a must-have set, with a quartet of in-depth feature documentaries produced by Kevin Burns - "America's First Family of Fright," "Fred Gwynne: More Than a Munster," "Yvonne DeCarlo: Gilded Lily," and "Al Lewis: Forever Grandpa." Why oh why isn't The Addams Family on DVD yet?

I'm sorry, but I can't watch Herbie: Fully Loaded (Walt Disney, Rated G, DVD-$29.99 SRP) – which places everyone's favorite Love Bug front-and-center on the NASCAR circuit – without lamenting the train wreck that star Lindsey Lohan has become, which makes the film's title more than a passing irony. The film itself is cotton candy piffle that leaves no real lasting impression, but it shall mark the last flick featuring the "old," pre-stall Lindsey. Bonus features include an audio commentary with director Angela Robinson, deleted scenes, behind-the-scenes featurettes, bloopers, and a music video.
The sad irony of Dominion: Prequel to the Exorcist (Warner Bros., Not Rated, DVD-$24.98 SRP) – which was shelved when studio execs were unhappy with director Paul Schrader's more psychological-than-schlocky take on the material, firing him and reshooting a version which ultimately bombed at the box office – is that, although it's much better than the hoary reshot version, is still not a particularly good flick. It is better, though… At least there's that. Personally, I hope the prequel fad dies a quick death, because with very few exceptions, expanding on an existing flick – usually a classic – only serves to make the original look better in comparison to the derivation. Bonus features include an audio commentary with Schrader, additional scenes, and a stills gallery.

It's nothing to write home about, but Invasion: Earth (A&E, Not Rated, DVD-$29.95 SRP) is a serviceable enough sci-fi miniseries about two warring alien species that decide Earth is their next battleground and – as usual – it's up to a small group of Earthlings to try and save the Earth from total destruction. Isn't it just always the way?
If there's one thing in favor of the teen-terror remake of House of Wax (Warner Bros., Rated R, DVD-$28.98 SRP), it's that they were canny enough to cast Paris Hilton as a victim-in-waiting. No matter how good or bad the flick actually is, it's worth watching just to count the time until her eventual demise. Go figure. As a teen-terror, HOW is a disposable but enjoyable gorefest sure to make many a Halloween marathon list this year.
Narrow in its focus but still powerful, Gus Van Sant's Last Days (HBO, Rated R, DVD-$27.95 SRP), inspired by the final days of Kurt Cobain, follows a troubled musician isolated by the creative, social, monetary, and emotional demands of friends, family, and the public at large, who seeks solace in and around his wooded home. To say anymore is to ruin the portrait painted by Van Sant – it's well worth a spin. Bonus materials include behind-the-scenes featurettes, a deleted scene, and a music video.
I have to admit – I do get a kick out of seeing "star" shows from the 50's – the kind of shows that spotlighted a single performer doing what they do, along with their "friends." Case in point is a series of variety shows sponsored by Timex in 1957, starring Frank Sinatra. One of these, guest-starring Dean Martin & Bing Crosby, is presented on The Frank Sinatra Show: High Hopes (MVD, Not Rated, DVD-$14.95 SRP), 60 minutes worth of time capsule performances (plus the original ads!).
It's pure pulp schlock, but there's an undeniable train wreck appeal to Kevin VanHook's The Fallen Ones (Anchor Bay, Not Rated, DVD-$19.98 SRP), starring Casper Van Dien as archeologist Matt Fletcher, who must face down a potential apocalypse and a giant 42-foot mummy. Pure, loveable schlock. Bonus features include an audio commentary, behind-the-scenes featurettes, galleries, and a trailer.