Happy Turkey Day, people! Here's hoping you and yours are having obscene amounts of wonderful food, while engaging in not-too-awkward conversation. What more can you ask for? Anyway, let's get this quickie out of the way so I can beat feet for the holiday…
I think the joy of the original King Kong is summed up in one simple title card – the one in which the giant ape himself gets final billing as star of the film bearing his name, with the title "Eighth Wonder of the World." That one gesture forever sets it apart from any attempt to tell Kong's story that has come since – it was a gesture that elevated the beast beyond being a mere special effect. Warner's long-awaited (and I mean *long*-awaited) 2-disc special edition release of the original King Kong (Warner Bros., Not Rated, DVD-$26.99 SRP) is largely a success, featuring a great film, a nice presentation, and plenty of quality bonus materials. The picture and sound restoration are not quite the revelation that Citizen Kane's DVD debut was, but it's certainly better than Kong has looked in the past. Those bonus features include an audio commentary (with Ray Harryhausen & Ken Ralston, with interview excerpts from producer Merian C. Cooper & Fay Wray), a 7-part documentary exhaustively deconstructing the entire production process, original Creation test footage with Harryhausen commentary, and a documentary profiling Merian Cooper's career. While a spiffy edition with in a collectible tin featuring a reproduction of the original theater program is available, true cinephiles will want to pick up the 3-film set (Warner Bros., Not Rated, DVD-$39.92 SRP) packaging Kong with its sequel, Son of Kong, and the classic Mighty Joe Young (sporting a Harryhausen & Ralston commentary, plus a pair of featurettes). Kong is king!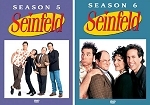 It seems like we just started, but with the release of the complete 5th & 6th seasons of Seinfeld (Sony, Not Rated, DVD-$49.95 SRP each), we're already past the halfway mark on the series, and cruising to a likely wrap-up next year (which begs the question, where are Newsradio's remaining sets?). As these sets clearly illustrate, Seinfeld was a show that only got better with age, proving that a comedy about nothing is universal enough to be enduring. Heck, just referencing certain aspects of a given episode leads to instant recognition, and there are plenty of iconic episodes contained in the 5th & 6th seasons – the puffy shirt, the mango, the lip reader, the opposite, and the fuscilli Jerry. Like the previous sets, they've gone all-out on bonus features, including audio commentaries, behind-the-scenes featurettes, deleted scenes, promos, outtakes, and even "Sein-Imation" – classic scenes reimagined in animation.
It's not as easy to categorize as the Mouse's Disney Treasures releases, but the Looney Tunes Golden Collections are slowly making up for their haphazard presentation of multiple characters and time periods (with a still disappointing lack of B&W) with some quality restoration and a bevy of bonus materials. In fact, the third volume of the LT: GC (Warner Bros., Not Rated, DVD-$64.92 SRP) has – in addition to 60 more classic cartoons like Robin Hood Daffy, Rocket Squad, Wackiki Rabbit, Duck! Rabbit, Duck!, and Birds Anonymous – has choice rarities like the original Philbert pilot, Bugs Bunny Show bridging sequences, early B&W and wartime cartoons (huzzah!), plus audio commentaries and documentaries (including the long-awaited DVD debut of Chuck Amuck). While you're on an animation kick, you'll probably also want to snag the second Tom & Jerry Spotlight Collection (Warner Bros., Not Rated, DVD-$26.99 SRP), with 38 cat-chase-mouse gems.
While Disney dumps their TV product in unceremoniously bare-bones fashion (DuckTales & Rescue Rangers), Warners continues to provide top-notch treatment of the Hanna-Barbera library, with restored, remastered prints (many containing accurate credit sequences for the first time in decades) and bonus interviews, featurettes, and commentaries. The latest releases to come down the pike are the complete fourth season of The Flintstones, the first volume of The Huckleberry Hound Show, and the complete Yogi Bear Show (Warner Bros., Not Rated, DVD-$44.98 SRP each), which also debuted the forever stage-exiting Snagglepuss.

Is it blasphemy to say that, at one time in my life, I got a kick out of the melon-bashing humor of Gallagher? Is that so wrong? If it is, then I don't want to be right. And if you're un-right like me, you'll probably also be picking up the 3-disc Gallagher: Smashing Watermelon Collection (Anchor Bay, Not Rated, DVD- $29.98 SRP), with 11 full specials. Go on… pretend you didn't like him at one point… Go on…
Even though the numnutz at Fox decided to pull the plug on the still-funny King of the Hill after the current season wraps (again – what utter maroons!), at least the DVD's will be with us. The 5th season (Fox, Not Rated, DVD-$39.98 SRP) rolls along with Bobby working for Buck Strickland (and picking up some unfortunate habits from the old man), Hank facing the horrible truth that he may be Yankee-born, Dale learning that his exterminator chemicals are killing him, Peggy failing the high school's quarterback, and much more. But I do have to ask – where in the heck are the bonus features? Come on!

Jackson Browne is often dismissed as a mellow tunesmith of the singer/songwriter 70's, but when you hear the startlingly raw power of an album like Running On Empty (Rhino, $24.98 SRP) – newly remastered with a bonus DVD featuring a 5.1 version of the album, bonus tracks, and galleries – you'll realize what an underrated songwriter he really is. In fact, this album comes second only to The Pretender as a real fave, ranking right up there with anything the likes of Paul Simon released during that decade.
It's unfortunate that director/producer Moustapha Akkad perished (along with his daughter) in the recent Jordan terrorist bombings just as his two groundbreaking films on Islam, The Message and Lion of the Desert (Anchor Bay, Not Rated, DVD-$29.98 SRP each), were released on DVD. Thankfully, the discs were both prepared before he perished, allowing for 2-disc special editions with his full participation and copious bonus materials, including commentaries and documentaries. It was these films, and his financing of a little film called Halloween, that made him a Hollywood legend, and it's heartbreaking to know that he's gone. At least we still have his films.
Everything – and I mean *everything* - is making its way to DVD, so it was only a matter of time before we got the Beaver, his brother Wally, and 50's parents Ward & June. The Cleavers go digital in the complete first season of Leave It To Beaver (Universal, Not Rated, DVD-$49.98 SRP), with the plum bonus feature of the original pilot (with alternate Ward & Wally). Unfortunately, this otherwise worthwhile set continues Universal's lamentable trend of using the bastardized DVD-18's for their TV sets.
Director Robert Zemeckis employs a lush all-CG canvas to bring the visual splendor of Chris Van Allsburg's Polar Express (Warner Bros., Rated G, $29.95 SRP) to life, taking Tom Hanks along to play 5 different roles in the film - most important being the conductor of the magical train that carries a doubting child to the North Pole for a face-to-face with Jolly St. Nick. Unfortunately, that lush imagery doesn't survive the translation to moving pictures, with much of the animation in the character's faces being more akin to a zombie flick than a holiday perennial. The 2-disc set features behind-the-scenes featurettes, a nice mini-doc on Chris Van Allsburg, a deleted song, and more.
If you've heard the original cast album to the smash Broadway adaptation of Mel Brooks' legendary comedy, you pretty much know what to expect from the soundtrack to the big screen version of The Producers (Sony Classical, $18.98 SRP). The songs are virtually unchanged, with mainly a greater depth to the sound being the only real difference. Oh, and Bialystock's main tune, "The King of Broadway" – which has (unbelievably) been excised from the film – is included as a bonus track.
Every time I see a film like Ringers: Lord Of The Fans (Sony, Rated PG-13, DVD-$24.96 SRP) – which profiles the sometime stable, sometime terrifying Lord of the Rings - I can't help but cringe. Like Trekkies before it, I can't help but feel bad for some of the more delusional ones who can't separate fantasy from reality. I'm all for being a fan and really, really liking something, but when you dress up and believe you're a wood elf, well… 'nuff said. Copious interviews with Peter Jackson and the LOTR cast add some much-needed gravity to what would otherwise be a borderline scary little fan flick, and narrator Dom Monaghan is a welcome presence as well. Bonus features include audio commentary, deleted scenes, and additional featurettes.
The big screen iteration starring Charlize Theron has been triggering my spidey-sense, but you can relive all of the death-defying adventures of the athletically impressive secret agent/saboteur Aeon Flux (Paramount, Not Rated, DVD-$38.99 SRP). Completely remastered under the supervision of creator Peter Cheung, the 3-disc set features the Liquid Television shorts and the pilot, plus audio commentaries, behind-the-scenes featurettes, artwork, and a look at some of Cheung's other work.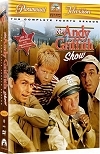 While the 3rd season of The Andy Griffith Show gave us the gift that was Gomer Pyle, the show's 4th season (Paramount, Not Rated, DVD-$39.98 SRP) both giveth and taketh away – Gomer was gone by the end of the season, spun off into military service in the USMC, but we got Gomer's cousin Goober to take up the mantle of affecting dimwit. The 5-disc set features all 32 episodes in glorious black & white, but there are still no extras in sight.
Suzanne Sommers' Chrissy made her exit and Cindy arrived on the scene in the fifth season of Three's Company (Anchor Bay, Not Rated, DVD-$39.98 SRP), but by now the show was on virtual autopilot and there wasn't much that could happen that would shake things up too badly. Bonus features include a spotlight on the censors with the producers, and an interview with Jenilee Harrison.

Featuring both the large outsize performances that made him such a thrill to see in concert with smaller, more intimate venues, the 2-disc Still Growing Up: Peter Gabriel Live & Unwrapped (Rhino, Not Rated, DVD-$29.99 SRP) presents both sides of Gabriel as a performer. Disc 1 features the bombastic 2003/04 concert, while the second disc contains the lower-key, much more revealing side of Gabriel that's very rarely seen outside the studio. Bonus materials include rehearsal footage and additional performances.
Congrats to David Caruso for sticking around on CSI: Miami, as the complete third season hits DVD (Paramount, Not Rated, DVD-$79.99 SRP). I'm not a terribly big fan of the CSI franchise, but there are those who are wedded to its procedural gobbledygook. Good on you – you'll be loving this set. Bonus features include a half-dozen audio commentaries and behind-the-scenes featurettes.

It's not genius, but there's a loveable boob charm to the episodes comprising the complete first season to Sci-Fi's CG animated comedy Tripping the Rift (Anchor Bay, Not Rated, DVD-$29.98 SRP). The universe-spanning misadventures of bawdy purple blob Chode and the ragtag crew of the starship Jupiter 2 is good for a few laughs – just don't look for brilliance.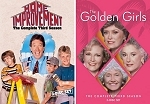 It's some kind of odd pairing, for the season sets of Home Improvement & Golden Girls to be geared for release on the same day, which has held true for every set from season one to the current 3rd season (Buena Vista, Not Rated, DVD-$39.99 SRP each). I don't know, it just seems like an odd Mars/Venus thing. Go figure.
If you were disappointed in the PG-13 "eh"-fest that was the theatrical release of Alien Vs. Predator (Fox, Not Rated, DVD-$26.98 SRP), you'll be slightly more enthusiastic about the new unrated edition, which restores some deleted scenes and gore to ramp up the otherwise glaring lack of suspense and shock in what still plays like a poor man's version of the original Dark Horse Comics' tete-a-tetes. The 2-disc special edition features audio commentaries, additional deleted footage, behind-the-scenes featurettes (including a look at those Dark Horse match-ups), and more.

Obviously afraid too much soft focus, feel-good sugary schmaltz might send fans into a diabetic coma, the Extreme Makeover: Home Edition folks have decided to collect only the best, most heart-warming moments from the 1st season into a 2-disc love fest of Ty Pennington proportions (Buena Vista, Not Rated, DVD-$29.99 SRP). The set also features a behind-the-scenes look on how the show is put together, plus off-camera hijinks and bloopers… You know, like when they built that house over an Indian burial ground and all hell broke loose just as the family arrived for the unveiling.

I know there are diehard fans of Barbra Streisand out there (for shame!) and they'll probably be gaga over Barbra Streisand: The Television Specials (Rhino, Not Rated, DVD-$59.98 SRP). This 5-disc set features all of her specials from 1965's My Name Is Barbra right up until 1973's – so help me, this is the actual pretentious title – Barbra Streisand… and Other Musical Instruments. Oy.