I hope you all had a pleasant Halloween (like holding a 24-hour Night of the Lepus marathon… you know who you are, and you should be so ashamed…). We're now officially in the holiday season, so let the madness begin…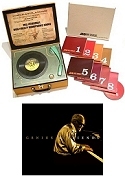 My faith has wavered a bit over the years, particularly after they were gobbled up by Warner Bros., a few years back, but Rhino always had a knack for treating its releases of classic materials with the utmost care and respect, not only in its remastering, but also in how it presented those recordings. Their massive Pure Genius: The Complete Atlantic Recordings (1952-1959) (Rhino, $149.98 SRP) collects the entirety of Ray Charles' legendary output from that period, completely remastered and beautifully presented across 7 discs, with a bonus 6th disc comprised of rare performances at the Newport Jazz Festival and more. When I mentioned that Rhino goes the extra mile in presentation, they go a mile-and-a-half here, packaging the set in a portable record player case from the period, with a plastic insert of the play-deck itself, under which are the discs. All in all, it makes a classy set just that much more classier. Also available is a unique blending of recordings made by Brother Ray in '97 & '98, which are paired off with a bevy of stars - titled Genius & Friends (Rhino, $ SRP) – that is worth a spin as well, after you've plowed through the box set.

To anyone who's ever felt zombified by their job, there was Office Space (Fox, Rated R, DVD-$19.98 SRP) – a film which perfectly summed up the mind-numbing lunacy of the modern workplace. For all those still toiling under the yoke, Mike Judge's ode to cubicle life gets a special edition with extra flair to spare (though I still long for a commentary track). Bonus features include a retrospective documentary, deleted scenes, and the theatrical trailer.
Who is Randy Newman? Listen to his music, and he's the man of 1,000 faces – he's been a bigoted redneck, a naïve child, a northern liberal, a southern farmer, Sigmund Freud, a senator, God, the devil, and more. More than any popular artist save for Bob Dylan, Newman has written songs from the perspective of narrators other than himself – which has led to much confusion amongst listeners who follow standard singer/songwriter doctrine that if you write and sing it, it must be first person (these people also tend to need help getting their shoes tied and probably shouldn't run with pointy objects). If you've ever wanted to peer beneath Newman's masks, there's no better start than Kevin Courrier's engrossing dissection of the man and his work in Randy Newman's American Dreams (ECW Press, $18.95 SRP). I don't always agree with Courrier's take on the meaning of a given song, but it's definitely thought-provoking.
With the release of Spielberg's flashy take on H.G. Wells's classic sci-fi invasion opus on the way, it's inevitable that we'd finally get a decent DVD release of producer George Pal's 1953 classic version of War of the Worlds (Paramount, Rated G, DVD-$14.99 SRP) in a snazzily restored special edition. The bonus features include an audio commentary with actors Ann Robinson and Gene Barry, an appreciation audio commentary (with Joe Dante, Film Historian Rob Burns, and author Bill Warren), a making-of documentary, a spotlight on Wells, the original theatrical trailer, and Orson Welles's famous Mercury Theater radio adaptation. As if that weren't enough, the first season of the 1988 War of the Worlds TV series (Paramount, Not Rated, DVD-$38.99 SRP) is also making it to DVD in a 6-disc set featuring all 23 episodes that pick up where the 1953 film left off, as the aliens are accidentally revived.

Don't get me wrong – the Rock Icons and Ray Charles collections of Dick Cavett Show episodes were great, but the one I anticipated the most is the John & Yoko Collection (Shout! Factory, Not Rated, DVD-$24.98 SRP) featuring the trio of legendary programs that featured the Lennons, presented complete and uncut. Also included are new introductions and an interview with Cavett, as well as some original promos.

Seven year-old Damian gets a literal gift from above when a suitcase full of cash falls from the sky during the holidays in Millions (Fox, Rated PG, DVD-$27.98 SRP), but while Damian is keen on sharing the wealth with those less fortunate, his brother Anthony would rather have the time of his life. That the cash turns out to be stolen leads to some complications, to say the least. Director Danny Boyle turns in a surprisingly joyful comedy that features quite a few unexpected twists not often seen in family fare. Bonus features include an audio commentary with Boyle and screenwriter Frank Cottrell Boyce, deleted scenes, and behind-the-scenes featurettes.
Nothing anyone could have done would have saved Enterprise. By the time it limped into its fourth (and final) season (Paramount, Not Rated, DVD-$129.99 SRP), it was a crippled beast waiting to be put out of its misery, permanently disabled by the inept, destructive guidance of producers Rick Berman and Brannon Braga. Now, having said that, the final season did manage to make itself more watchable than the previous 3 outings due to the presence of showrunner Manny Coto, who at least understood (and seemed to respect) what franchise he was working on. Sadly, Enterprise and its characters were too far gone to save. I'm interested to see what Coto could do with Trek if given a clean slate. The 6-disc set features a pair of audio commentaries on the Mirror Universe episodes, deleted scenes, behind-the-scenes featurettes, outtakes, and a photo gallery.

Massively egomaniacal actor Jack Wyatt (Will Ferrell) casts an unknown actress (Nicole Kidman) as his costar in a in a remake of the television show Bewitched (Sony, Rated PG-13, DVD-$28.95 SRP), in hopes of re-igniting his fading Hollywood star - but it turns out his Samantha is actually a real witch who decides a spell or two might be in order to set him straight. It's really hard to isolate just went wrong here, but it seems to be a lethal concoction of too much post-modernism and too little humor, with a dash of overexposure (Hello, Will!) thrown in. Where the Brady Bunch Movie played nicely with the idea of throwing the idea of a basic TV-to-Film adaptation for a loop, Bewitched is mired in its own sense of effervescent cleverness. Bonus features include an audio commentary, behind-the-scenes featurettes, and deleted scenes.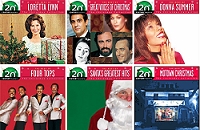 Now that November is finally here, I can begin recommending holiday music releases with a clear conscience (far be it from me to pull a Wal-Mart and start before Halloween has even passed). So what should be the first CDs you snag? Well, there's the 20th Century Masters Christmas Collection (Universal, $11.98 SRP each), which includes individual releases from Loretta Lynn, Great Voices of Christmas (featuring Pavaroti, Domingo, Carreras, and more), Englebert Humperdinck, Donna Summer, Motown Christmas: Volume 2 (with Stevie Wonder's "What Christmas Means To Me"), The Four Tops, and Santa's Greatest Hits (which has all of the essentials, from Brenda Lee rockin' around the Christmas tree to the Chipmunks and Alvin's hula hoop plea).

Jane Fonda makes a triumphant return to comedy as the titular beast in Monster-in-Law (New Line, Rated PG-13, DVD-$28.98 SRP), the overbearing obstacle in the path of prospective marital bliss for daughter-in-law Charlie (Jennifer Lopez) and son Kevin (Michael Vartan). Intent on short-circuiting the nuptials, she tries every obnoxious trick in the book to get Charlie to beat feet, but Charlie's not about to just roll over – leading to (you guessed it) a wild & wacky contest of wills. The 2-disc Platinum edition features behind-the-scenes featurettes, deleted scenes, bloopers, and more.
Portions of the print look like it's been pulled across hot asphalt, but there's a reason why Whoopi Goldberg's 1985 HBO special, Direct From Broadway, made such a splash – Goldberg presented a handful or character performances that managed to resonate and provoke fits of laughter at the same time (not an easy task, as comedy with relevance is an art, not a hobby). That special is presented on the second disc of Whoopi Goldberg: Back To Broadway (HBO, Not Rated, DVD-$24.98 SRP), her funny return to form special. Bonus features include bloopers, an interview, and a behind-the-scenes featurette.
A trio of John Hughes 80's classics (The Breakfast Club, Sixteen Candles, & Weird Science) get collected in a mini-school binder and bundled with an 8-track CD featuring iconic songs from the flicks (from Oingo Boingo's "Weird Science" to Simple Minds' "Don't You (Forget About Me) in the cleverly-titled Brat Pack Movies + Music Collection (Universal, $39.98 SRP). If you don't already have these, this is a nifty, quick way to get 'em.
Kevin Costner goes a long way towards reclaiming watchability (I never forget, Kev) in The Upside of Anger (New Line, Rated R, DVD-$27.95 SRP), a poignant dramedy in which he plays a former baseball star-turned-local DJ who becomes the paramour for a lonely mother of four (Joan Allen) whose husband unexpectedly disappeared. Her headstrong daughters (Evan Rachel Wood, Alicia Witt, Keri Russell, & Erika Christensen) are left to pick up the emotional pieces in both their mother's love life and their own. Keep it up, Kevin, and I may – may! – just forgive The Postman. Bonus features include audio commentary, deleted scenes, and a behind-the-scenes featurette.

It was during the fourth season of The Brady Bunch (Paramount, Not Rated, DVD-$38.99 SRP) that puberty began to take hold, with great results for Marsha and unfortunate results for Greg, Peter, and Bobby (perms were right around the corner). However, the classic episodes are still in full force, from the Don Ho-infested and Tiki Idol-cursed Hawaiian trip to the infamous football to the nose. But where are the bonus features? Come on!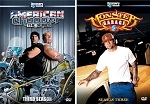 Motorheads should begin counting the pennies in their change dish in order to snag their copies of the complete third seasons of Discovery Channel's Monster Garage & American Chopper (Sony, Not Rated, DVD-$19.94 SRP each). Of the two, I can't get enough of the father-son soap opera that is Chopper – it's almost embarrassing soapy that thing gets, for what ostensibly is a show about building dream bikes. Seriously guys – go see a counselor. Or just duke it out.

It's not quite the same as the in-theater 3-D experience, but James Cameron's enthusiasm for his subject matter is infectious in his latest deep sea exploration, Aliens of the Deep (Walt Disney, Rated G, DVD-$29.99 SRP), in which he documents life overcoming the odds in the ocean's deepest depths. Who'd have thought that Cameron would go on to have this kind of Cousteau-like career? The disc features an extended version of the film, almost doubling its theatrical length.
Lindsey who? Hilary Duff returns to the screen in the not altogether unwatchable The Perfect Man (Universal, Rated PG, DVD-$29.98 SRP) as a daughter hoping to curtail her mother's habit of picking up and moving after another failed romance by crafting a secret admirer for mom (Heather Locklear) with the aid of a schoolfriend's uncle (Chris Noth). Bonus features include an audio commentary, behind-the-scenes featurettes, deleted Scenes, and outtakes.
Literary adaptations can be a tricky business - sometimes ingenious, sometimes sterile. The adaptation of Thornton Wilder's Pulitzer Prize winning novel The Bridge of San Luis Rey (New Line, Rated PG, DVD-$24.95 SRP) – about a group of diverse travelers who meet a supposedly untimely end when the bridge they are crossing collapses, but whose "circumstantial" demise is investigated by a Franciscan monk who discovers that there are secrets in each of their pasts – managed to keep my attention, which is not an easy thing to do. The cast certainly helped – including Robert De Niro, Gabriel Byrne, F. Murray Abraham, Geraldine Chaplin, Harvey Keitel, and the always-watchable Kathy Bates – certainly helped matters.