Is next week really Thanksgiving? What kind of cruel temporal joke has been played on us, that this year is disappearing like a metaphor through the hourglass? Are these truly the days of our lives? Am I so overworked at this point, that coherency is nearly lost? You decide…
It was my love of Scrubs that led me to getting the behind-the-scenes video blog over at FilmForce, and it was the show's second season (Buena Vista, Not Rated, DVD-$39.99 SRP) that cemented that the first season was no fluke, and I was watching a modern TV classic that I could unashamedly place on the shelf next to NewsRadio, Larry Sanders, Curb Your Enthusiasm, Arrested Development, Freaks & Geeks, and Seinfeld. The second season picks up with the repercussions of Jordan's lid-blowing revelations to all, and keeps the ball rolling through 22 episodes of equal parts drama, turmoil, and "the funny." In fact, few shows bring "the funny" as consistently as Scrubs, and even fewer do it so well while balancing it with a deep emotional well. Take that, lesser shows. The 3-disc set features audio commentaries on select episodes, a bevy of featurettes (on stunts, casting, music, and jokes), deleted scenes, an interview with John C. McGinley, and outtakes.
If you've yet to be won over by the brilliant comedy of Home Movies, then I pity your hard heart and thick head, and sincerely hope someone lend you a sense of humor (and I'm only partially kidding). Seriously, though, Home Movies is one of those shows that give me hope that wit has not died a slow death in today's corporate culture, and the third season (Shout! Factory, Not Rated, DVD-$34.98 SRP) ranks as the strongest in the show's much-too-brief run. The 3-disc set features audio commentaries, Loren Bouchard's tribute to comic-con fans set to music, animatics, a radio interview, and H. Jon Benjamin's featurette for people who don't like Home Movies.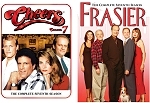 Sam begins the process of reclaiming the bar, Rebecca's corporate career disintegrates, Carla's marriage to ex-goalie Eddie hits an unexpected iceberg, Frasier & Lilith plan marital bliss, and much more befalls the barflies in the seventh season of Cheers (Paramount, Not Rated, DVD-$39.95 SRP). Meanwhile, in the seventh season of Frasier (Paramount, Not Rated, DVD-$39.95 SRP), the good doctor inadvertently lets Daphne know about the 7-year crush Niles has been nursing for her… Hey, it had to happen eventually. Both sets feature zero bonus features, but I'm just happy – when studios like Sony drag their feet – that Paramount has been getting these out at a very nice clip.
Long before it became "hip" to do massive, mega-concerts for charity with a bill to kill for, George Harrison took up the cause of the famine-ravaged people of Bangladesh. Answering his call were the likes of Bob Dylan, Eric Clapton, Ringo Starr, Billy Preston, Leon Russell, and Ravi Shankar, and the result was The Concert for Bangladesh. The original 2-disc album (Capitol, $34.98 SRP) has been completely remastered, and includes a bonus track. Even better, the original concert film has been completely remastered, and is now available as a 2-disc collector's edition (Rhino, Not Rated, DVD-$29.98 SRP) with a retrospective documentary, additional previously unseen performances, and additional featurettes (one detailing the now-replaced original artwork for the album and film, depicting a starving Bangladeshi child).
You've got your Chaplin and your Keaton, but the thinking man's silent comedian was the bespectacled Harold Lloyd, whose classic films that ruled the roaring twenties are now available in sparkling transfers loaded with bonus features via The Harold Lloyd Collection (New Line, Not Rated, DVD-$89.95 SRP) – 7 discs of comedy gold. Twenty-eight films are included, including the legendary Safety Last!, The Freshman, and Speedy. Bonus features include introductions & commentaries from Leonard Maltin, interviews, rare footage (including vintage interviews with Lloyd and home movies), radio shows, video biographies of Keaton's collaborators, and much more. In fact, you even get a sample of his personal hobby – 3-D photography (viewable with included glasses).
No matter how hard Chicken Little: From Henhouse to Hollywood (Disney Editions, $19.95 SRP) tries to sell it as such, I can look at Disney's "first" foray into home grown CG animated feature-land as neither groundbreaking nor good. In fact, browsing through the design artwork, I think the concept would have looked a heck of a lot better done as a traditional 2-D feature. But what do I know?
Another making-of book that may strike your fancy, if you have a piratical bent, is Pirates of the Caribbean: From the Magic Kingdom to the Movies (Disney Editions, $22.95 SRP). As you might have guessed, it charts the development process that made a theme park ride into a booming franchise.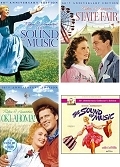 The hills are not only alive with music, they're positively bursting with both pristine sound and sight with a remastered trio of Rodgers & Hammerstein classics – The Sound of Music, State Fair, & Oklahoma (Fox, Rated G, DVD-$26.95 SRP each). All three films are presented in 2-disc special editions, loaded with bonus features including audio commentaries (of particular note is the late director Robert Wise on SoM), documentaries, alternate versions of both State Fair & Oklahoma, screen tests, trailers, and much more. Also available is a newly remastered edition of The Sound of Music's soundtrack (RCA, $24.98 SRP).
Speaking of musicals, one of my all-time favorites – and when I say that, I mean that I've seen it, literally, almost 3 dozen times as a kid – is the film adaptation of Lionel Bart's Oliver! (Sony, Rated G, DVD-$19.94 SRP). There have been plenty of adaptations of Dickens' classic tale of an orphan's journey from the underworld to happiness (with money), but it's this musical version that still strikes a chord with me. The songs are modern classics ("Food, Glorious Food," "Pick a Pocket or Two," and the unforgettable "Consider Yourself"), and the presentation in this new DVD set is sparkling. While bonus features include a behind-the-scenes featurette and a photo gallery, the real keeper is on the second disc – a CD featuring the complete 14-song soundtrack. "Please sir, I want some more…"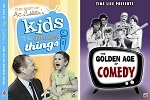 If it weren't for DVD, many golden moments from television history would be relegated to cheap-o VHS bins in poor video quality, if they're even released at all. Well, thanks to Time Life, we've got a pair of releases that are still just as funny – the finest juvenile faux pas in The Best of Art Linkletter's Kids Say The Darndest Things & a selection of comedy legends in The Golden Age of Comedy (Time Life, Not Rated, DVD-$14.95 SRP each). The Golden Age disc is particularly sweet, as it also features rare early stand-up performances from Woody Allen, Bill Cosby, Bob Newhart, and Jonathan Winters.

I'd like to say that the 10th and final season of Friends (Warner Bros., Not Rated, DVD-$44.98 SRP) went out with a bang, but the truth is that the show was pretty much going through the motions during the truncated 17-episode race to the finish. We all knew that Ross & Rachel were going to get together in the end, and that slowly but surely the core group would break apart – a fait accompli as soon as Joey was announced as a spin-off. In fact, the only thing missing was Joey flying over the city in a helicopter, with "Goodbye" spelled out in pizza boxes on the apartment building roof by an also-departing Chandler and Monica. The final DVD set features producers' commentary on 3 episodes (including the hour-long finale), a retrospective featurette with the cast & producers, a Matt LeBlanc Joey music video, the "Friends of Friends" featurette, and best of all – multiple seasons worth of gag reels.
Packaged in a padded approximation of an actual base, The Great American Baseball Box (Shout! Factory, $59.98 SRP) is an audio dream come true for any fan of America's pastime. Featuring 117 tracks on 4 CDs, it contains landmark moments from original game broadcasts going all the way back to 1939, interviews with legendary players (from Ty Cobb to Babe Ruth), press conferences, radio shows, commercials, comedy routines (yes, "Who's On First?" is in there – naturally), and even iconic songs about the game (Are you surprised at "Centerfield" being there?). A perfect gift for any sports fan on your list.
Though nowhere near as sharp as his Opposite of Sex, you'll be surprised to find out that the major attraction of watching Don Roos' Happy Endings (Lions Gate, Rated R, DVD-$27.98 SRP) is a subtle, affecting performance from… Tom Arnold. I kid you not. Bonus features include an audio commentary, a making-of, deleted scenes, outtakes, and more.

There's nothing more awkward that to release a "complete" series box set of a TV show only to have it come back for more episodes… But at least you can be safe in believing that Tru Calling: The Complete Second Season (Fox, Not Rated, DVD-$26.98 SRP) really is the end for this now-cancelled series starring Eliza Dushku as a young woman with the power to go back and save people from death. Or something. It got real hazy towards the end. Either way, the 2-disc set features all 5 episodes including the unaired finale, plus a making-of featurette.
Even though the 3rd season of That 70's Show (Fox, Not Rated, DVD-$49.98 SRP) doesn't fundamentally change the Kevin & Winnie of Eric & Donna, there are plenty of shake-ups this season – including Jackie going after Hyde (driving Kelso nuts), Fez landing a (certifiably) crazy girlfriend, Red deciding it's time to clamp down on the kids, and Kitty feeling out-of-sorts as a mother. Bonus features include audio commentary on 6 episodes, cast introductions on 18 of the 25 episodes, and a season 3 retrospective featurette.

Twenty years of stars, interviews, makeovers, surprises and dreams come true are highlighted in the six discs comprising The Oprah Winfrey Show: 20th Anniversary Collection (Paramount, Not Rated, DVD-$54.99 SRP), which is filled to the brim with classic moments and bonus features, from interviews with stars like Julia Roberts & Jim Carrey to defining moments including Oprah's trip to Africa. Bonus features include candid reminiscences and behind-the-scenes featurettes.
Da plane! Da plane! Oy… Honestly, I tried, very, very hard to resist starting off like every other writer is sure to when talking about the release of the complete first season of Fantasy Island (Sony, Not Rated, DVD-$49.95 SRP), but what can I say? I'm a weak, weak man. Sit back and watch all 16 original fantasies, brought to you by the enigmatic Mr. Roarke (Ricardo Montalban) and his ornery sidekick Tattoo (Herve Villechaize), with guests including Don Knotts, Leslie Nielsen, Bill Bixby, and Sandra Dee. Bonus features are limited to two retrospective featurettes and original promo trailers, but who cares? We've got "Da plane! Da plane!"
Kate Hudson makes an acceptably frazzled victim in the mildly frightening Skeleton Key (Universal, Rated PG-13, DVD-$29.98 SRP), making the mistake of traveling to Louisiana's obviously creepy bayous and running afoul of a secret that doesn't exactly make for a Cajun holiday. Bonus materials include an audio commentary, behind-the-scenes featurettes, and even a "true" ghost story from Hudson's past. Suuuure.
The third season of Charmed (Paramount, Not Rated, DVD-$49.95 SRP) is probably best known as the season in which Alyssa Milano pushed costar Shannon Doherty out the door with the demise of Prue, 1/3 of the wiccan sister trio. Now that's girl power.
Indulge in a little pure popcorn entertainment as a state-of-the-art stealth bomber with artificial intelligence goes rogue, forcing a band of seasoned pilots to hunt it down before it unleashes its deadly payload. Stealth (Sony, Rated PG-13, DVD-$28.95 SRP) was rightly lambasted when it crashed-and-burned this summer, but I have to admit – there's an entirely watchable "oh god, did they really do that" glee to it all. The 2-disc special edition (whose contract was that in?) includes behind-the-scenes featurettes, in-depth scene deconstructions, a making-of documentary, and Incubus's "Make a Move" video.
Now that I have a nephew, I find myself trying to direct him towards quality children's entertainment that isn't insipid or nauseating (stuff I can watch, too). One of the things I've been showing him are the collections of the Henson-produced puppet-ized Wubbulous World of Dr. Seuss (Sony, Not Rated, DVD-$19.95 SRP). Not only is the energy level suitably interesting for my nephew, but it's got solid Seussical writing and nicely realized versions of the classic Seuss characters. The latest 3-episode release is Fun with the Cat, and you can be sure it's going to be played to death… But it's still light years better than Barney.