The holidays are, in many ways, thankfully over – gone is all the stress, awkwardness, and strain of a supposedly "restful" break. Ah well… They can't all be gems. Either way, we're back and ready to go, armed with a whole bunch of money-sapping items just waiting to burn through your post-holiday cash stash.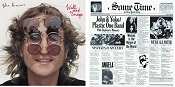 Over the long holiday, when I wasn't listening to the requisite seasonal tunes, I was spinning and re-spinning the latest pair of John Lennon remasters – Walls & Bridges and Some Time In New York City (Capitol, $18.98 SRP each). The clarity of the remasters are a revelation on what traditionally have been some rather muddy albums (particularly the original CD issue of Some Time. Recorded during his "Lost Weekend," Walls & Bridges has always been one of my favorite Lennon albums, being a far more playful beast than some of the more strident, social-minded albums of his early solo career (Some Time in New York being a prime example of that mode). Both albums contain a couple of bonus tracks, but sadly not the still-missing "Move Over Ms. L" – a not very favorable tune about Yoko written during their break-up period.
In a disappointing cinematic year (for every Batman Begins there was an Elektra or a Fantastic Four), there were a few comedies that stepped up to the plat and actually hit the ball out of the park. One was about a 40-year-old virgin, and the other was about a pair of Wedding Crashers (New Line, Not Rated, DVD-$28.98 SRP). Jeremy Grey (Vince Vaughn) and John Beckwith (Owen Wilson) are a pair of divorce mediators that use the annual wedding season to crash parties and pick up emotionally malleable women for non-committal flings. But, as you can probably see from a mile away, one of them – John - breaks their sacred "rules of wedding crashing" by falling in love at the biggest nuptials of the year – to the daughter (Rachel McAdams) of the United States Secretary of the Treasury (Christopher Walken). That leaves Grey at the mercy of her clingy sister and at odds with his best friend, as he tries to defend the rules and pull his buddy back from the brink. And then come the glorious twists… that I'll refrain from spoiling. Why aren't there more comedies like this in any given year? It's like the end of a long, dark tunnel. The "uncorked" edition includes 8 ½ additional minutes, commentary with Vaughn & Wilson, deleted scenes, featurettes, an audio commentary with director David Dobkin, and also the theatrical addition of the film.

With the holidays over, the luckier among you have pockets overflowing with gift cash and cards, and an eagerness to blow it all. If you're an anime fan, there are a couple of titles that should be near the top of your self-gifting list – first and foremost being the 21-disc Robotech: Protoculture Collection (ADV, Not Rated, DVD-$129.98 SRP). Containing – for the first time ever – the complete 85 episode run (comprising the Macross Saga, The Masters, and New Generation) completely remastered, it's also loaded with 7 discs full of extras (including pilots, deleted scenes, rare promos, and much more). This, sans hyperbole, is the mega-set that fans have been salivating for.

If you're not broke yet, than you probably will be after you pick up the 2nd and 3rd collection of the uncut and uncensored Gatchaman collections (ADV, Not Rated, DVD-$34.98 SRP each). Better known as Battle of the Planets here in the US, these 3-disc sets feature the 12 episodes apiece of the original Japanese versions, plus a bonus disc of extras. Alex Ross's beautiful box art is just icing on the cake.
I don't care if the holidays are over or not – you *MUST* pick up a copy of He-Man – She-Ra: A Christmas Special (BCI, Not Rated, DVD-$19.98 SRP). It is, simply put, one of the most mind-blowingly bizarre holiday specials ever produced, in any medium. I can't even put into words just how disturbing it is. Just get it. It's even got bonus materials, including a pair of documentaries, a music featurette, and collectible 4×6 art cards (by artists Phil Jimenez & David Mack). How's them apples?

The fourth season of The Man Show (Eagle Vision, Not Rated, DVD-$19.98 SRP) marked the end of two eras – it was the final season hosted by creators Adam Corrolla and Jimmy Kimmel, and it was also the final season that was actually enjoyable. After Adam & Jimmy's departure… well, let's just say that their replacements weren't nearly as fun. This 3-disc set features all 21 episodes (including the final show and best-of), plus outtakes, additional highlights, and more.

Any Bill Hicks on DVD is great, and it helps that Bill Hicks: Sane Man (Ryko, Not Rated, DVD-$19.95 SRP) – filmed before Dangerous – features a newly-sober Hicks firing on all cylinders. This DVD issue features both the original 60-minute and newly expanded cut of the film, outtakes, the story of Sane Man, previously unseen footage, and more.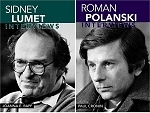 When it comes to insights into the creative mind – be it filmmakers, comic artists, or writers – I continue to be impressed by the Interviews series put out by the University of Mississippi Press. Collecting a career's worth of in-depth interviews from various sources into one tome, they provide a unique view of the creative process – and lives - of the personalities they spotlight. The latest releases focus on Sidney Lumet and Roman Polanski (University of Mississippi Press, $20.00 SRP each) and are just as essential as the previous volumes in the series.

If you're a Queen fan, Queen: Under Review 1973-1980 (Chrome Dreams, Not Rated, DVD-$19.95 SRP) is a surprisingly in-depth analysis of the group's output from its inception through their meteoric rise with albums like A Night at the Opera and A Day at the Races and ending right at the dawn of what would be their final decade (I hope a follow-up disc is already in the works). Packed with rare footage (both interviews and performances) as well as unvarnished critical insight, it's a welcome look at a legendary rock band.
Farscape fans who have been enjoying the feature-packed Starburst reissues should be thrilled that ADV, responding to consumer dislike of the double-sided discs of the previous editions, have opted to commence a single-sided 4-disc presentation for future sets, beginning with Season Three, Collection 1 (ADV, Not Rated, DVD-$24.98 SRP). Now, if only Universal would follow their lead and get rid of their double-sided TV-on-DVD releases.

THUNDERCATS, HOOOOOO-boy, am I embarrassed that I've actually been looking forward to the second volume of Thundercats' extra-long first season (Warner Bros., Not Rated, DVD-$64.98 SRP). Does that make me sad? Come on… you can be honest with me. What if I were to tell you that I used to imagine Mumm-Ra kicking Skeletor's bony butt? Okay… maybe that is a bit sad. Either way, this 6-disc (!) set features the reaming 32 episodes from the show's premiere season, plus an interview with Executive Producer Arthur Rankin, Jr. about the show's enduring appeal.
Originally a DVD release, the rare performances contained on Have You Heard Jim Croce Live (Shout! Factory, Not Rated, DVD-$11.98 SRP) finally get a CD release, and a welcome one at that. Croce was a master singer/songwriter whose career was cut short by a plane crash, but his body of work endures –and it's true that, even though I love his album cuts, he was an amazingly charismatic live performer (much like Harry Chapin, whose career was likewise cut short by an accident). There was many a reflective night I spent during my time at NYU that I would play his "New York's Not My Home" – followed in quick succession by Simon & Garfunkel's "The Only Living Boy In New York." Give it a spin and you'll see what I mean.

I was mostly indifferent to the original Alien Nation feature film, but I absolutely dig the TV series. After re-watching the show's complete, all-too-brief 22-episode run on DVD (Fox, Not Rated, DVD-$49.98 SRP), I'm happy to confirm that my original love for the show was well-founded, as it's interstellar immigrant's tale still rings true and the interplay between its two leads is still great buddy-cop material. The 6-disc set features commentary from director Kenneth Johnson on the pilot film and a behind-the-scenes featurette (tho, sadly, not the TV film that wrapped up the series a few years later).

I find it interesting that the latest Spike & Mike collection – Contagious (Shout! Factory, Not Rated, DVD-$14.98 SRP) – features a quote from Spike comparing Adult Swim to a Honda and S&M's festival of the animated weird to a Harley Davidson – basically pointing out that a lot of that Cartoon Network's adult animation block has stolen a lot of the uniqueness and thunder of the original bad boys of animation. Still, there are gems to be found here, and these collections are always worth checking out.

Even in its 5th season, All In The Family (Sony, Not Rated, DVD-$29.95 SRP) was still a force to be reckoned with, with scripts as sharp – and often sharper – than those of earlier seasons. This is the season that featured the "pilot" for the Jeffersons as the Bunker's moved on out, and by the end of the year, Gloria and Mike had decided it was high time they did the same.

If you were to excise any of the charm and heart that made the American Pie trilogy more than just a teen raunch-fest, you'd get a teen raunch-fest like the direct-to-video American Pie: Band Camp (Universal, Not Rated, DVD-$26.98 SRP). Reduced to its basest qualities and set in what rapidly became an overused joke – yet, sadly, retaining the too-good-for-this Eugene Levy from the original cast – the less said about this atrocity, the better. Bonus features include outtakes, deleted scenes, a behind-the-scenes featurette, and more.