Another week has come to its inevitable conclusion, and we barrel into the weekend with another pulse-pounding collection of geeky acquisitions-in-waiting. Hunker down, strap in, and let's get this train a'movin'…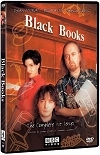 It's been a long wait, but I'm thrilled that the first season of Black Books (BBC, Not Rated, $24.98 SRP) is finally hitting the US. Giddy, in fact, since it's one of the finest comedies – British or American – ever produced. Created, co-written by, and starring Shaun of the Dead co-star Dylan Moran it centers around the twisted world of customer-hating bookshop owner Bernard Black, a man fond of drink, swearing, antipathy, anger, but definitely not customers… Imagine if Basil Fawlty's antisocial tendencies were given full reign and a bottle of vodka. Paired with Black is new-hire Manny (Bill Bailey), a good-natured man clearly out of his element and an easy target for Bernard's ire and ridicule - which is only mitigated somewhat by the presence of daffy friend Fran (Tamsin Greig). Crikey, how I love this series. The complete first series features all 6 episodes from the premiere run, plus commentaries and outtakes. Here's hoping they hurry up and release the already-available-in-the-UK second and third series post-haste.
As his covers so helpfully (and delightfully tactlessly) point out, John Swartzwelder is the writer of 59 episodes of The Simpsons – probably more by now, as he's the most prolific writer the long-running comedy fixture has going for it (although he still stubbornly refuses to do commentaries on the DVDs, the bastard). So, right off the bat – before even reading a page of his novels – you get a sense of where the guy's sensibilities lie. To say that I enjoyed both of his forays into self-publishing – The Time Machine Did It & Double Wonderful (Kennydale Books, $15.95 SRP) – is an understatement. Both are full of sublime comedy, while the former weaves it within a detective potboiler and the latter takes it into western territory… But not wholly in ways you would expect. If it seems like I'm dancing around it a bit, I'm hoping you'll take me on blind faith and pick up both of these books for yourself, and be just as pleasantly surprised as I was by the narratives that unfold within them. In terms of style and wit, I will even go as far to say that both of these books could just as easily have been penned by the late, great Douglas Adams. Head over to Kennydale Books and pick up your own copies. Also, be aware that the next volume in the adventures of Frank Burly, the central character of Time Machine, is due out this spring. Its too good to pass up title? How I Conquered Your Planet. You'd be a fool to pass up a book like that. Don't be a fool.

The seventh and (as of this writing – barring the movie or a return to TV) penultimate series of Red Dwarf (BBC, Not Rated, DVD-$44.98 SRP) was filled with changes galore. Co-creator/co-producer/co-writer Rob Grant was gone, Chris Barrie's Rimmer was written out after the second episode (recurring sporadically throughout the series via flashbacks and dream sequences), the addition of Chloe Annett as Kochanski, the live audience was eliminated, and the series went for a more filmic look (in anticipation for the as-yet-realized movie). What resulted was a season that didn't feel quite like the show I'd come to know and love, as there was definitely a far different vibe due largely to the missing live audience reaction an the energy that creates in the performers (the episodes were later shown to an audience and the responses recorded for the laugh tracks featured on the eps). Is the season a failure? No - it's just… different. The stories became a lot more ambitious (the Kennedy assassination time travel tale of the premiere, and Rimmer's departure, for example), and at least, this far in, they were willing to play with the form. And honestly – for the "Rimmer Munchkin Song" alone, this season was worth it. The 3-disc set features all 8 episodes (in both their original and extended forms), audio commentaries with the cast, a brand-new 90-minute documentary, deleted scenes, smeg-ups, featurettes, effects footage, and much more. As usual, these Dwarf releases feature some of the best bonus materials out there. Now where's Series VIII?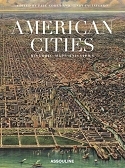 I love when I run across a book that lives of to the very definition of a "coffee table book" – and by no means do I mean that as a denigration. No, what I mean is that it's a book so fascinating that you can pick it up at any time, flip to any page, and be immediately sucked in by what you find there. Such is the case with the massive American Cities: Historic Maps and Views (Assouline, $69.95 SRP). As the title implies, this tome features incredibly rare maps of major American cities dating back to the 17th century (in the case of old New York, then a Dutch colony), presented in full color and in a large enough scale that you can pore over every minute detail. Also include are Washington, DC, Boston, San Francisco, New Orleans, Philadelphia, St. Louis, Chicago, and Denver. This is a fantastic resource and a great page turner, and I'd love to see a companion volume focusing on the great cities of England, or Europe.
Due to rights issues, there's one film missing from MGM's fancy Pink Panther box set released last year – and it was the film that reinvigorated the franchise after the legendary A Shot in the Dark. Newly remastered, you can now fill that glaring hole with Blake Edwards's The Return of the Pink Panther (Universal, Rated G, DVD-$14.98 SRP). This was also the flick that inaugurated the no-holds-barred slapstick from Peter Sellers' Inspector Clouseau that would characterize the remaining Panther flicks.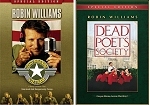 The World According to Garp was a shot across the bow in regards to Robin Williams' desire to be taken seriously as an actor and not just a comedian, but it wasn't until the late 80's that he dove in with both feet via a pair of films aimed at fully establishing him as an Oscar caliber actor – Good Morning Vietnam and Dead Poets Society (Touchstone, Rated R/Rated PG, DVD-$19.99 SRP each). Both films have finally gotten deluxe, feature-laden special editions (of the two, Vietnam is still my favorite – from the rapid-fire adlibs to its dramatic turns that resonate even more in the age we find ourselves currently living in). Vietnam features a multi-part production diary, unedited versions of Williams' monologues, and the original theatrical trailers. Dead Poets features an audio commentary, a retrospective documentary, cinematography and sound featurettes, raw footage, and the original theatrical trailer.

There are black comedies, and then there are *black* comedies – and for the outrageously sadistic Britcom Nighty Night (BBC, Not Rated, DVD-$24.98 SRP), we'll have to create a whole new term for just how dark its humor is – maybe "Pitch Comedy." Julia Davis's unflinching comedy focuses on the maniacally self-centered beautician Jill Tyrell, who immediately decides to move on with her life as soon as her husband is diagnosed with cancer… that he's soon after given a clean bill of health doesn't deter Jill – she just neglects to tell him that the doctor said he was fine, and instead convinces him he's still terminal. Free in her own mind to pursue new love, she latches onto the husband (Angus Deayton) of her wheelchair-bound new neighbor (Rebecca Front) – pathologically show. What follows is a tale of lies, lust, and murder that, despite the aforementioned "pitch" bent, is extremely funny… guiltily so, in very much an "I can't believe they did that" kind of way. The disc features all 6 episodes of the first series, plus outtakes and deleted scenes.
Unfairly cast aside as awards season takes hold, I thought The Constant Gardener (Universal, Rated R, DVD-$29.98 SRP) was one of the best films of 2005. Based on the John le Carre novel, it stars Ralph Fiennes as a diplomat on the hunt for his wife's murderer, who instead uncovers a massive conspiracy that threatens the lives of millions. I love it when a great thriller comes along, and this certainly fits the bill. Bonus materials include deleted scenes and behind-the-scenes featurettes.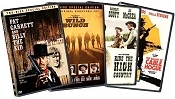 Warners continues to be the studio to beat when it comes to honoring their back-catalogue, as their spotlight falls upon a quartet of westerns under the appropriately titled Sam Peckinpah's The Legendary Westerns Collection (Warner Bros., Rated R, DVD-$59.98 SRP), featuring Ride the High Country, The Ballad of Cable Hogue, Pat Garrett and Billy the Kid, and the director's cut of The Wild Bunch. All four films are fully remastered with audio commentaries and featurettes, while Pat Garrett and Wild Bunch are 2-disc editions with extensive documentaries and commentaries (Garrett features the 1988 Turner Preview Edition of the film, as well). All in all, Warners remains the studio to beat.
If you need further proof that Warners truly are the kings of catalogue releases, they've decided to celebrate Black History Month with three films from the vaults that were quite a rarity upon their release, focusing on black actors and stories – The Green Pastures, Cabin in the Sky, and Hallelujah (Warner Bros., Not Rated, DVD-$19.98 SRP each). All three films feature commentaries with Black Cultural Scholars and actors like LeVar Burton and Lena Horne, plus musical shorts, featurettes, and more.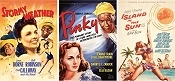 While not as stunning as Warner Bros.' treatment of their catalogue, Fox's efforts to get their likewise extensive back-catalogue of classics into cineastes' hands is worth praise as well, as they've been presenting remastered editions of titles that should be required viewing for any film fan as part of their "Cinema Classics Collection." The latest additions to the line are the story of Bill "Bojangles" Robinson in Stormy Weather, Jeanne Crain & Ethel Barrymore in Darryl Zanuck's Pinky, and the steamy Caribbean romance and intrigue of Island in the Sun (Fox, Not Rated, DVD-$19.98 SRP each). All three films feature audio commentaries, while Island gets the A&E Biography of star Dorothy Dandridge.
This week's soundtrack spotlight falls on the Latin-themed songfest for The Matador (Superb Records, $16.98 SRP), the perfect companion to a flick that looks to be the first positive step in Pierce Brosnan's post-Bond career.

A natural outgrowth of the concern that brought forth the landmark Live Aid and Live 8 concerts, relief svengali Bob Geldof journeys into Africa in the 6-part documentary series Geldof in Africa (Rhino, Not Rated, DVD-$19.98 SRP). Intent on dispelling myths that have long mislabeled it as the dark continent, Geldof's journey instead reveals a beautiful, fascinating, and varied land full of vibrancy and potential. The 2-disc set features audio commentaries, deleted scenes, a behind-the-scenes featurette, and an introduction from Geldof.