Yes, it's been another one of those killer weeks, loaded with deadlines and myriad details that needed to be addressed *right now* or the entire world collapses in upon itself with a crash, thunder, and thud. I hope you all check out this week's Scrubs blog, which features not only a video mailbag with the cast & crew answering fan questions, but also an audio commentary for the 100th episode.

On its surface, The Aristocrats (ThinkFilm, Not Rated, DVD-$29.99 SRP) is 90 minutes of the same hoary joke, told over and over again by a who's who of comic luminaries (the short list including Eric Idle, Billy Connolly, Robin Williams, Dom Irrera, Whoopi Goldberg, Martin Mull, Fred Willard, Chuck McCann, Emo Phillips, Sarah Silverman, Jon Stewart, Gilbert Gottfried, Bill Maher, Drew Carey, George Carlin… the list, literally, goes on and on). The joke itself is like Felix's bag – it has an outside structure, but a performer can pull anything from inside it. All one has to do is start with the premise that a family walks into an agent's office to pitch their act, and then end the joke with the name of their troupe – "The Aristocrats." Within those two goalposts, generations of comics have filled in the details of the act itself as a freeform improv containing the most vile, off-color material they can come up with – as long as it eventually gets to the endpoint. It's a joke told amongst comedians as a way of showing off, and what this documentary – co-produced by Paul Provenza and Penn Jillette – does is use it as a mirror to our modern culture and the changing face of social morays. Honestly. It may sound highfalutin', but it does a brilliant job of it. Bonus materials include an audio commentary with Provenza & Jillette, additional interview footage, and a tribute to Johnny Carson (whose favorite joke was "The Aristocrats"). Oh – one thing you'll most definitely learn from the whole thing? Bob Saget is a very, very dirty man.

The second season of the George Reeves Adventures of Superman (Warner Bros., Not Rated, DVD-$39.98 SRP) finds the Man of Steel still in glorious black & white, and still operating near the top of its game. Featuring all 26 episodes, the 5-disc set features a pair of audio commentaries from Noel Neill & Jack Larson, a documentary on Neill, and the special savings bond promotional episode "Stamp Day for Superman."

Every time I see the amazing work that Ray Harryhausen was able to accomplish without a single computer, it makes all the ooooing and aaaahing over massive CG-fests like Peter Jackson's King Kong less impressive by comparison. With nothing but a love of his craft, a creative vision, and a lot of patience, Harryhausen created creatures of myth and the fantastic – and we bought the reality, because no matter how slick we think we are as an audience, there was a genuine sense of life and immediacy that Harryhausen imbued in his animation. You can explore the conceptual designs, storyboarding, and extensive preparation that went into constructing those cinematic fantasies with The Art of Ray Harryhausen (Billboard Books, $50.00), which is filled with scores of drawings and photos, as well as an introduction from Peter Jackson.
Since it seems HIT is intent on torturing Fraggle Rock fans with yearly waits for the show's 5 season sets (Season 2 is currently scheduled for September), the only thing you can do to get that Fraggle fix is pick up their single-disc collections featuring episodes from across the seasons. The latest is Down in Fraggle Rock (HIT, Not Rated, DVD-$11.99 SRP), featuring 3 episodes ("Boober's Dream," "Wembley's Egg," " and "Red's Blue Dragon"), plus episodes of the excruciating animated series, and a behind-the-scenes featurette with Traveling Matt.

Originally released by Anchor Bay, the bizarre sci-fi "cult classic" Repo Man (Universal, Rated R, DVD-$19.98 SRP) gets a brand new DVD release from Universal with remastered picture and sound. No sight in cinema disturbed me more as a kid that seeing what befell of the highway patrolman after looking the car's trunk… I'll never forget that scaring the bejeesus out of me. Bonus material includes deleted scenes, an interview with Harry Dean Stanton, a filmmaker featurette, and an audio commentary.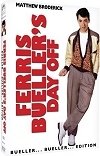 Even though the new edition of Ferris Bueller's Day Off (Paramount, Rated PG-13, DVD-$19.99 SRP) inexplicably leaves writer/director John Hughes's commentary from the original release off, there are enough new bonus features here to justify a second purchase – including a cast retrospective, a making-of featurette, and a wonderful featurette with Ben Stein. Save Ferris!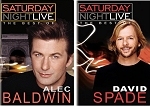 We still haven't gotten "Best Of" releases from cast members like Martin Short, Billy Crystal, Chevy Chase, or Bill Murray, but the "Powers That Be" thought the time was right for Saturday Night Live fans to lay down their dollars for The Best of David Spade (Universal, Not Rated, DVD-$19.98 SRP). Much more enjoyable (and welcome) is The Best of Alec Baldwin (Universal, Not Rated, DVD-$19.98 SRP) – easily one of the finest recurring guest hosts the show has ever had (though I'd like if this actually sets enough of a precedent to give us a Best of John Goodman). Both discs feature audio commentaries and dress rehearsal sketches, while the Spade disc includes additional outtakes as well.

In the early 80's, the most popular comic book at DV was not one starring Superman or Batman – it was one starring the former DCU sidekicks, the Teen Titans. Filled with creator interviews and plenty of background information, The Titans Companion (Twomorrows, $24.95 SRP) is a fantastic chronicle of the adventures of DC's teen superteam, from their silver age roots right up through their cartoon success and continuing presence in the modern DC universe.
If it were anyone but Jodie Foster and Peter Sarsgaard, I don't think I would have been able to tolerate the pseudo-Hitchcockian Flightplan (Touchstone, Rated PG-13, DVD-$29.99 SRP). Foster plays a mother who, following the death of her husband, takes her young daughter and her husband's body on a transatlantic flight back to the States on a brand new commercial aircraft she helped design. Shortly after take off, she falls asleep – and wakes up to find her daughter, and any evidence she was ever on the flight, has disappeared without a trace. Frantic to find her daughter and faced with compelling evidence that her daughter never boarded the flight with her, she's faced with either she's gone mad with grief, or a conspiracy is afoot, possibly including the entire flight crew, passengers, and the plane's air marshal (Sarsgaard). Either way, like I said, it's only held together on the strength of the performances and whatever popcorn and soda you've got on hand. Bonus features include an audio commentary and a pair of behind-the-scenes featurettes.

Does anyone watch bullriding just to see how long some schmo can hang onto the backside of a bucking he-cow? I didn't think so… Which is why Ultimate Bullriding (Time Life, Not Rated, DVD-$14.95 SRP) is the perfect disc for over 40 years of the best off what the "sport" has to offer – lots and lots of spills, thrills, and near-mutilations.

When it came to easily-accessible sci-fi shows built for the audiences of the 60's, there was but one name to turn to – Irwin Allen. Shows like Lost in Space, Voyage to the Bottom of the Sea, and Time Tunnel were perfect family viewing, presenting sci-fi that even grandma could understand. We've got the entire run of Lost in Space available, so now we get to start filling in the Allen holes, starting with the first volume of Time Tunnel (Fox, Not Rated, DVD-$39.98 SRP), featuring the first 15 episodes of the show's first season, as a government time travel project (Project Tic Toc) faces the pulling of its funding, forcing a rash decision from scientists Doug Phillips and Tony Newman – who decide to test the technology for themselves and prove it works. Well, it does work – and they're lost in time, ping-ponging from period to period as their fellow scientists attempt to bring them home. The 4-disc set features an unaired extended version of the pilot, Allen's behind-the-scenes home movies, a VFX camera test, still galleries, promos, and radio spots.

Compared to the stilted, easily mocked hosting style of Tom Snyder (just check out Dan Aykroyd's take-off on the original SNL), Dick Cavett was Mr. Smooth. Still, Snyder's late night Tomorrow program was every bit the risk-take as Cavett's program when it came to booking guests – and no where is that more evident than in the 2-disc The Tomorrow Show with Tom Snyder: Punk & New Wave (Shout! Factory, Not Rated, DVD-$29.98 SRP). As the title suggests, it features Snyder hosting groundbreaking acts like Elvis Costello, The Ramones, Joan Jett, John Lydon, Iggy Pop, Patti Smith, and more. It's a slice of musical history well worth checking out.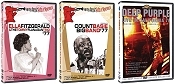 So, how about a trio of music DVDs to jazz up your weekend? If you actually want to literally jazz up your weekend, then there's a pair of 1977 concerts from Norman Granz's Jazz in Montreaux shows featuring Ella Fitzgerald and Count Basie's Big Band (Eagle Vision, Not Rated, DVD-$11.98 SRP each). If you prefer a bit of rock along with your roll, then there's Deep Purple: Live in California 74 (Eagle Vision, Not Rated, DVD-$14.98 SRP), which even sports some audio commentaries.