I'm currently typing this from my none-too-palatial hotel room in NYC, overlooking a cab repair shop and having just changed rooms after waking up in the middle of the night to find a freshly engorged bed bug sharing my pillow. The things I do for IGN. Speaking of which, on to this week's guide!
For some reason, Quick Change (Warner Bros., Rated R, DVD-$14.98 SRP) doesn't get the respect that it deserves. Co-directed by and starring Bill Murray, it was a quirky little low-key heist comedy co-starring Geena Davis and Randy Quaid as Murray's cohorts in crime. Featuring a performance more akin to the kind of subtle roles that would mark his career resurgence in the late 90's in films like Rushmore and Broken Flowers, Murray is a stressed city-dweller desperate to get out of the rat race, by any means possible – even if that means robbing a bank to fund his flight. Hot on our trio's heels is a veteran cop (Jason Robards) eager to get the bank's millions back and put our anti-heroes behind bars. If you've never seen this film, you don't know what you're missing… It really is a lost gem.
On the other hand, Club Paradise (Warner Bros., Rated PG-13, DVD-$14.98 SRP) can't, in good conscience, be called a gem – but I love it so. It's a comedy that truly epitomizes 80's comedic fare – light, fluffy, and so endearing it's got to be bad for you. It's like a cinematic Twinkie. In what must seem like a theme, Robin Williams is a stressed-out firefighter who decides to use his disability settlement to purchase a ramshackle tropical club whose grand opening is jeopardized by a corrupt island politico and a foreign developer intent on getting Club Paradise's land. Directed by Harold Ramis and starring SCTV castmembers Rick Moranis, Eugene Levy, Andrea Martin, along with Peter O'Toole and Jimmy Cliff (whose soundtrack is still a favorite of mine), it's packed with Twinkie charm.
While not as primo as the two previous flicks, Warners has been digging through the vaults to unleash a slew of catalogue titles. Some are from Hollywood's Golden Age, and some are from the 80's… Not exactly a Golden Age, but certainly packed with many a film that saw endless repeats on cable, searing themselves into the minds of an entire generation. Along those lines, we've got Madonna and Griffin Dunne in Who's That Girl? (Warner Bros., Rated PG, DVD-$14.98 SRP), the Mad Magazine Police Academy/Stripes rip-off Up the Academy (Warner Bros., Rated R, DVD-$14.98 SRP), the legendary (and underrated) teaming of Gene Wilder and Harrison Ford in The Frisco Kid (Warner Bros., Rated PG, DVD-$14.98 SRP), and the flawed teaming of Chevy Chase, Gregory Hines, and Sigourney Weaver in Deal of the Century (Warner Bros., Rated PG, DVD-$14.98 SRP). All of the discs are featureless save for the theatrical trailers.
As both Marvel and DC eliminate their company historians (Marvel eliminated Peter Sanderson years ago, and DC just axed Bob Greenberger), thank jebus that Twomorrows exists to shine a light on the past. Their latest must-have tome is the Legion Companion (Twomorrows, $24.95 SRP), which goes in-depth into the 40-year history of the Legion of Super-Heroes.

And while we're on the topic of Twomorrows, be sure to pick up their DVD spotlight/interview on George Perez as part of their Modern Masters series (Twomorrows, Not Rated, DVD-$35.00 SRP). Not only does it feature interviews with George and his friends and colleagues, but also sports footage of Perez at work. Maybe Twomorrows can do the same thing with John Byrne if I beg enough…

If only for Courtney Love's hopped-up-on-goofballs-and-out-of-her-mind appearance, the Comedy Central Roast of Pamela Anderson (Paramount, Not Rated, DVD-$19.99 SRP) is a glorious train wreck that puts all previous roast wrecks to shame – well, maybe not Chevy Chase's, but his was more brutally funny than surreally funny. The DVD features the uncensored version of the roast, plus additional "rehearsal" footage, outtakes, interviews, and more.
I didn't think it was possible, but with Saw II (Lions Gate, Rated R, DVD-$28.98 SRP), they found away to make an even more uncomfortable gorefest that made me seriously wonder why in the heck I was even watched it… It just makes you feel… Dirty. Bonus features include an audio commentary (with director Darren Bousman and actors Donnie Wahlberg & Beverly Mitchell), featurettes on the props and traps, storyboard & conceptual galleries, and trailers.
So help me, I really do love the infectious fun of The Fresh Prince of Bel-Air, including the newly-released third season set (Warner Bros., Not Rated, DVD-$29.98 SRP). Like a Fresh Prince song of old (before Will Smith made the decision he wanted street cred), it's bright and fluffy. The 4-disc set still doesn't have those Alfonso Ribeiro commentaries I keep hoping for, but it does have a blooper reel.
Tori Amos has always been one fascinatingly odd bird who's marched to the beat of her own drummer, and nowhere is that more evident than in the 19 videos collected in the 2-disc Fade to Red: Tori Amos Video Collection (Rhino, Not Rated, DVD-$24.98 SRP). Even the vids that don't quite succeed offer something to think about and a decidedly unique personality. Bonus features include a remix of "Professional Widow," the UK version of "Cornflake Girl," and audio commentaries from Amos.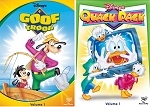 Just when I began to think that Disney Home Video gave a damn about fans of their animated shows – albeit with the flawed (where are those missing episodes, ya mooks??!!) multi-disc releases of DuckTales and Rescue Rangers – they go and release single-disc, 3-episode volumes of Goof Troop and Quack Pack (Walt Disney, Not Rated, $14.99 SRP each). What the heck??? Granted, I though Quack Pack was a truly crappy show, but Goof Troop deserves better treatment than this. Get your heads out of your nethers, Disney, and start to wonder why we get special edition releases of He-Man while the quality of your animated TV releases… well… suck.
The 80's – for a devout TV junkie kid, such as I was – were a time when, admittedly, I had yet to develop any real quality filters. With that in mind, realize that I have fond memories of shows that I really shouldn't – 2 of which are getting complete first season releases. The first is the Scott Baio "classic" Charles in Charge and the second if Nell Carter's Gimme a Break (Universal, Not Rated, DVD-$34.98 SRP each). If you're of my generation, I dare you to try and keep their respective theme songs from out of your mind… Go on… Just try… "Charles in charge of my life…" "Gimme a break, I sure deserve it…" Charles in Charge features a second season preview episode, while Break features bonus episodes from Kate & Allie's first season, Charles in Charge, and Break season 2. Both sets also contain an engaging documentary on the 80's television landscape.

The fifth season of The Andy Griffith Show (Paramount, Not Rated, DVD-$38.99 SRP) features a landmark that forever changed the dynamic of the show's final seasons – it was the last to feature Don Knotts as lovably bumbling deputy Barney Fife (though there would be later guest appearances). Lured away by a film career, Knotts decided to move on, which meant a far different feel in Mayberry's later years. In other words, enjoy Barney's swan song for all it's worth, and fear the coming color seasons.
In today's monotonous entertainment climate, we need more shows like Significant Others (Shout! Factory, Not Rated, DVD-$26.98 SRP) – a completely improvised show that looks at the strained and sometimes surreal, but always relatable, relationships of four couples. It's like a classic Woody Allen film sans excessive neuroses, and all the more fresh in its execution. The 2-disc set features all 12 episodes of the show's 2 season run. Bonus materials include audio commentaries with the show's creators.

Jarod is still on the run in The Pretender's 3rd season (Fox, Not Rated, DVD-$39.98 SRP), still using his massive IQ to master any profession, still looking into his background and that of his ex-captors, and just a little surprised that his long-lost Dad has entered the picture. Bonus features include audio commentaries and a 3-part making-of featurette.

No one can deny that Richard Pryor had quite a spotty movie career, and a few of those spots are featured in the extremely value-priced Richard Pryor Collection (Universal, Rated R/PG, DVD-$26.98 SRP). The double-sided disc features Bustin' Loose, Car Wash, Which Way Is Up?, and Brewster's Millions. Of the four, I still dig Brewster's Millions – if for no other reason than it teams up Pryor and John Candy.

I know everyone has taken to it as the next best thing, but I can't quite get over the fact that Grey's Anatomy lies in a nebulous, uninteresting middle-ground on the TV landscape – it's a medical show that's neither as fun as Scrubs nor as serious as ER. You'd think I would spark to its middle ground, but no-go – it just lies there for me. Well, you fans out there will be sure to clutch the complete first season (Buena Vista, Not Rated, DVD-$29.99 SRP) to your breast, and you're welcome to it. Bonus features include deleted scenes, commentaries, an analysis of the pilot, and a behind-the-scenes featurette.
Proof (Miramax, Rated PG-13, DVD-$29.99 SRP) is one of those unfortunate cases where an adaptation from stage to screen fails to interject anything to overcome the tendency towards small-scale sterility that is the mine field of that tricky process. In other words, it's just a long, boring flick punctuated by a great performance from Anthony Hopkins as the brilliant, mentally unstable father of Gwyneth Paltrow's Catherine, who must decipher the mystery her father leaves behind as his mathematical genius slips away. Bonus features include an audio commentary with director John Madden, deleted scenes with optional commentary, and a making-of featurette.

The only thing with a more awkward track record on the big screen than comic book adaptations are the routinely abysmal flicks based on video games. Case in point is the latest schlockfest, Doom (Universal, Not Rated, DVD-$29.98 SRP), which wasn't even bright enough to import the serviceable storyline of the games. Oh, and the Rock is here, being the Rock… Which is a shame, because he's a good actor deserving of better material. As expected, the unrated edition simply amps up the gore factor… What, you were expecting plot? Bonus features include behind-the-scenes featurettes and an extended version of the first-person shooter sequence.

Ignore the clichés – The Golden Girls, in its prime, was one the funniest, best-written sitcoms on network TV. It was still firing on all cylinders in its 4th season (Buena Vista, Not Rated, DVD-$39.99 SRP), but the biggest reason to check out that year on DVD is for the cameo from an unknown actor named Quentin Tarantino. I kid you not.
Finally, let's wrap things up this week with a quartet of catalogue titles that are part of Warner's Black History Month promotion – Passing Glory, Buffalo Soldiers, Heat Wave, and Freedom Song (Warner Bros., Not Rated, DVD-$19.98 SRP each).