It's a week after I returned from Toy Fair, and I'm still flat on my back. I think it's time to pop more caffeinated Foosh Mints and get ready for my upcoming trip to LA, during which I'll be lining up some major surprises for the coming months…

Why do the gods of TV take the good ones so young and let shows like According to Jim linger on for eternity? As a scathing satire of the vapid, cutthroat world of Hollywood filmmaking, Action (Sony, Not Rated, DVD-$24.96 SRP) was probably far too inside (and accurate) to exist in the homogenizing milieu of middle-American TV fare. But by golly, I do so love Jay Mohr as the bastard son of Joel Silver and Jerry Bruckheimer, uber-producer Peter Dragon. The show only lasted 13 episodes, all of which are included here uncensored, but oh what genius they are. If you ever want to see exactly what Hollywood is all about, Action lays it all out in brutal, absurd, and hilarious form. Bonus materials include a trio of audio commentaries and a behind-the-scenes featurette.
While I got a huge kick out of the Rock Legends, Ray Charles, and John & Yoko-themed releases of classic Dick Cavett Show episodes, the honor of being my absolute favorite has now been awarded to the 4-disc Comic Legends (Shout! Factory, Not Rated, DVD-$39.98 SRP). Featuring full, uncut episodes with new introductions from Cavett, the set contains must-see interviews with Groucho Marx, Woody Allen, Bill Cosby, Lucille Ball, Jack Benny, Jerry Lewis, Carol Burnett, Mel Brooks, and The Smothers Brothers. Cavett was an amazing interviewer, even if his dry style takes some getting used to – but he was able to make his guests feel completely comfortable, which resulted in the only candid pieces I've ever seen with famously "on" comedians like Jerry Lewis and Bob Hope. There's also a new interview with Cavett, promos, and a rare "best of" episode from his summer replacement series run in the late 60's. I really, really, really do hope a follow-up volume is planned.
In the ever increasing list of books written by anyone even remotely associated with the Beatles, Geoff Emerick's memoir Here, There, and Everywhere: My Life Recording the Music of The Beatles (Gotham Books, $26.00 SRP) is a true highlight and well worth a read. From their earliest Abbey Road sessions, Emerick was the engineer behind the board of some of the most legendary recordings ever put to tape, and this collection of anecdotes and insights into the process and dealings with the Fab Four is the perfect companion to the massive biographical tome The Beatles, released last year.
Compared with the current level of poor decision-making skills, ineptitude, and corruption in Washington today, it makes the events depicted in All The President's Men (Warner Bros., Rated PG, DVD-$26.98 SRP) – events which brought down a President - seem trivial. I mean, even Oprah thinks an author lying about the details of his own memoir is more important than events on a national, or international, stage. But All The President's Men remains a positively crackling tale of journalistic daring-do, solidifying the legend of Bob Woodward and Carl Bernstein and their Watergate exposé, and making journalism (the real act of journalism – not sticking a camera in someone's face and asking inane questions) a noble profession to enter. It's sickening to think how far the once-mighty pillars of journalism have deteriorated – if crimes like these were exposed today, it would be met by talking heads, public dismissal, and a quick change of the channel to American Idol. The new 2-disc special edition features an audio commentary with Robert Redford, a making-of documentary, an interview with Woodward & Bernstein, a featurette on the recent revelation of Deep Throat's identity, a vintage making-of featurette, an appearance by Jason Robards on Dinah!, and a trailer gallery.
Speaking of fools sticking cameras in people's faces and asking inane questions, all you have to do is re-watch Network (Warner Bros., Rated R, DVD-$26.98 SRP) to marvel at just how frighteningly prescient its prediction of the idiot-ification of network TV has proven to be. Paddy Chayefsky's blistering satire of the TV business and its endless pursuit of ratings – and one veteran newscaster's ultimately futile declaration of "I'm mad as hell, and I'm not going to take this anymore" – is a painful reminder that the decline of western civilization is not a new invention… It's just got better graphics and faster editing now. The 2-disc special edition features an audio commentary with director Sidney Lumet, a 6-part making-of documentary (including an interview with Walter Cronkite, who fell victim to the "newer, younger" scenario), an interview with Lumet, an appearance by Chayefsky on Dinah!, and the theatrical trailer.

It's almost frightening just how prescient – and still relevant – the comedy of the late Bill Hicks remains. Recorded in Oxford on November 11, 1992, the 2-disc Salvation (Rykodisc, $17.98 SRP) finds Hicks at the absolute top of his game. Running almost 2 hours, Hicks hits on all of the topics he made his own – religion, drugs, smoking, and politics. Why, oh why, did he have to die and leave us with a world so in need of his caustic, pointed social commentary?

On the subject of comedy CDs, how can you not pick up Ron White's new CD, bearing the "I must listen to this!" title of You Can't Fix Stupid (Image, $18.98 SRP)?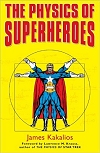 It takes a special kind of intellect to delve into the sticky wicket of The Physics of Superheroes (Gotham Books, $26.00 SRP), but author James Kakalios does just that with a clarity and commitment to the premise that can't help but be a page-turning bit of fun, offering a scientific analysis of an alternate universe in which flight, super-strength, invisibility, and x-ray vision are everyday occurrences.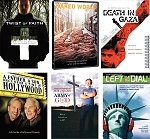 From out of the blue, HBO has decided to release a half-dozen of their always-fascinating documentaries (HBO, Not Rated, DVD-$24.98 SRP each). In fact, I'd go so far as to say that HBO is to the US what the BBC is to the UK, in terms of presenting risky social subjects and topics most outlets won't touch. Twist of Faith tells the story of a Toledo firefighter who faces ostracization from both family and community after he reveals childhood sexual abuse at the hands of a priest. Naked World is a new documentary on photographer Spencer Tunick, and his now-legendary photographs of naked subjects in public places. Death in Gaza examines the culture of hate that informs the continued conflict between the Israelis and the Palestinians, and ends up involving the filmmakers as much as the people that try to make a life in the political hotbed. Soldiers in the Army of God, on the other hand, tries to understand what drives the members of the violent anti-abortion group The Army of God to commit murder. On a much lighter note, A Father… A Son… Once Upon a Time In Hollywood is the story of Kirk and Michael Douglas, a tinsletown dynasty built on iconoclasm, told via conversations between the father and son, film clips, and home movies. Finally, there's the almost-failure of the liberal radio network Air America, whose rocky launch and eventual rebound is chronicled in Left of the Dial. All 6 films feature bonus materials including audio commentaries, additional footage, and more.
There's a definite depressed ennui that permeates the life of Chicago weatherman David Spritz (Nicolas Cage). Even though he's a local celebrity with a nice income with a minimal work requirement, he's a divorced father with an increasingly distant relationship with his kids and a Pulitzer Prize-winning father (Michael Caine) who won't take him seriously. I always love Cage best when he sets aside his blockbuster idiosyncrasies and makes a quirky little character piece (a la Raising Arizona), and The Weather Man (Paramount, Rated R, DVD-$29.95 SRP) fits the bill nicely. Bonus features include 5 featurettes (focusing on the script, the characters, the look of the film, becoming a weatherman, and collaboration), and the theatrical trailer.

It's nowhere near the pleasant surprise that the original film was, but there's no doubt that Transporter 2 (Fox, Rated PG-13, DVD-$29.99 SRP) has a propulsive, almost Bay-esque energy to it. Really, when does story matter when you can have action scene after action scene? Bonus features includes making-of and music featurettes, deleted/extended scenes, and a blooper reel.

Remember that Shelly Long movie from the 80's, Hello Again, in which she plays a recently departed woman who returns to earth? Yeah, well, it seems to have been loosely remade as Just Like Heaven (Dreamworks, Rated PG-13, DVD-$29.99 SRP) with Reese Witherspoon in the Long role, as a woman who shows up at the newly-leaded apartment of David (Mark Ruffalo) insisting it's hers… and then proceeds to vanish before his eyes. Is she dead? Is she alive? Will they inevitably fall in love? Gee, what do you think? It's an affable romantic comedy made much more palatable by the presence of Jon Heder. Bonus features include a making-of featurette, deleted scenes, and a gag reel.
If you don't recognize the name Jon Heder, then you're obviously not a fan of the cult hit Napoleon Dynamite, and probably wouldn't want the Napoleon Dynamite: Final Shooting Script (Simon Spotlight Entertainment, $12.95 SRP), featuring deleted scenes. If you're one of those yet to be converted, it's your loss. Give it a spin.

In the mad flood of albums at the end of last year, I somehow missed the new album from fellow Jacksonvillian Ryan Adams, 29 (Lost Highway, $13.98 SRP). Of course, I can almost be forgiven since it seems like Adams released 29 albums last year, as every time I turned around another one seemed to be hitting. I can forgive his prodigious output since I've largely enjoyed each of the albums that have dropped, this one included.

You've got to love how firmly entrenched the 60's TV version of Voyage to the Bottom of the Sea (Fox, Not Rated, DVD-$39.98 SRP) is in its cold war time frame, as the crew of the submarine uber-weapon Seaview take on mankind's enemies, like an underwater James Bond. The 3-disc first volume contains the first half of the show's lengthy first season, plus the original (never-before-seen) pilot, Irwin Allen's home movie footage, a promotional reel, and still galleries. But why, oh why, do these studios insist on giving us double-sided discs? Stop already!
I have to admit – by the third season of Moonlighting (Lionsgate, Not Rated, DVD-$39.98 SRP), I was elated by the addition of Curtis Armstrong to the cast – I still think he's an underrated actor, as anyone who saw Ray will attest. This is also the season in which the meta-comedy reached its height – and the one which ended with the infamous "sleeping together" mis-step. The 4-disc set features all 15 second season episodes, plus commentaries and a brand-new half-hour documentary with cast & crew interviews (including a Shepard/Willis reunion).
I'll admit – all I really know about Living Single (Warner Bros., Not Rated, DVD-$29.98 SRP) is that is starred Queen Latifah and Tootie from The Facts of Life. There – that's the sum total of my knowledge about the show. The 4-disc set features all 27 first season episodes, plus a retrospective featurette.
Like sands through the hourglass, so is the snail-like page in which new seasonal sets of NYPD Blue are released. Years after the first season's release, we're finally getting the third season (Fox, Not Rated, DVD-$39.98 SRP).The relationship between Sipowicz (Dennis Franz) and Simone (Jimmy Smits) is running at full tilt, and the show really got into its groove. The 4-disc set features audio commentaries on a few episodes and a trio of featurettes ("Life in the 15th Precinct," "Father and Son," and "Women o NYPD Blue"). And yes, Fox has done double-sided discs with this release. Don't you people learn? Stop! Now!

I still have trouble wrapping my brain around the idea that Billy Elliott has become a musical, but if Abba can have one, why not? With music by Elton John, the cast album (Decca, $ SRP) is a surprisingly punchy affair. The 2-disc set features a bonus disc with a trio of Elton demos.

Congrats must go to Marvel for somehow managing to completely ignore the precedent set by Bruce Timm & co.'s excellent handling of DC's iconic characters in animation with a complete 180 handling of their own big-hitters in Ultimate Avengers: The Movie (Lionsgate, Not Rated, DVD-$19.98 SRP). Crap story, crap casting, and crap animation add up to – you guessed it – a crap direct-to-video abomination. Bonus features include a behind-the-scenes featurette and a – get this – sneak preview of Ultimate Avengers II. Feh.