No gibber-jabber this week… let's get this convoy rolling on down the road so I can get the heck out of Dodge for the weekend… Happy Oscar Weekend… or something…

If I were pressed to choose my favorite sitcom of all time, the answer I'd have to give is Newsradio. I still think it remains one of the finest written and acted ensemble comedies to ever hit the tube, and I can only hope that the DVD releases cement its classic status. Out of the show's 5 seasons (the last of which was after the untimely death of Phil Hartman), I can't name a single bad episode – in fact, event he weakest outings still topped the majority of its competitors. What can I say? I love the show. The third season (Sony, Not Rated, DVD-$39.95 SRP) was a banner year, featuring Bill McNeal's massage chair, the fever dream episode (in which a faulty AC inspires hallucinations), Jimmy James's run for president, Rocket Fuel Malt Liquor, the Halloween party, and the space finale (in which the show had an "imaginary" what if episode, wherein WNYX was turned into a space-bound news station in the distant future). The 3-disc set features 9 commentaries (with cast and crew), behind-the-scenes footage with optional commentary, and a great gag reel. Bring on the final two seasons!

No matter what happens at the Oscars this weekend, the only film deserving of the Best Animated Feature award last year was, hands-down, Aardman's big screen adventure of a cheese-loving adventure and his much cleverer canine companion, Wallace & Gromit: The Curse of the Were-Rabbit (Dreamworks, Rated G, DVD-$29.99 SRP). I love the fact that, in the age of CG, the greater achievement comes from a hand-crafted feature that – like Pixar – realizes character and story are more important than the animation methods employed… And Wallace & Gromit was simply one of the funniest films I saw last year. Bonus materials include deleted scenes with optional commentary, a behind-the-scenes featurette, and the Aardman short film Stagefright.
Midnight Cowboy (MGM/UA, Rated R, DVD-$29.95 SRP) is one of those classic films that have cried out to be treated right on DVD, in a fittingly reverent deluxe special edition featuring behind-the-scenes material and – most of all – a fully restored print. Thankfully, that has come to pass with the new 2-disc edition of John Schlesinger's controversial Academy Award-winning flick about the unlikely bond between the endearingly naïve Joe Buck (Jon Voight) and the consummate New York outcast Ratso Rizzo (Dustin Hoffman). The movie also gave us the Fred Neil tune immortalized by the late Harry Nilsson, "Everybody's Talkin'" – a true gem in film history. The 2-disc set features an audio commentary from producer Jerome Hellman, a retrospective documentary, a documentary on the film's controversial X rating and its success in spite of it, and a featurette on John Schlesinger.
I really don't need to tell you how much of a page-turner the 350 international and domestic versions collected in the Star Wars Poster Book (Chronicle Books, $50.00 SRP) are to a guy who grew up with the Star Wars trilogy (yes – it remains a trilogy to me… deal with it). Culled from the massive collection of LucasFilm ubergeek Steve Sansweet, there are posters in here that range from the beautiful to the truly ludicrous. And even though I detest the prequels, there are still some quite nice poster images that were done for them. I would love if a companion volume for Indiana Jones were contemplated.

The next Disney Platinum DVD release has come down the pike, and this time it's the film that gave us the most evil Siamese cats ever, Lady & The Tramp (Walt Disney, Rated G, DVD-$29.99 SRP). Beautifully restored and looking and sounding much better than the original, long out-of-print DVD release from a few years back, this is definitely the edition of the film to own. I only wish the 2-disc special edition would stick to the rarities – like deleted scenes a making-of, and the original 1943 storyboard version of the film – than the crap games and trivia that pull these affairs down to their crassest level.
As I mentioned in my original review, Dream On Silly Dreamer (WestLund Productions, Not Rated, DVD-$20.00 SRP) is a poignant documentary featuring interviews with former Disney animation artists – some of whom were present at the closing of Disney's Burbank facility, only to be shunted over to Florida and fired for good a short time later – who paint a portrait of an artform whose vitality remains, but is currently without a home. It can't help but come off as a polemic against Disney management, even though it is not overtly so, by the very nature of the story it tells – that of a studio too blind, or unwilling, to see the reasons behind traditional animation's recent lack of box office success (too many managerial cooks in the kitchen). The DVD release of the film just happens to be on the cusp of a potential revival or Disney's 2-D division – ironically enough from the 3-D mavens at Pixar and John Lasseter in particular, who has inherited the role once occupied by Uncle Walt himself. The DVD features additional footage, animation tests, radio interviews, departmental goodbyes, and much more. Here's hoping the golden age has returned and these people get back to doing what they love…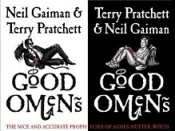 One of the most heartbreaking things about the absolutely brilliant Good Omens (William Morrow, $29.95 SRP) is that Terry Gilliam's film adaptation of the Neil Gaiman and Terry Pratchett novel never got off the ground. Why? Because as soon as I read it, I could instantly visualize the story of hell's and heaven's representatives on Earth, who are caught completely flat-footed after centuries of "going native" when the Antichrist is born and the call to arms is issued. After years of being available solely as a tiny paperback, it's getting the hardcover treatment again, featuring an interchangeable cover, a new foreword, FAQ's, an interview of Pratchett by Gaiman, and a Gaiman interview by Pratchett. If you've never read this book, you must.
Not merely another retread collection of classic Python bits, the Personal Best series (A&E, Not Rated, DVD-$19.95 SRP each) presents the favorite sketches of each of the Pythons, personally chosen by the legends in question. What makes the series hard to dismiss is the new material the each of the Python's have provided for their discs, with the latest batch spotlighting John Cleese, Terry Jones, Terry Gilliam, and the late Graham Chapman (with Cleese's sporting a hilarious "behind-the-scenes" featurette as well).
You know, some days are just really bad days to rob a bank. Just ask Sonny and Sal (Al Pacino & John Cazale), a pair of New York nobodies decide to go for broke at a Brooklyn bank on a sweltering summer day. What started out as an little old-fashioned robbery turns into a media circus and a public attraction in Dog Day Afternoon (Warner Bros., Rated R, DVD-$26.98 SRP), one of the true classics of the 70's, which is just as funny and thrilling 30 years later. The 2-disc special edition features an audio commentary with director Sidney Lumet, a 4-part making-of documentary (including an exploration of the real-life inspiration), a vintage featurette on Lumet, and the theatrical trailer. The film is also available alongside All The President's Men and Network in the second volume of Warners Controversial Classics collection (Warner Bros., $59.98 SRP).
When you think about, even though it sometimes seems like there's a new DVD released just about every second, there's still a staggering amount of rare material that has yet to make it to disc. Case in point are a pair of releases that are such a pleasant "must-have" surprise that it makes you hope more are on the way. The discs in question are a collection of short films from the late humorist Robert Benchley titled, appropriately enough, Robert Benchley and the Knights of the Algonquin (Kino, Not Rated, DVD-$29.95 SRP) and an amazing collection of shorts under the title Cavalcade of Comedy (Kino, Not Rated, DVD-$29.95 SRP). The latter title in particular is a fun discovery, featuring early Paramount comedy shorts starring young comedians like Jack Benny, Milton Berle, George Burns & Gracie Allen, Eddie Cantor, and more. Please, Kino, release more!
Just when I was beginning to lose faith in one of my favorite comedy directors, Harold Ramis, he goes and surprises me with the pitch-perfect The Ice Harvest (Universal, Rated R, DVD-$29.98 SRP). Starring John Cusack and Billy Bob Thornton as a pair of n'er do wells that steal a load of cash from a mob boss – and then run into an ever-increasing string of predicaments and betrayals – it's an endearingly Coen-esque affair. Bonus materials include an audio commentary with Ramis, alternate endings, behind-the-scenes featurettes, a scene analysis, and a Billy Bob outtake.

The first CD I ever purchased, sometime in the late 80's, was the soundtrack to Ghostbusters – my favorite flick growing up. I remember showing off my new prize to all my cassette-owning friends. As such, it's remained a sentimental favorite of mine, so I was quite happy to learn that it would finally be getting the remastered treatment (Arista/Sony Legacy, $13.98 SRP). The new sound quality is an immense improvement, and they even put a pair of bonus tracks in there as well – "Disco Inferno" and the 12" remix of Ray Parker's title track.

Also getting the remastered treatment is the soundtrack to Rocky IV (Volcano/Sony Legacy, $11.98 SRP). This was the Rocky vs. Russia flick that gave us Survivor's anthemic "Eye of the Tiger" and James Brown's "Living in America."
Before romantic comedies developed a bad name in the 90's, the unassuming flick that launched a thousand clichés was Four Weddings and a Funeral (MGM/UA, Rated R, DVD-$19.94 SRP) – the romedy (and Mr. IGN Proofreader – don't touch my incredibly brilliant combination of "romantic comedy," okay?) that gave the world the ultra-foppish Hugh Grant. After years as a bare-bones disc, the film finally gets the special edition treatment with an audio commentary, behind-the-scenes featurettes, a retrospective documentary, and deleted scenes.

Re-watching the 27 episodes comprising the complete 3rd season of Third Rock from the Sun (Anchor Bay, Not Rated, DVD-$39.98 SRP), I can'' help but marvel at what an amazingly fun show it was at its height – which it most certainly was during this season, which included guest stars John Cleese and Roseanne. The 4-disc box set features audio commentaries a profile on French Stewart, interviews, TV spots, and a gag reel.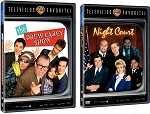 Admittedly, it's not the season sets I was hoping for, but it was nice to sit down with 6 episodes of The Drew Carey Show and an additional 6 episodes of Night Court (which did receive a 1st season set) as part of Warners' TV Favorites sampler line (Warner Bros., Not Rated, DVD-$9.98 SRP each). Here's hoping those season sets are on their way in the very near future.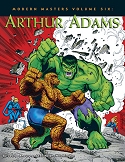 In the pantheon of artists whose work elevated the desirability of any project I found them to be gracing, Arthur Adams ranks right up there with the likes of Byrne, Mignola, Perez, and Buscema. Kudos to the fan-friendly folks at Twomorrows for choosing Adams as part of their ongoing Modern Masters series of artist spotlights (Twomorrows, $19.00 SRP), featuring tons of rare artwork and an in-depth interview. Even better, their next volume is on my favorite comic artist, John Byrne. Can we get a Walt Simonson volume soon?
I honesty think that A&E is trying to bankrupt people. How else can you explain the uber-release of – wait for it – The Complete Emma Peel Megaset Collector's Edition of The Avengers (A&E, Not Rated, DVD-$179.95 SRP). Spanning 16 discs, it features every single episode of the classic Brit-adventure series starring Diana Rigg as the beauteous Peel, of the ultra-tight cat suits. That's 51 remastered and completely uncut episodes, all in one heavy brick. Also available exclusive to the set is a bonus 17th disc, featuring a trio of "lost" episodes from The Avengers' first season, a wonderfully in-depth documentary on the series originally produced in the UK and never-before-seen in the US, an excerpt from the rare promotional short "The Strange Case of the Missing Corpse," an alternate US opening sequence, and an Avengers '77 episode featuring a Peel cameo. They really do want to bankrupt people… Damn them and their amazing set!

In the annals of Disney's abysmal track record of direct-to-video train wrecks, Bambi II (Walt Disney, Rated G, DVD-$29.99 SRP) stands out as a pleasant surprise, featuring remarkably solid animation (thanks in large part to the presence of Andreas Deja, who treated the project as a creative lifeboat as Disney dismantled traditional animation) and a story that doesn't automatically make me reach for the remote, as Bambi reunites with his father and learns the ways of the forest. Bonus materials include a behind-the-scenes featurette and a fun little "How to Draw Thumper" featurette with Deja.

Once known for their often stuffy, utterly faithful literary adaptations, the BBC has finally discovered the 20th century with their fast-paced, gripping adaptation of Charles Dickens' Bleak House (BBC, Not Rated, DVD-$39.98 SRP). With a cast that includes Gillian Anderson, Charles Dance, and Johnny Vegas (if you're a Brit, you know why I laugh as I type that) it's a classic tale of love and murder given a fresh coat of paint.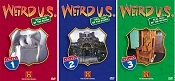 If you were to take the addictively offbeat sensibility and personality of Mythbusters and apply it to a show that visits the oddest locations in America, you'd have the History Channel's Weird U.S. (History Channel, Not Rated, DVD-$19.95 SRP each). Hosted by Mark Sceurman and Mark Moran, it's a spirited trip across the continent, encountering the stories of the Emperor of the United States, hollow-earth cults, creepy graveyards, a dead-talking town, and more. I only wish they had released a full season set instead of these 3 individual volumes.
As I said when the flick was originally released to DVD, I found myself really getting a kick out of Jennifer Garner's much-cleverer take on the kid-to-adult genre made popular in the late 80's (Big, Vice Versa, etc.). 13 Going on 30 was a real hoot, and the new Fun & Flirty Edition (Sony, Rated PG-13, DVD-$19.94 SRP) pluses the bonus features found on the original disc (deleted/extended scenes, blooper reel, cast interviews, and behind-the-scenes featurettes) with both an alternate beginning and ending and a featurette on the 1980's fashions.

Rather than make fans wait for multiple volumes, aficionados of those more than meets the eye robots can snag the entire series of Transformers: Beast Machines (Rhino, Not Rated, DVD-$59.95 SRP) via a 4-disc set containing all 26 episodes. Awakening on Cybertron after their defeat of the evil Megatron, the Maximals find themselves confronted with radically reformatted bodies and facing the return of an even more powerful Megatron, who now rules Cybertron. Bonus features include interviews (with series developer Marv Wolfman, voice artist David Kaye, voice director Susan Blu, and story editor Robert Skir) and audio commentaries.
I don't know if the world really needed yet another adaptation of Jane Austen's Pride & Prejudice (Universal, Rated PG, DVD-$29.98 SRP), but if you have to have one, it doesn't hurt to have Keira Knightley as reluctant Darcy-devotee Elizabeth Bennett. Bonus features include an audio commentary from director Joe Wright, behind-the-scenes featurettes, and the HBO first look special.
Alyssa Milano worked a little bit of her own magic and got Shannon Doherty banished from this dimension, which left a vacancy in the witchy triptych at the start of the fourth season of Charmed (Paramount, Not Rated, DVD-$49.99 SRP). That slot was filled with Rose McGowan as the clichéd "unknown half-sister" Paige Matthews. This is also the season when Cole (Julian McMahon) went all demony and I keep wondering why no one realizes this is Buffy-lite.
If, like me, you just never got around to picking up Eddie Murphy's surprisingly enjoyable Nutty Professor flicks, you can now get both in a single, double-sided disc edition (Universal, Rated PG-13, DVD-$19.98 SRP). See, sometimes it pays to be lazy.

I never cease to be enthralled every time I see color footage shot during World War II. Growing up, it was always a black & white war, making its triumphs and tragedies seem at arms length. Digging into the remarkable footage contained in the 5-disc, 17-program The Color of War (History Channel, Not Rated, DVD-$49.95 SRP), I was mesmerized all over again – in each frame of color footage, there's an immediacy and renewed relevance to a conflict that no longer exists as a museum curio.
Based on the novels by John Mortimer, Rumpole of the Bailey starred Leo McKern as attorney Horace Rumpole – defender of the lower class and all that is good and decent. It's brilliant satire done with a real character-driven flair, and you can now own the complete series in a 14-disc megaset (A&E, Not Rated, DVD-$159.95 SRP). Bonus features include the feature-length Rumpole's Return, episode intros and an interview with John Mortimer, an interview with McKern's daughter, and much more.
If mystery is more your speed, sleuth along with Agatha Christie's Miss Marple in Marple: The Classic Mysteries Collection (A&E, Not Rated, DVD-$59.95 SRP). The 5-disc set features 9 Marple films, digitally remastered and looking better than ever, so pour yourself a cup of tea and don't mind the body.
The Hobart Shakespeareans (Docurama, Not Rated, DVD-$26.95 SRP) is one of those documentaries that can't help but renew your faith in the future of mankind. The doc revolves around teacher Rafe Esquith who, against all odds, manages to get through to the violence-scarred children of a Los Angeles neighborhood with the likes of Shakespeare, Mark Twain, mathematics, and more. At the end of the year, they even pull of a production of Hamlet – with special guests Michael York and Ian McKellen. Must-see.
I admit, I was a fan of Ellen by the time it rolled around to its third season (A&E, Not Rated, DVD-$49.95 SRP). The cast had solidified, including the always-welcome Jeremy Piven and David Anthony Higgins, and the unfunny, awkward, socially-relevant end of the show was still in the future. Bonus features are limited to a blooper reel.