You know, as much as I love going places, I loathe travel – for the time wasted in transit, and for the disruption in routine (and deadlines). While you're reading this, I'm currently in LA lining up some fun (I hope) coverage for the future… And dreading the time wasted on the return trip.
In his Oscar speech, George Clooney made a point that Hollywood, while being a barometer of the times, can also be a social and political motivator. In his portrait of Edward R. Murrow's journalistic battle against Sen. Joseph McCarthy and his Communist witchhunt in the 50's, Clooney uses Good Night, and Good Luck (Warner Bros., Rated PG, DVD-$28.98 SRP) to show a time – and a struggle for free speech in the face of political fear-mongering – that is sadly not dissimilar from the climate we currently find ourselves in. The war on terror is being waged in much the same way as the war on communism espoused by McCarthy, with a chilling of open discussion and much political chess being played. David Strathairn is wonderful as the stoic-yet-electrifying Murrow, who used the medium as a means of fighting for the public good… Remember when journalists used to do that? Bonus materials include an audio commentary from Clooney and producer/co-writer Grant Heslov, a behind-the-scenes featurette, and the theatrical trailer.
I've come to anticipate the release of each new volume in the Conversations series of books, which collect together interviews from various sources and time periods into an engrossing, and always informative, portrait of their given subject. The latest volume, Walt Disney: Conversations (University of Mississippi, $20.00 SRP), features over a dozen interviews with the man behind the mouse.
With the impending Superman flick on the horizon, superhero-centric DVD releases are going to be coming fast & furious – and that includes both the good and the bad. On the good side, there's Cartoon Network's hyperkinetic take on The Teen Titans, finally getting a complete first season release (Warner Bros., Not Rated, DVD-$19.98 SRP). While I was not overly enamored of the series at first, it's grown on me considerably, due in most part to the fact that they have a solid grasp on the essential core of the characters. On the other hand, the first season of The Batman (Warner Bros., Not Rated, DVD-$19.98 SRP) is just a disaster. Who thought we needed a new animated Batman, when the Bruce Timm version still remains as valid today as when it premiered. Way to crass it out, Warners. The 2-disc Teen Titans set features all 13 episodes, plus featurettes on the voice actors and the translation of comic to screen. The 2-disc Batman set features all 13 episodes, as well as featurettes examining the poor thinking that went into this useless abomination.
There's something refreshing and new in watching the first season of I Dream of Jeannie (Sony, Not Rated, DVD-$39.95 SRP) in its original black & white. One of the cornerstones of the 60's TV fantasy movement (alongside Bewitched), it's a show that I only remember ever seeing in color. Without it, the comedy comes to the forefront, and it still holds up to this day as pure escapist entertainment. The 4-disc set features all 30 episodes, plus an audio commentary on the pilot and a retrospective featurette.
Warners continue to mine its incredible catalogue by bringing to market titles that cinephiles have been desperate for. In order to facilitate the release of these vault classics, they've taken to crafting themed boxes to insure that the economic model supports the admittedly niche sets. The latest on the docket is a quartet of classic Agatha Christie flicks featuring the sleuthing Miss Marple, played by Margaret Rutherford. The 4-disc Miss Marple Collection (Warner Bros., Not Rated, DVD-$49.98 SRP) contains Murder She Said, Murder at the Gallop, Murder Ahoy, and Murder Most Foul. While not as feature-packed as most of Warners' releases, the discs do at least feature the original theatrical trailers.

While not a Marple mystery, another Agatha Christie classic, Ten Little Indians (Warner Bros., Not Rated, DVD-$19.98 SRP) is also hitting DVD. Revolving around a mysterious dinner party (with 10 guests, natch) and the progressive deaths of said guests, it's a fun little whodunit beautifully restored. The DVD features the original "Whodunit Break" segment from the theatrical release, plus the film's trailer.

In a field dominated by Pixar and Shrek, Fox's CG animation studio Blue Sky managed to pull together a surprisingly funny foray with Ice Age, a prehistoric tale of mismatched migrating animals led by the dulcet tones of Ray Romano as a wooly mammoth. With the sequel on its way, it should be no surprise that we've now got a 2-disc "Super Cool" special edition (Fox, Rated PG, DVD-$19.98 SRP), featuring the bonus materials found on the original release (audio commentaries, deleted scenes, behind-the-scenes featurettes) with a new "Extreme Cool View" version of the film packed with fun facts, a scene-specific audio commentary with John Leguizamo's Sid, additional featurettes, and much more.
For all its criticism as yet another Oscar attempt via de-beautifying, Charlize Theron makes the Norma Rae-esque factory worker heroine of North Country (Warner Bros., Rated R, DVD- $28.98 SRP) a believable character in a gender-equality story that we've seen far too many times before. If you're unfamiliar with the premise, Theron plays a worker in the highly hazardous Minnesota iron mines who rallied her fellow workers and instigated the country's first class action sexual harassment suit… And do I even have to tell you it's based on a true story? The disc contains a making-of documentary, additional scenes, and the theatrical trailer.

I'm very selective about the country music I allow through my musical filters – gimme Johnny Cash, Waylon Jennings, and Willie Nelson, and keep your modern country to yourself. One of the few country bands that have made it onto the short list is Alabama, who are celebrating their 25th anniversary with a deluxe 3-disc box set – Livin' Lovin' Rockin' Rollin' (RCA/Sony Legacy, $39.98 SRP). With over 50 tracks worth of hits, demos, live cuts, and rarities, it's certainly an enjoyable box o' mountain music.
Like Mr. Holland's Opus, Remember the Titans is one of those unashamedly button-pushing flicks that I know, in my heart of hearts, I should detest with the fire of a thousand suns but, for some reason, embrace to my embarrassed chest. Even more buttons are pushed in the newly-released extended director's cut (Walt Disney, Not Rated, DVD-$19.99 SRP), featuring a featurette on Denzel Washington, a behind-the-scenes documentary, "Beating the Odds" featurette, and additional deleted scenes. I feel so dirty.
In the 5th season of MacGyver (Paramount, Not Rated, DVD-$38.99 SRP), I halfway expected to see the cliché the series had become – you know, our hero crafting a hoverboat out of toothpicks and twine. But would you believe a time travel adventure? Huh? Caught you by surprise, didn't I?

If anyone doubts that Pamela Anderson is the absolute reining queen of guilty pleasure TV, look no further than her action adventure series VIP (Sony, Not Rated, DVD-$49.95 SRP), which stars the surgically-endowed high mistress of schlock as the owner of a Tinsletown bodyguard agency. If you doubt its irresistible appeal to the basest of pleasure centers, partake of the 5-disc complete first season, featuring cast intros on select episodes, an audio commentary on the finale, a behind-the-scenes featurette, and a trivia track on the premiere.
Why is it the that fiction's greatest sleuths all border on the geriatric? Is it the grizzled life experience, or just the level of thespian they attract when brought to life on the big or small screen? Two such super-sleuths get additional seasons of their respective series, with Columbo (Universal, Not Rated, DVD-$39.98 SRP) reaching its fourth while Jessica Fletcher and Murder, She Wrote (Universal, Not Rated, DVD-$49.98 SRP) hits its third season of crime-solving. Columbo feature another episode from the spin-off Mrs. Columbo ("A Riddle for Puppets") and Murder, She Wrote contains the crossover episode of Magnum, PI.
It seems like only yesterday that the last deluxe edition of Sharon Stone's ice pick wielding stab at cinematic immortality was released (complete with an ice pick), but it seems the time has come for another special edition of Basic Instinct (Lionsgate, Not Rated, DVD-$19.98 SRP). Obviously intended as a tie-in to the film's upcoming sequel, this "Ultimate Edition" features the unrated director's cut, an audio commentary with director Paul Verhoeven and DP Jan De Bont, an intro and interview with Ms. Stone, a making-of featurette, screen tests, storyboard comparisons, and more. Sadly, no ice pick.

For the learned amongst you interested in such things (you know who you are, Mark), Poetry on Record (Shout! Factory, $45.49 SRP) is a 4-disc set collecting dozens of classic poems, read by the authors themselves – everyone from Walt Whitman & Robert Frost to Allen Ginsburg & Derek Walcott. Some of the recordings in question date back to the early part of the last century, and as with any creative writing, it's always a unique experience to hear authors deliver their work in their own voice.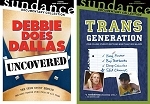 On the reality front, a new pair of documentaries explore sexuality in modern America – one through the prism of an infamous porn classic, and the other through the very notion of sexual identity. Debbie Does Dallas: Uncovered (Docurama, Not Rated, DVD-$19.95 SRP) is pretty self-explanatory, going behind the scenes of the porn that launched a thousand parodies in the same fashion as last year's Inside Deep Throat. Transgeneration (Docurama, Not Rated, DVD-$29.95 SRP), on the other hand, follows a quartet of college students as they juggle classes and the weighty decision of gender reassignment – heady stuff, to be sure, but handled surprisingly well in this 8-part series. Dallas features an additional film, while the 2-disc Transgeneration contains deleted/extended scenes.
There's nothing like going out on a sour note, and that's exactly what J. Michael Straczynski did with his final (not by his design, mind you) outing within the once-great Babylon 5 universe. Having already stumbled with the mediocre Crusade, The Legend of the Rangers (Warner Bros., Not Rated, DVD-$19.98 SRP) was like a blow to the gut – none of the storytelling panache of JMS's original B5 run was to be found, and this driven home by the welcome but wasted presence of the late, great Andreas Katsulas as G'kar, one of the finest characters to ever hit the realms of fiction. What can I say? At least we have the original series…
Even though their friendship is kaput, you can still get one last look at the sheer, unbridled idiocy found in those paragons of the idle class, Paris Hilton and Nicole Richie, in the 3rd and final season of The Simple Life (Fox, Not Rated, DVD-$19.98 SRP). This season, our two loveable boobs wreck many a business as cluelessly destructive interns. Now please, let it end.