I'm still recovering from a nasty little post-trip cold following my extended jaunt to surprisingly cold and rainy LA, so let's get this little dog & pony show off the ground…
First up, I want to point you all in the direction of a cool little musical act I stumbled upon out in LA, The Emotion Project. If you dug the soundtrack to Garden State, you'll be kicking yourself if you don't snap up the debut CD. Seriously – go. I'll be waiting here for you to come back.

While the show had most definitely been headed in that direction, it wasn't until the 7th season of South Park (Paramount, Not Rated, DVD-$49.99 SRP) that the show fully morphed into one of the most astute, pointed social satires ever to grace the boob tube. From pop culture and politics to celebrity and religion, no topic was off-bounds, and no treatment of said topic was done with kid gloves. Metrosexuality, Christian Rock, Jennifer Lopez, Indian casinos, smoking, Mormons – it's all there, and it's al brutally funny. The 3-disc set features all 15 episodes, plus Matt & Trey's patented mini-commentaries.

In the vacuum left by the loss of Chappelle's Show, I was pleasantly surprised by Comedy Central's newest comic-centric sketch comedy, Mind of Mencia (Paramount, Not Rated, DVD-$26.99 SRP). Carlos Mencia is the type of comedian I love – unafraid to have strong opinions on race, gender, politics, and society, and able to deliver those opinions with a pointed humor that forces us to laugh at ourselves. If you think I'm exaggerating, check out the first season, and I guarantee you'll be identifying with everything he has to say – some of it hitting a little too close to home. The 2-disc set features deleted scenes, additional segments, behind-the-scenes footage, bloopers, and more.
Compared to what the show would evolve into when it became Justice League Unlimited, the first season of Justice League (Warner Bros., Not Rated, DVD-$44.98 SRP) was an uneven affair. Desperate not to make it the Superman & Batman show, Bruce Timm & Co. (minus the much-missed Paul Dini) erred too far in the other direction, to the particular detriment of Superman. Even at its worst, though, the 26 episodes features are still light years better than crap like The Batman. Bonus features include a trio of audio commentaries, featurettes on character design and storyboards, a panel discussion with the creators, and a rare promo film for the series.

Speaking of Timm & Co., something that did work – much to my surprise, considering the concept originally left me cold – was Batman Beyond (Warner Bros., Not Rated, DVD-$26.98 SRP). By mostly ignoring the Warner suits and making sure that the mythos that led young Terry McGinnis to assume the mantle of the Bat was firmly rooted in their animated Batman, it gave the series a depth and character it otherwise wouldn't have had. The 2-disc set features all 13 first season episodes, plus a pair of audio commentaries, a featurette on the creators, and select score-only seasons.

One of Bruce Timm's major artistic influences was the legendary Jack "King" Kirby, and I gotta admit – I love the large format version of the Jack Kirby Collector (Twomorrows, $9.95). The latest issue, #45, features a special 3-D back cover, and is jam-packed with enough rare, beautiful Kirby art to give any aspiring artist an inferiority complex.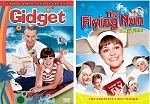 It's not often that an actress stars in two television series that – despite being relatively short-lived – made said star a national sweetheart… long before she became an Oscar-winning film star. Who is the actress and what were the series? The actress was Sally Field, and the series were Gidget and the still-unbelievable The Flying Nun (Sony, Not Rated, DVD-$39.95 SRP each). Beach bunny Gidget gets a complete series release featuring all 32 episodes (plus the original pilot and a retrospective featurette with Fields), while The Flying Nun penguin wings her way onto DVD with all 30 first season episodes (again, with an exclusive Field interview). The 60's truly were an innocent time… Long before Smokey & the Bandit.
While the release of some shows like The Jeffersons, Newsradio, Larry Sanders, and Just Shoot Me moves at a glacial pace, Sony has really been good about getting Bewitched out on DVD in a relatively quick manner. In fact, we're already up to the 3rd season (Sony, Not Rated, DVD-$39.95 SRP) – a momentous affair featuring the show's first color episodes and the emergence of baby Tabitha's witchy powers. Hey – as long as Endora and Uncle Arthur are back, I'm happy as a clam.

In my senior year of high school, I carried a bet with a friend a bit too far and found myself with one of the lead roles in the musical 42nd Street – which is as good a cautionary tale against betting as I can imagine. Still, the experience holds a warm place in the cockles of my heart, which is why I got a kick out of Warner's new Busby Berkley Collection (Warner Bros., Not Rated, DVD-$59.98 SRP). Elements and songs from the 4 films contained in the set – 42nd Street, Gold Diggers of 1933, Footlight Parade, Dames, and Gold Diggers of 1935 – were combined to make the musical. As per the usual Warner standard, all of the flicks look and sound exceptionally well considering their age, plus the discs are loaded with vintage featurettes, cartoons, documentaries, trailers, and more. In addition, the 6th disc in the set is The Busby Berkley Disc, which features 21 complete musical numbers from Berkley's films.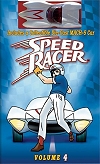 The interminable wait between releases of the original Speed Racer is barely satiated by the arrival of the penultimate fourth volume (Lionsgate, Not Rated, DVD-$22.98 SRP), which features a measly 8 additional episodes. As an added bonus, though, the disc does come with a 1:64-scale diecast of the Mach-5. Now where's that last set, people?
It should come as no surprise that Paul Mooney was one of the best writers that ever wrote for Richard Pryor – in Paul Mooney's Analyzing White America (Shout! Factory, Not Rated, DVD-$14.98 SRP) he takes precision aim at racism in America, the "N" word, the skinny black fetish of big white women, and more hilarious, painfully true observations of our modern culture. If you've been jonesing for the same with that brought us "Negrodamus" and the ultimate insult at Wayne Brady (before Dave Chappelle took Chappelle's Show away from us), then look no further. The disc also features an interview with Mooney.
Don't get me wrong – I'm not angry that Dave Chappelle decided not to pursue another season of his show. Frankly, it was his decision and he had his reasons, and I respect that. Thankfully, he has given us the incredible concert film Dave Chappelle's Block Party, and its equally incredible soundtrack album (Geffen, $13.98 SRP).
First things first – I can't hate Hank Azaria. It's impossible for me to bring myself to be disappointed with him. Same thing goes for Oliver Platt. When you combine them both in Showtime's breakout hit Huff (Sony, Not Rated, DVD-$39.95 SRP). Azaria stars as family man and psychiatrist Dr. Craig "Huff" Huffstodt, whose life is turned completely upside down when a 15 year-old patient commits suicide during a session, sending Huff into a spiral of self-doubt and evaluation. It's a fine little dramedy that deserves to be discovered by anyone unfamiliar with it (much like Showtime's "why did they cancel it?" Dead Like Me). The 4-disc set features all 13 first season episodes, plus deleted scenes, a trio of behind-the-scenes featurettes, and audio commentaries on select episodes.

The third season of Tales From the Crypt (Warner Bros., Not Rated, DVD-$39.98 SRP) features a pair of the macabre series' most beloved episodes (by me, anyway) - "Yellow" and "Top Billing." The Bob Zemeckis-directed "Yellow" starred Eric Douglas as the cowardly son of Kirk Douglas's tough-as-nails general who decides that courage and honor are more important than blood, while "Top Billing" finds Jon Lovitz willing to do anything to get a part in a production of Hamlet. The 3-disc set contains an additional 12 episodes, plus a pair of panel discussions on the show, and a music video.

Filmed during the Fillmore Auditorium appearance of their 2005 reunion tour, The Black Crowes: Freak 'n' Roll… Into the Fog (Eagle Vision, $14.98 SRP) is a rarity amongst reunion concerts – they're still in top form. Shocking, I know.
Already given a deluxe special edition treatment a few years back, the new 3-disc 50th anniversary edition of The Ten Commandments (Paramount, Rated G, DVD-$24.99 SRP). Not only does this new outing feature a completely restored and remastered presentation of Cecil B. DeMille's legendary 1956 version (starring Charlton Heston as the bearded guy with the tablets), but also DeMille's 1923 silent original. The 1956 version features an audio commentary with author Katherine Orrison (writer of the making-of book Written in Stone), an extensive 6-part behind-the-scenes documentary, a newsreel of the film's NY premiere, and a trailer gallery. The 1923 version features another commentary from Orrison, and hand-tinted footage of the "Exodus and Parting of the Red Sea" sequence.

After his bizarre lapse in hermitude during this year's Grammy Awards, you may be interested in hearing more from Sly and the Family Stone. Well, that's not going to happen… remember the whole recluse thing? The next best thing, though, is Different Strokes By Different Folks (Epic/Legacy, $18.98 SRP), a collection of 14 covers of classic Sly by the likes of Isaac Hayes, Moby, John Mayer, Janet Jackson, Chuck D, Maroon 5, and more.
I really wanted Over There (Fox, Not Rated, DVD-$39.98 SRP) to succeed. Created Steven Bochco and Chris Gerolmo, it dared to try and tell a dramatic series about the U.S. military in the current Gulf War, focusing on both the soldiers in the Middle East and their families back home. In the end, it just never quite seemed to pull off the initial promise of the concept, but it still manages to feature some shockingly gritty storytelling and will go down as a landmark series regardless. The 4-disc set features all 13 episodes, plus audio commentaries on select episodes, a documentary on the process of filming the show, and a behind-the-scenes featurette.

I am a huge, huge fan of the Classic Albums series of documentaries focusing on the creation of some of the most iconic records ever recorded. The latest focuses on The Making of A Night at the Opera (Eagle Vision, Not Rated, DVD-$14.98 SRP), the album that launched Queen into the stratosphere as a truly legendary rock band. The DVD features an additional 50 minutes of footage not in the original TV broadcast.
Nothing beats the classic World War II flicks of yesteryear, and Stalag 17 (Paramount, Not Rated, DVD-$19.99 SRP) certainly ranks among the best. Directed by Billy Wilder and starring William Holden as the scheming Sergeant J.J. Sefton, a prisoner at Germany's notorious POW camp, who runs rackets and trades favor for special privileges. Sefton comes under suspicion from his fellow prisoners as a spy for the Germans when a pair of escape attempts end in death. The newly remastered special edition features an audio commentary, a making-of documentary, a featurette on the real POWs of Stalag XVIIB, and a photo gallery.
Even all these months later, I still have a bad taste in my mouth about Disney's crass foray into the CG game, Chicken Little (Walt Disney, Rated G, DVD-$29.99 SRP). Featuring a half-hearted attempt at melding Shrek-like postmodernism with Pixar-esque charm, they instead created a Frankenstein's monster of a flick, clearly uncomfortable in both worlds and crying out for a soul. Sadly, that soul is nowhere to be found in this reworking of the classic tale of CL, with our young hero instead identifying the arrival of extraterrestrials and being inevitably forced to rise to the challenge. The DVD features a making-of featurettes, deleted scenes (plus 3 alternate openings), and a bunch of crap music videos.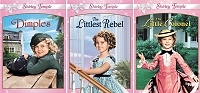 There's definitely something discomforting about the latest trio of Shirley Temple flicks released under the "Shirley Temple Collection" banner (Fox, Rated PG, DVD-$14.98 SRP). No, it's not the tiny tyke as the littlest pickpocket in Dimples… it's the Temple flick version of the old south portrayed in The Littlest Rebel and The Little Colonel. Even with co-stars like Hattie McDaniel and Bill "Bojangles" Robinson, these most definitely are flicks made in a far less enlightened time. Still, as cultural artifacts, I'm glad they're available, and can only hope Disney will eventually get around to releasing Song of the South.