Another year, and the time lords have stolen another hour from my life, bartering it for more daylight and the promise of its return come the fall. I think the time lords are liars and cheats, and I want that hour of sleep back… granted, I was awake anyway, but that doesn't matter. Damn time lords. Damn them.

For years, fans of Mel Brooks have been taunted with rumors that the missing titles from his library were finally coming to DVD. Every few months, we were told we'd be getting Silent Movie, or High Anxiety, or Robin Hood: Men In Tights, or To Be Or Not To Bet (the remake of the Ernst Lubitsch near-classic, co-starring Brooks and his late wife, Anne Bancroft)… But then nothing would materialize. I'd given up hope, frankly, when the coming of the Mel Brooks Collection (Fox, Rated PG/G/R, DVD-$99.98 SRP) was announced. After realizing that it wasn't a hoax, I was ecstatic – IT WAS ABOUT D*** TIME! Containing brand new transfers of High Anxiety, Robin Hood, Silent Movie, The Twelve Chairs, To Be Or Not To Be, and the previously available Young Frankenstein, Blazing Saddles (the lone Warners title), and History of the World: Part I (which is looking much nicer in anamorphic), it's a set to be reckoned with. Noticeably lacking are Brooks's MGM titles – The Producers, Life Stinks, Spaceballs – and Warners' Dracula: Dead and Loving It. I would have loved more bonus features than the pre-existing materials from Frankenstein & Blazing Saddles, as the only other items of note are the HBO behind-the-scenes special for Robin Hood and some vintage interviews on To Be Or Not To Be. Ah well – at least we finally got the flicks…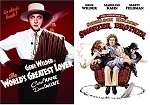 While you're at it, though, make sure you pick up a pair of comedies written, directed, and starring Gene Wilder, both from the same fertile 70's period, The World's Greatest Lover & The Adventure of Sherlock Holmes' Smarter Brother (Fox, Rated PG, DVD-$14.98 SRP each). Transporting much of the Brooks supporting cast – including Dom DeLuise, Madeline Kahn, and Marty Feldman – they're overlooked comedy gems well worth re-discovering. Both flicks feature audio commentaries from Wilder, plus the original theatrical trailers.
Just so you know, I'm writing this week's column with Matthew Sweet & Susanna Hoffs' album Under the Covers: Vol. 1 (Shout! Factory, $15.98 SRP) on endless repeat on the CD player. Featuring covers (as the title implies) of 15 classic 60's tunes (both well-known and less well-trod), it's simply one of the best clutches of re-interpretations I think I've ever heard. You can tell when artists are really digging what they're doing, and that joyous spirit permeates the whole album. The wait for Volume 2 is going to be a hard one.
I don't know if it's simply nostalgia or just the period in which they were created, but both A Boy Named Charlie Brown & Snoopy, Come Home (Paramount, Rated G, DVD-$14.99 SRP each) both hold up tremendously well. A Boy Named Charlie Brown was the first big screen foray for the Peanuts gang, followed a few years later by Snoopy. I can't wait to show both of these to my little nephew, and can only hope Race For Your Life, Charlie Brown is on its way.
The late 70's/eatly 80's truly were a golden age of film comedy, spawning flicks that endure with brilliant combinations of script, cast, and direction. One such flick that still holds a special place in the pantheon is 9 to 5 (Fox, Rated PG, DVD-$19.98 SRP), which finally gets the special edition is deserves. In addition to a new anamorphic transfer, a retrospective featurette, a gag reel, deleted scenes, and an audio commentary (with Tomlin, Fonda, Parton, and producer Bruce Gilbert).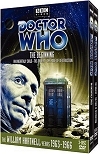 Hopefully, the shockingly well-executed relaunch of Doctor Who has gotten audiences interested in the Doctor's classic adventures, and there's no better starting place than, literally, Doctor Who: The Beginning (BBC, Not Rated, DVD-$49.98 SRP), which features the time traveler's first three adventures ("An Unearthly Child," "The Daleks," and "The Edge of Destruction") and stars William Hartnell in the title role. The 3-disc set is packed with commentaries, the unedited studio recording (with outtakes) of the pilot, behind-the-scenes and retrospective featurettes, a 30-minute condensed version of the lost story "Marco Polo," galleries, and more.
Watching Patton Oswalt's stand-up is like experiencing a comedic Trojan Horse. Beneath that affable, roly-poly, pal o'mine exterior is a sharp, sometimes brutal wit that can move quickly from pop culture esoterica to polarizing (and thankfully unapologetic) political views. If you want to see exactly what I mean, check out Patton Oswalt: No Reason to Complain – Uncensored (Paramount, Not Rated, DVD-$19.99 SRP) and you'll see what I mean. The disc also features his original Comedy Central Presents spotlight, and deleted scenes.

If the wait for another volume of the chronological Peanuts collection is getting you down, you can fill the time with the second volume of the chronological Dennis the Menace (Fantagraphics, $24.95 SRP), featuring the year spanning 1953-1954 of Hank Ketcham's legendary troublemaker. Running over 600 pages in a compact little hardcover (remember – Dennis was a single-panel strip), this volume features an introduction from R.C. Harvey.
It's ironic that the Chronicles of Narnia-centric SNL sketch "Lazy Sunday" (starring Chris Parnell & Andy Samberg) pretty much sums up the best time to watch the not-as-good-as-it-should-be big screen adaptation of the first book in C.S. Lewis's Narnia saga, The Lion, The Witch and The Wardrobe (Walt Disney, Rated PG, DVD-$34.99 SRP). In bringing the novel to life, Disney and director Andrew Adamson try so very hard to make an amalgam of Harry Potter and The Lord of The Rings – and create a cash cow franchise of their own – and the crass can't help but show through the seams of the flick. It's a shame, really, because a really fun, emotionally resonant movie is in there somewhere, even if I still detest the blatant Jesus lion of it all. As always, get the 2-disc collector's edition, which features audio commentaries, bloopers, numerous behind-the-scenes featurettes, and more.

Brokeback Mountain (Universal, Rated R, DVD-$29.98 SRP) is one of those flicks that get swept up in and define a given year's zeitgeist. I don't know about you, but I must have seen more than a dozen parodies of Ang Lee's tender forbidden love story about a pair of cowboys (Heath Ledger & Jake Gyllenhaal) forced to hide their secret passion over a decades-long relationship that encompasses loveless marriages (to Anne Hathaway & Michelle Williams) and the inability to quit each other. Is it a film for the ages? No, not really. It's more a cultural landmark than a stunning piece of cinema, so there's no doubt that it will have an afterlife far beyond that initial fervor, but as a film, I found it as measured as Lee's previous pastoral flicks… And yes, even the annoyingly sedate cerebral bore that was the Hulk. Bonus features are limited to a trio of self-congratulatory behind-the-scenes featurettes.

It's been years of waiting, but fans can finally end their long mope-affair with Dawson, Pacey, Joey, Shaggy, Zeppo, and Shemp via the 6th (and final) season of Dawson's Creek (Sony, Not Rated, DVD-$49.95 SRP). The 4-disc set features an audio commentary on the finale from Kevin Williamson and Paul Stupin, plus a photo-filled scrapbook. Unfortunately, fans will have to keep their original DVD release of the finale if they want the extended version, since the air version is what's found on the set.

Continuing their themed sets, the latest Star Trek: Fan Collective (Paramount, Not Rated, DVD-$39.98 SRP) features 12 episodes focusing on the trials and tribulations of time travel within the Trek universe. From the original series, there's "Tomorrow Is Yesterday" & "The City On The Edge of Forever. The Next Generation messes with the timestream in "Yesterday's Enterprise," "Cause and Effect," "Time's Arrow" part 1 & 2, and "All Good Things." From DS9 we get "Little Green Men" and "Trials and Tribble-ations." We wrap things up with Voyager's "Year of Hell" parts 1 & 2, and the finale, "Endgame." The 4-disc set also features a trio of Okuda text commentaries on "Tomorrow Is Yesterday," "Yesterday's Enterprise," and "Little Green Men."
Hopefully, "Trials and Tribble-ations" and "Little Green Men" will whet your appetite for even more Deep Space Nine – second only to the original series in the quality of storytelling within the Trek universe. It's understandable, then, that such a well-done series also have the most comprehensive – and fun – behind-the-scenes episode guides of the whole, featuring complete participation from the cast and crew. Trust me – pick up your own copy of the Star Trek Deep Space Nine Companion (Pocket Books, $27.95 SRP) and find out for yourself.

There's something profoundly fascinating about Bob Dylan's inexplicable years as a Born Again, a period which is chronicled in Rolling Thunder: The Gospel Years (Highway 61 Entertainment, Not Rated, DVD-$14.95 SRP). Featuring rare interviews and concert footage, it's well worth a look for Dylan fans.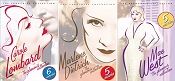 I appreciate Universal's attempt to jump on the personality-centric release of catalogue titles that has proven such a success with Warner Bros. in recent years. Unfortunately, Uni has insisted that their presentation be done with atrocious, flaw-prone double-sided DVD-18 discs. Why won't they learn? Besides that, it's great to have the titles include in the Glamour Collection – spotlighting screen sirens Carole Lombard, Mae West, and Marlene Dietrich (Universal, Not Rated, DVD-$26.98 SRP each). The Lombard collection features Hands Across the Table, Love Before Breakfast, Man of the World, The Princess Comes Across, True Confession, and We're Not Dressing. Dietrich contains Morocco, Blonde Venus, The Devil Is a Woman, Flame of New Orleans, and Golden Earrings. Finally, with West you get Go West Young Man, Goin' To Town, I'm No Angel, My Little Chickadee, and Night After Night.

Anyone who even attempts to formulate an opinion on the decision-making that led us into Iraq – and the choices that were made in planning and executing the occupation – needs to read Cobra II: The Inside Story of the Invasion and Occupation of Iraq (Pantheon, $27.95 SRP), by Michael R. Gordon & General Bernard E. Trainor. Meticulously researched – including access to classified documents and the players involved – it's a sobering lesson in hubris, ignorance, confusion, and self-delusion.

Try to put all thoughts of just how filthy a mind is housed within the once-harmless Bob Saget as you peer through the years at the far more innocent time encapsulated in the third season of Full House (Warner Bros., Not Rated, DVD-$29.98 SRP). Heck, it was even before the Olsen twins were billionaires with self-esteem issues, or Dave Coulier had an Alanis Morrissette song written about him.
Hop into the wayback machine and revisit the complete fourth seasons of a trio of 80's "classics" – Magnum PI, The A-Team, and Knight Rider (Universal, Not Rated, DVD-$49.98 SRP each). Both Magnum and A-Team feature bonus episodes from their respective 5th seasons, while Knight Rider features K.I.T.T. blueprints.
Rodgers & Hammerstein aficionados will probably want to check out South Pacific: In Concert from Carnegie Hall (Decca, $18.98 SRP), featuring Alec Baldwin, Reba McEntire, and Brian Stokes Mitchell performing the songs from the show.
Keen to fill every conceivable niche with a themed box set of catalogue titles, Warners drops the Films of Faith Collection (Warner Bros., Not Rated, DVD-$29.98 SRP) just in time for the Easter season. Contained within the set are Audrey Hepburn's turn as a wartime sister in The Nun's Story, Anthony Quinn as a newly-minted pope in a world on the brink of nuclear war in The Shoes of the Fisherman, and The Miracle of Our Lady of Fatima. All three sets feature the original theatrical trailers, while Fisherman also contains a vintage behind-the-scenes featurette.