First of all – I don't do things like this often, but please click here and give what you can to a very, very good cause.
And now back to regular programming…
Welcome to another coffer-draining edition of The Money Pit – your one stop spotlight on every a/v knickknack sure to whet your appetite for time-passing purchases. It's been another wild and wooly week here at casa de Ken P., but hopefully you all have enjoyed the latest Ken P.-D. Snydecast (back after a long hiatus which was *completely* Dana's fault) and will get a kick out of some surprises in store next week. Until then, let's get this mother going…
The period covered within the 5th volume of The Complete Peanuts (Fantagraphics, $28.95 SRP), 1959-1960, was the year that all of the familiar elements that would sustain the strip for the rest of its 40 year span would finally come together. Snoopy's flights of fantasy increase, Charlie Brown's little sister Sally is born, Lucy begins to dispense nickel psychiatric help, Linus hopes for the arrival of the Great Pumpkin, and it is remarked that "Happiness is a warm puppy." Charles Schulz's art has begun to settle in as characters take on familiar forms (the only characters still in flux are Charlie, Snoopy, and little Sally, who will grow from baby to Linus-loving toddler in no time flat), while his writing has crystallized to perfection. In fact, the humor is razor sharp, and carries a sting to it – this is clearly the strip of a man full of self-doubt and stricken by frequent bouts of depression, as Charlie Brown's world is a surprising constant of scorn and failure with brief flashes of simple pleasures breaking through the gloom (see the aforementioned "warm puppy" comment). I can't tell you just how much I enjoy reading the strip chronologically and watching it evolve over the years, and all due kudos to Fantagraphics for keeping these coming at a fast enough clip that I don't jones for too long.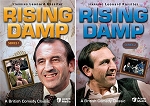 Shockingly, Rising Damp is a British comedy classic that never took hold in the US like Fawlty Towers, Are You Being Served?, or Keeping Up Appearances – which is unfortunate, because it's truly legendary Britcom that is equally as funny as any of Basil Fawlty's adventures. Starring Leonard Rossiter as lovably loathsome landlord Rigsby, who treats his tenants similar to how Fawlty treats his guests and Archie Bunker treats his family. Luckily, the first two series are available on DVD (Acorn, Not Rated, DVD-$24.99 SRP each). Go forth and find them.

Polish off the shot glasses and prep yourself for another spirited round of "Hi Bob!" with the release of the complete third season of The Bob Newhart Show (Fox, Not Rated, DVD-$29.98 SRP). How much liquor will you consume this season? The 3-disc set features all 24 episodes, plus audio commentary on select episodes and a brand-new behind-the-scenes featurette.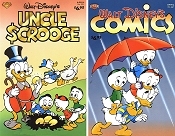 Spring is here, and there's no better way to ring in the arrival of April showers than with the latest issues of Uncle Scrooge & Walt Disney's Comics ($6.95 SRP) – #'s 352 & 667, respectively. Scrooge features one of Carl Barks's later classics, "Isle of the Golden Geese."
Now that I've got a small nephew, I've endeavored to shape his cultural education by sitting him down in front of classic kiddie fare that trumps much of the pap being shoveled at kids today. Helping things along is Disney's bargain-priced series of Classic Cartoon Favorites (Walt Disney, Not Rated, DVD-$14.99 SRP), each featuring a clutch of old school Disney fare starring their top toon talent. The latest collections (Volumes 10, 11, & 12) are themed as "Best Pals," and feature the pairings of Donald & Daisy, Mickey & Minnie, and Mickey & Pluto.

I still miss Dave Attell's Insomniac – one of the greatest travelogues ever – but at least we get a taste of it in the Insomniac Tour: Uncensored (Paramount, Not Rated, DVD-$19.99 SRP), which features stand-up from Attell, Greg Giraldo, Dane Cook, and Sean Rouse live in Vegas. The disc contains an additional 15 minutes of footage excised from the original broadcast, plus additional backstage, Vegas, and after party footage.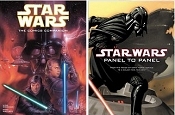 With over a hundred issues worth of series and mini-series, plus trades, under its collective belt, the Star Wars universe in comics has accumulated quite a bit of history outside of the films. If it all seems a bit confusing, then you might want to pick up a copy of Star Wars: The Comics Companion (Dark Horse Books, $19.95 SRP), which features chronological summaries of the every comic book story based in that galaxy far, far away, plus trivia and notes on both chronology and contradictions. If the art of those books appeals to you, then you might also want to snag a copy of Star Wars: Panel To Panel (Dark Horse Books, $19.95 SRP), which does for the visual legacy of Star Wars in comics what The Comics Companion does for the stories themselves, featuring an overview of the various artists and styles that have graced those numerous tales.

Tom Cruise is a freaking loon, yes, but at least as recently as the first Mission: Impossible, he could pull off an action flick without me constantly thinking, "Crikey, he really is a freaking loon." Just in time for M-i: III, we get a brand new collector's edition of the original (Paramount, Not Rated, DVD-$19.95 SRP). Cruise along with a retrospective on the franchise, featurettes, trailers, and incredibly creepy Cruise-centric montage featurettes.
By the time we got to the 5th season of In Living Color (Fox, Not Rated, DVD-$39.98 SRP), it was clear that the show was over. The Wayans family was gone, new addition Chris Rock wasn't funny yet, and Jim Carrey was just marking time until he could get the heck out of there.

While I found his book on the art of the storyboard to be interesting, my heart really belongs to Don Bluth's latest book, The Art of Animation Drawing (DH Press, $14.95 SRP). Maybe it's because I'm a sucker for the artistry behind hand-drawn animation, or just that The Secret of Nimh still holds a place in my heart. Either way, Bluth's book is informative, easy-to-understand, and engaging enough to be a useful tool for anyone wishing to dive in and try their hand.
Roald Dahl's severely underappreciated Brit anthology series Tales of the Unexpected (Acorn, Not Rated, DVD-$39.99 SRP) gets another 20 episodes via a 4th collection filled with macabre twists that would make Hitchcock proud, sans the heavy-handedness of your average Twilight Zone outing. If you've yet to give this series a spin, by all means do so.
Like both Chocolat and The Cider House Rules, director Lasse Hallstrom brings a languid, almost somnambulic dignity to An Unfinished Life (Miramax, Rated PG-13, DVD-$29.99 SRP), a romantic drama about a rugged man (Robert Redford) in a rugged land (Wyoming) who lives with his best friend (Morgan Freeman), and whose life is turned upside down when the woman he blames for his son's death (Jennifer Lopez) arrives broken and broke on his doorstep with the granddaughter he's never known. The DVD features an audio commentary, a making-of featurette, a look at how they trained Bart the Bear, and the theatrical trailer.
It's by no means the best he was capable of, but Jack Kirby's Silver Star (Twomorrows, $19.95 SRP) is a visual delight, and even more impressive by its presentation in pencil form via this "Graphite Edition" of the 6-issue limited series originally published by Pacific Comics in the early 80's. As originally conceived, Silver Star was a film pitch, and Kirby's original treatment is also within the TPB. By golly, that art is stunning.
Just when you think you've got everything from a given screen legend, you find a new batch of flicks creep up out of the earth and command your attention. A trio of golden age film stars are the subject of the Classic Double Features (VCI, Not Rated, DVD-$4.99 SRP each) – Edward G. Robinson, Betty Hutton, and Edmond O' Brien. Each disc contains a pair of remastered features any cineaste will want in their collections. The films in question are The Red House & Scarlet Street for Robinson, D.O.A. & The Hitchhiker for O'Brien, and The Stork Club & Perils of Pauline for Hutton.
I get a kick out of biographies on filmmakers, and I've been waiting a good long while for a really great one focusing on the master of suspense, Alfred Hitchcock. My wait is over with the publication of Charlotte Chandler's It's Only A Movie: Alfred Hitchcock – A Personal Biography (Applause Books, $16.95 SRP). Check it out and see what I mean.