Another long week here, and another shopping guide packed to the brim with knickknacks both audio and visual to blow your hard-earned ducats on…

I don't know about you, but I've been anticipating the release of the next Pixar flick since the lights came up after Finding Nemo Still, I've found it hard to fully engage my enthusiasm with any of the previews I've seen of John Lasseter's Cars… Perhaps because I'm not a huge car buff, and Disney cuts rotten trailers for the Pixar flicks (I wasn't jazzed when I saw the previews for Monsters Inc. or Finding Nemo, either). Still, my heart did begin to race as I flipped through the concept artwork found in The Art of Cars (Chronicle Books, $40.00 SRP). As with the previous Pixar Art Of books from Chronicle, there's plenty of gorgeous pieces to be found in this (literal) road movie, and I think I may finally be feeling enthusiasm to accompany the anticipation.
Conducted prior to his most-recent Himalayan jaunt, Michael Palin: Sahara (BBC, Not Rated, DVD-$34.98 SRP) finds the ex-Python deep in the arid heart of Africa, crossing deadly terrain (and sometimes even more dangerous political territory) in another of his always enjoyable travelogues. Unlike the health issues that threatened to derail his journey into the Asian mountains, it really was the various countries within the Sahara that were the moist pressing risk to life and limb, but Palin manages to navigate them while encountering the fascinating peoples, cultures, and customs within. Bonus materials include an interview with Palin, deleted scenes, and a behind-the-scenes featurette.

Sporting a brand new face and a whole lot of energy, the third season of Roseanne (Anchor Bay, Not Rated, DVD-$39.98 SRP) is a well-oiled comedy machine, spotlighting not only its namesake dynamo, but every other character in the domestic goddess's orbit. PMS, the facts of life, weird D.J., Nana Mary (Shelley Winters), and more mark a truly wonderful season. The 4-disc set features all 25 episodes, plus interviews with Laurie Metcalf & Lecy Goranson.
When the moon hits your eye like a big pizza pie, that's Moonstruck (MGM/UA, Rated PG, DVD-$19.94 SRP) – one of the best romantic comedies to come out of the 80's, and the flick that more than earned Cher her Oscar as a superstitious Brooklyn widow searching for true love. The new special edition features remastered sound and picture, an audio commentary (with Cher, director Norman Jewison, and writer John Patrick Shanley), a retrospective documentary, a featurette on the music (including the iconic use of Dean Martin's "That's Amore"), and an interactive food map of Little Italy.

Six Pack (Anchor Bay, Rated PG, DVD-$14.98 SRP) is by no stretch of the imagination a good flick. In fact, it plays like a southern fried Bad News Bears, starring Kenny Rogers as a stock car driver who becomes ward to a family of thieving orphans he catches boosting his engine, who just so happen to be on the run from the crooked Texas sheriff cliché. Having said all that, I love this little redneck Nascar gambler gem, mainly because it was one of the video discs (Selectavision, yo) my family owned when I was a kid, and would get endless play. We are the adults our childhoods make us, and I am so very ashamed… and so very happy to have this movie on DVD.
Van Morrison was one of those artists who I knew about for years – and who hasn't heard "Brown Eyed Girl"? – but I never dove into his output like I should have. When I finally did absorb his catalogue, I learned what everyone else already knew, which is what a phenomenal artist he is. His latest, Pay the Devil (Lost Highway, $13.98 SRP), is a country-flavored delight that proves Van keeps rolling along.
While not among their finest work, any Laurel & Hardy on DVD is much appreciated, and that includes the TCM Archives: Laurel & Hardy Collection (Warner Bros., Not Rated, DVD-$39.98 SRP), which contains The Devil's Brother and Bonnie Scotland. The 2-disc set also sports the feature-length documentary The Hollywood Shorts Story, commentaries from L&H fans Richard W. Bann & Leonard Maltin, excerpts from other L&H classics, and intros from TCM host Robert Osborne.
Reading modern science fiction is like wading through molasses – really, it's hardly worth the effort. So much of it is bogged down in either too much science or too much lousy writing. Science fiction comedy is in an even worse state, still feeling the loss of Douglas Adams. Thankfully, John Swartzwelder knows how to pull it off, and his latest – How I Conquered Your Planet (Kennydale Books, $15.95) – is a gem. If it wasn't, I wouldn't have blown an entire night reading it cover to cover. Just go and buy the damn thing already… And snap up his first two tomes while you're at it…
In the Brit Gangster Flick Hall of Fame, a place most assuredly is reserved for Bob Hoskins' brutal performance as underworld boss Harold Shand in The Long Good Friday (Anchor Bay, Not Rated, DVD-$19.98 SRP) who finds himself under-the-gun on the eve of the ultimate deal as all hell breaks loose within his organization. Bonus features include an audio commentary with director John Mackenzie, a making-of featurette, and trailers.
Before Bond, Pierce Brosnan was Steele… Remington Steele, the suave PI who, with partner Laura Holt, solve globe-spanning mysteries and tried not to be too much like Moonlighting. Remington Steele: The Complete Third Season (Fox, Not Rated, DVD-$39.98 SRP) features 22 episodes across 4 discs, plus audio commentary on select episodes, behind-the-scenes featurettes, and character profiles.
More guilty pleasure TV-on-DVD coming down the pike courtesy of the complete fourth season of Neil Patrick Harris's medical tour-de-force, Doogie Howser, M.D. (Anchor Bay, Not Rated, DVD-$39.98 SRP) and the 5th and final season of the "they stopped being believable high-schoolers in the first season" Fox hit 21 Jump Street (Anchor Bay, Not Rated, DVD-$34.98 SRP). Doogie features brand new interviews with stars Lawrence Pressman & Kathryn Layng, while 21 Jump Street contains an audio commentary with Peter Deluise.
And speaking of guilty pleasure, don't forget to knock on the door of the complete sixth season of Three's Company (Anchor Bay, Not Rated, DVD-$29.98 SRP), as it's been waiting for you, replete with the eternally funny Don Knotts and his priceless bug-eyed takes. The 4-disc set features the Lucille Ball presented best-of special, an episode in Polish, and an audio commentary with director Dave Powers.
There are only a handful of comedians who can summon palpable levels of pointed outrage within their acts without dropping off into caricature before making the audience both laugh and see the truth in their observation – a particularly dangerous minefield if your comedy is often political, as well. Lewis Black is one of those select few who can pull it off, and the CD of his Carnegie Hall Performance (Comedy Central Records, $13.98 SRP) is the perfect document of a topical comedian firing on all cylinders.
I hate to admit it, but as soon as I stumbled across my first episode in PBS's series placing a modern family into a period home – and forcing them to live as a family lived in that period, sans modern conveniences – I was hooked. A trio of those addictive slices of history meets The Real World have made their way to DVD – Colonial House, The 1900 House, and 1940's House (PBS, Not Rated, DVD-$34.98-$49.98 SRP each). My favorite would have to be 1940s house, which compresses 6 years of war on the British homefront into two months, through the Blitz and on to Victory Day. Of the three releases, only Colonial House contains bonus features, including auditions, additional diaries, and a making-of featurette.
Speaking of documentaries, another one that caught my eye was an epic four-hour one focusing on the French and Indian War (1754-1763), one which I'd always heard about, knew was important, but had never understood fully. Well, The War That Made America (PBS, Not Rated, DVD-$39.98 SRP) cleared everything up, and certainly makes the case for its title.

After seeing his mind-bending art my entire life, it was nice to finally get a sense of the man behind it via The Fantastic World of M.C. Escher (Acorn, Not Rated, DVD-$19.99 SRP), a succinct little documentary featuring interviews with people who knew him and mathematicians, plus digital recreations of his work.
The BBC continues with their recently resuscitated adaptations of classic literature with Edith Wharton's The Buccaneers (BBC, Not Rated, DVD-$14.98 SRP) and Thomas Hardy's Under The Greenwood Tree (BBC, Not Rated, DVD-$19.98 SRP). Even better, they've hit upon a formula for these new adaptations that remains faithful to the source material while seeming fresh and vibrant to modern audiences (who, sadly, loathe books). Both discs feature behind-the-scenes material.
After a recent jaunt to Disneyland and a spin on the park's Indiana Jones ride (and the obligatory purchase of my very own fedora), I was jazzed to take a look at the recent release of a pair of the 1930's serials that provided inspiration for Lucas & Spielberg – The Master Key and Tim Tyler's Luck (VCI, Not Rated, DVD-$29.99 SRP each). All of the high adventure is there, along with exotic locales and even Nazis. Both releases are must-haves.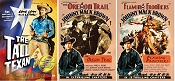 While you're at it, why not dip into a trio of Western serials, with Lloyd Bridges as The Tall Texan, and Johnny Mack Brown in The Oregon Trail & Flaming Frontiers (VCI, Not Rated, DVD-$14.99-$29.99 SRP each). Giddyap!

There's something train wreck engrossing about the modern artform of courtroom sketches, featured so brilliantly in Captured!: Inside the World of Celebrity Trials (Santa Monica Press, $24.95 SRP). From O.J. and Jacko to Charlie Sheen and Courtney Love, the art of Mona Shafer Edwards brings back many a CourtTV memory.
Event Horizon is not a good movie. In fact, it's awful. However, it's awful in that kitsch, overblown, train wreck fashion that makes viewing it embarrassingly compelling. So compelling, in fact, that it's become enough of a cult flick that a 2-disc special edition has been released (Paramount, Rated R, DVD-$19.99 SRP) featuring an audio commentary with director Paul W.S. Anderson & producer Jeremy Bolt, a 5-part making-of documentary, a featurette on the filming, a look at an unfilmed rescue scene, conceptual art, and trailers.
I'm still not a fan – and boy have I tried – but there are plenty of you other there who have been anticipating the release of the second season of the Sci-Fi Channel's animated comedy Tripping the Rift (Anchor Bay, Not Rated, DVD-$19.96 SRP). Well, here it is, in a 2-disc set featuring all 13 episodes, plus a promo, outtakes, and a behind-the-scenes featurette.

Get your schlock on this weekend with It Waits (Anchor Bay, Rated R, DVD-$19.98 SRP), a of low-budget horror flick from producer Stephen J. Cannell. Ain't is just a pain when you're hunted by a beast of Native American legend whilst deep in the woods?