The weeks just seem to get longer and longer here at the ol' FilmForce homestead, as we're besieged on all sides by savages with only a shotgun and our principles to hold off the inevitable. As a wise songstress once said on a doomed ocean liner, there's got to be a morning after, and I think I can get behind that hippie vibe. So what's this week's golden roll of items worth blowing your green on?
I've recently gone on a Big Figure kick – and if you're unaware of what a "Big Figure" is, they're basically huge collectible resin statues, usually in limited editions, of classic characters. There's some really beautiful pieces out there that get this animation geek's heart a'racin', and I'd definitely recommend them to anyone with the means to snag your own, particularly some of the ones found over at the US importer for the line of European-produced Big Figs, King's General Store (I did a Toybox feature on them a few months back). Go take a look.

It's an almost bittersweet affair for this child of the 80's to watch the classic episodes gathered in the new 4-disc Inspector Gadget set (Shout! Factory, Not Rated, DVD-$34.98 SRP). The late Don Adams is still pitch-perfect as the absent-minded animated take-off on his performance as Maxwell Smart, and these almost Clouseau-esque adventures fighting the machinations of the evil Dr. Claw. Kick back and dig in.

Compared to their old specials, there's something regrettably pre-packaged and slight about Penn & Teller: Off The Deep End (A&E, Not Rated, DVD-$24.95 SRP). In this outing, the dynamic duo of magic have gone to the Bahamas, intent on performing their act on the beach and under the water – including a disappearing submarine finale. While there are flashes of greatness and the magic is still above par, the presentation feels like a cheap network package job, which is a shame – P & T deserve better. Bonus materials include deleted bits and behind-the-scenes footage.
At the rate their going, the Warner catalogue will be out on DVD in a matter of months. It may be a facetious statement, but it's got the ring of truth due to the incredible speed at which their DVD department is releasing incredible (and large) box sets containing those aforementioned titles, with the latest featuring 5 titles billed as Classic Musicals From The Dream Factory (Warner Bros., Not Rated, DVD-$59.98 SRP). Those titles are Ziegfeld Follies, Till The Clouds Roll By, Three Little Words, Summer Stock, and It's Always Fair Weather. As usual, they're packed to the gills with bonus materials, including featurettes, vintage shorts, Warner cartoons, radio programs, outtake musical numbers, trailers, and more.
Even though it was only a fair adaptation of an evergreen Broadway classic (that has served as many a high school musical ), the big screen version of Guy and Dolls (MGM/UA, Not Rated, DVD-$24.96 SRP) is still a must-see spectacle, energized by iconic performances from Frank Sinatra and Marlon Brando. The new special edition sports a brilliant transfer, plus a pair of in-depth documentaries and a deluxe scrapbook. Make luck your lady tonight and give it a spin.
With the exception of M*A*S*H (which, in this set, is the single-disc edition), the four films contained in the new Robert Altman Collection (Fox, Rated PG/R, DVD-$39.98 SRP) can't be considered some of the director's best work, but for completists longing to fill out their Altman library on DVD, this remains an essential purchase. Those other three lesser lights are A Perfect Couple, A Wedding, and Quintet, and they all contain a featurette on their respective film.
For some reason, even after the confirmation of Woodward & Bernstein, there those that still doubt that Mark Felt, the former associate director of the FBI, was the legendary Watergate informant Deep Throat. As befitting the media age we live in, Felt's 1978 memoir has been amended (with John O'Connor, the family lawyer that announced Felt's identity as Deep Throat) – A G-Man's Life: The FBI, Being "Deep Throat," and the Struggle for Honor in Washington (Public Affairs, $26.95 SRP). Regardless of what you feel motivated his actions during the scandal, it's a largely innocuous tale of his time in the FBI from a pivotal figure in American history whose memory, sadly, is largely lost to age and infirmity.
How often can you yell "HOOOOOOOOO" at the top of your lungs and not have it be in the least bit dirty? Embarrassing, yes, but that's jut because you've sounded one of the geek clarion calls, and will probably be eager to pick up the first volume of the second season of Thundercats (Warner Bros., Not Rated, DVD-$64.98 SRP). The 6-disc set features the first 36 episodes of the 65-episode second season, plus a featurette on the music, a music video for The Rembrandts' Thundercats theme song, and the theme song performed by composer Bernie Hoffer.
The Avengers: '62 (A&E, Not Rated, DVD-$59.95 SRP) takes us back to the seminal British adventure series' second season, when Patrick Macnee's John Steed was teamed with Mrs. Cathy Gale (Honor Blackman) and established the male/female dynamic that would carry the show into legend. The 4-disc set features all 14 second season episodes, plus a photo gallery.
Originally mounted as a benefit for AIDS research and relief, Red Hot + Blue (Shout! Factory, Not Rated, DVD-$24.98 SRP) is a brilliantly conceived tribute to the works of the legendary Cole Porter, featuring artists like U2, Tom Waits, Sinead O'Connor, Debbie Harry & Iggy Pop, Annie Lennox, and more, teamed up with directors from Jonathan Demme to Neil Jordan. The new 2-disc set also contains the soundtrack CD. Get this.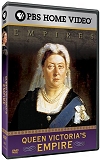 After watching the Victorian-era set episode of Doctor Who's new series, it was fun to look at the real history (sans werewolves) found in the latest spotlight of PBS's Empires series – Queen Victoria's Empire (PBS, Not Rated, DVD-$24.98 SRP). Chronicling the height of Britain's world reach and influence as a colonial power and a global force to be reckoned with.
Another PBS series, American Experience, takes a look back at The Boy in the Bubble (PBS, Not Rated, DVD-$29.98 SRP), the true story of David Vetter's all-too-brief life in the iconic germ-free enclosure (he passed away at age 12), and the ambitious doctors and the scientific and ethical hurdles the case presented.

Unlike the still-wonderful L.A. Story and Roxanne, the adaptation of Steve Martin's Shopgirl (Touchstone, Rated R, DVD-$29.99 SRP) – a little romantic comedy about a counter clerk (Claire Danes) who is wooed by both Martin and Jason Schwartzmann – just never seems to find a sure footing, vacillating between cliché and cute. The disc features a making-of featurette, an audio commentary from director Anand Tucker, and deleted scenes.
As much as I love Family Guy, I could never find any of that love for Seth MacFarlane's American Dad (Fox, Not Rated, DVD-$39.98 SRP). Watching the 13 episodes featured in the 3-disc first volume, I kept getting the same sense of déjà vu I got when I first saw the pilot years ago – this is Family Guy, for all intents and purposes, with the thin veneer of another concept tacked on. Bonus materials include commentaries on 12 episodes, behind-the-scenes featurettes, a table read and animatic, deleted scenes, and more.
I'm usually not one for arthouse flicks, but I did enjoy Dandelion (Hart Sharp, Rated R, DVD-$26.99 SRP), a poignant little character piece starring Vincent Kartheiser about a young man who discovers love – a concept hereto unknown to him.
Much like Tomb Raider before it, the big screen take on Aeon Flux (Paramount, Rated PG-13, DVD-$29.95 SRP) fails to capture any of the straightforward edge and charm found in the original source material, in this case the animated shorts that started so long ago as part of MTV's Liquid Television. Instead, we get Charlize Theron trying her damndest to act like a cool-as-ice action star in a bloated visual mess with a wafer thin script. Sad, really. The disc features an audio commentary with Theron and producer Gale Anne Hurd, a commentary from screenwriters Phil Hay & Matt Manfredi, 5 behind-the-scenes featurettes, and the theatrical trailer.

Short-lived and unfortunately tedious, I could never bring myself to fully invest any interest in Showtime's Odyssey 5 (Sony, Not Rated, DVD-$49.95 SRP). As a concept, it should have been great – a space shuttle crew orbiting Earth witness the Earth's destruction, before being offered the ability to travel back in time 5 years by a mysterious stranger and, perhaps, prevent the disaster. What the series did have going for it, though, was Peter Weller as our hero, Commander Chuck Taggart – but even Buckaroo Banzai couldn't save this ship. The 5-disc complete series set features all 19 episodes, plus audio commentary from Weller and creator Manny Coto on the pilot.
Get the entire run of A&E's crimefighting heir to Sherlock Holmes via Nero Wolfe: The Complete Classic Whodunit Series (A&E, Not Rated, DVD-$99.95 SRP). The 8-disc set features all 20 full-length episodes, plus the pilot film. Bonus features include a making-of featurette and the double-feature episode "The Silent Speaker" in anamorphic widescreen.
Law & Order: Trial By Jury (Universal, Not Rated, DVD-$59.98 SRP) was the point at which NBC decided that it had finally reached the saturation point on Dick Wolf's lucrative franchise. Designed as a spin-off vehicle exploring the judicial system in the L&O universe and starring L&O vets Jerry Orbach and Fred Thompson alongside newbie Bebe Neuwirth, it suffered immensely by the untimely death of Orbach due to cancer. Given time, though, I'm sure it would have been a solid show, as these 13 episodes attest. The 3-disc set also features deleted scenes, a behind-the-scenes featurette, and the cross-over episode of L&O: SVU, "Night."
Names like Gorgeous George, Killer Kowalski, and Jerry Lawler can be found in the 2-disc Glory Days of Wrestling (Timeless, Not Rated, DVD-$9.98 SRP), which features archive footage of these legendary lords of the canvas… Though, sadly, Andy Kaufman is nowhere to be found.
Stacey Keach stars as Mickey Spillane's hard-boiled Mike Hammer in a TV movie double feature of Murder Me, Murder You & More Than Murder (Sony, Not Rated, DVD-$19.94 SRP). The 2-disc set is featureless, but come on – it's Mike Hammer. You don't need no stinkin' features.