You ever have one of those weeks where you can feel a clock ticking and changes afoot? Well, it's certainly been a week like that here, as the winds of change are not exactly blowing fair – but the show must go on, right?
While rights issues are still holding up a full season-by-season release of the legendary Phil Silvers Show (aka Sgt. Bilko), Paramount has gone above and beyond the call of duty in assembling a stopgap 3-disc set that is an absolute must-have purchase for any comedy fan. Sgt. Bilko: The Phil Silvers Show 50th Anniversary Edition (Paramount, Not Rated, DVD-$39.95 SRP) contains 18 remastered episodes, plus a truckload of rare bonus materials that will delight Bilko aficionados, including the lost pilot, the original opening titles, audio commentaries (from Larry Storch, Dick Van Dyke, George Kennedy, Allan Melvin, and Mickey Freeman), Emmy highlights, guest appearances (on The Ed Sullivan Show, Dick Cavett, and more), Nick @ Nite promos with Dan Aykroyd & Phil Hartman (who also provides episode intros), audio of the Friars Club Stag Roast of Humphrey Bogart, and more. Here's hoping we eventually get those season sets – but until then, Christmas has come early.
If you want to find out more about Bilko, check out Mickey Freeman's memoir about his time on the show playing one of Bilko's right-hand soldiers, Private Zimmerman, in Bilko: Behind the Lines With Phil Silvers (Virgin, $17.95 SRP). It's a wonderful glimpse at a slice of TV history, and a loving portrait of one of the greatest comedians who ever delivered a line.

It's no shock that I'm a Scrubs fan (I've waxed poetic about it before, and the fact that I've done the Scrubs blog with the crew must have been a hint to that effect), and I'm quite happy that we've gotten a speedy release of the show's 3rd season (Buena Vista, Not Rated, DVD-$39.99 SRP). While not as groundbreaking or fresh as the first 2 seasons (just by virtue of familiarity), the characters really come to the fore in this season, as Turk & Carla march towards their trip down the aisle, Dr. Cox deals with fatherhood, and J.D. marks the passing of his father (originally played by John Ritter). Also of note is the pitch-perfect guest run of Michael J. Fox as an OCD-suffering doctor who makes a huge impression on the young interns, particularly Elliott. The 3-disc set is packed with bonus materials, including commentaries, deleted scenes, a gaggle of behind-the-scenes featurettes, a gag reel, and more.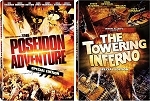 Oh, Irwin Allen… You truly were a genius. If there's one thing I can thank the completely unnecessary remake The Poseidon for, it's that we've finally got a 2-disc remastered special edition of the original classic, The Poseidon Adventure (Fox, Rated PG, DVD-$19.98 SRP). Imagine a giant tsunami overturning the Love Boat, and you've got the premise of this addictive disaster flick. Even better, we get an audio commentary with director Ronald Neame, an audio commentary with some of the cast (Pamela Sue Martin, Stella Stevens, & Carol Lynley), the AMC Backstory spotlight on the film, 9 brand-new behind-the-scenes and retrospective featurettes, trailers, and more. And because you can't have enough disaster, Irwin Allen's follow-up, The Towering Inferno (Fox, Not Rated, DVD-$19.98 SRP) is also getting the 2-disc treatment, featuring commentaries, behind-the-scenes featurettes, extended/deleted scenes, the AMC Backstory, original making-of featurettes, the NATO presentation reel, a 1977 interview with Allen, trailers, and more.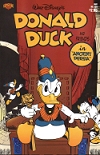 If you're in the mood for high adventure after that Irwin Allen disaster-a-thon, pick up a copy of one of the greatest Duck tales ever written by comics legend Carl Barks – it's called "In Ancient Persia," and it finds Donald Duck and nephews Huey, Dewey, and Louie smack dab in the middle of a plot to resurrect the long-dead inhabitants of that desert kingdom. You can find the story in this month's Donald Duck and Friends #339 (Gemstone, $2.95 SRP). Give it a read.
From the first moment I popped in my original Comedy Central screener tape 10 years ago, I absolutely dug Dr. Katz: Professional Therapist (Paramount, Not Rated, DVD-$19.99 SRP). I had never seen the money-saving squigglevision animation technique before, and once I realized it wouldn't give me seizures, I was able to concentrate on just want a comedic gem the largely improvised interplay between Katz, his son Ben (Jon Benjamin) and the gaggle of desperately-in-need-of-help comedians (up-and-comers like Ray Romano, Joy Behar, David Cross, and Louis CK) proved to be. This first collection features the 6 episodes comprising the first season, plus audio commentaries, Short Attention Span Theater shorts, "The Biography of Dr. Katz," and the squigglevision short "Shrinkwrapped."
If you're still one of the poor, unfortunate souls intimidated by the season sets of Rocky & Bullwinkle, then you can get a very nice sampling of Jay Ward's legendary cartoon via the single-disc The Best of Rocky & Bullwinkle: Volume 1 & The Best of Boris & Natasha: Volume 1 (Classic Media, Not Rated, DVD-$12.98 SRP each).

I haven't decided yet whether I think Steven Spielberg's latest grasp for legitimacy as an "important filmmaker" is a well-crafted drama or an overwrought cry for respect. I admire [Munich] (Universal, Rated R, DVD-$29.98 SRP) for its attempt to look at a very difficult subject matter – the alleged actions taken by the Israelis to avenge the murder of their Olympic athletes by terrorists during the 1972 Munich games. I honestly wish that Spielberg would realize that he can still make enjoyable films in-between his "important" ones. The feature-laden 2-disc collector's edition is impossible to find, while the single-disc edition only contains a brief intro from Spielberg.
Eight Days a Week (Warner Bros., Rated R, DVD-$19.98 SRP) is one of those tiny little comedies that can't help but endear themselves, and the fact that it's got a gorgeous young Keri Russell as the object of its lead character's desire is no small part of that appeal, I admit. That lead character is nerdy Peter (Josh Schaefer), who longs to be more than "just friends" with his next-door neighbor (Russell), and hatches a plot to camp out on the sidewalk in front of her house until she comes around, giving him the chance to observe his eccentric neighborhood and neighbors as the summer days pass by.
How many of you out there are old enough to remember just what a colossal hit Dinosaurs (Walt Disney, Not Rated, DVD-$39.99 SRP) was when it began airing on ABC in the early 90's? When the Jurassic Sinclair clan was must-see TV, and Baby Sinclair's cry of "Not the mama!" was a national catchphrase, a latter day "Where's the beef?" Well, it was, and if you watch the episodes contained on the 4-disc set collecting the first and second seasons, you'll see why – the show is still funny, and the Jim Henson Creature Shop's costume work is simply amazing. Bonus features include a look into the making of the show, bonus clips, and designer/writer/director Kirk Thatcher's original designs for the dinosaurs.
As the show winds to a close, as far as new episodes are concerned, on DVD we're getting the sixth season of West Wing (Warner Bros., Not Rated, DVD-$59.98 SRP), which finds the Bartlett administration entering its last year and the race to replace hit heating up between Alan Alda's Republican Vinick and Jimmy Smits' Democratic Santos. Which is not to say that Martin Sheen's Bartlett administration has run out of any of the usual dramatic steam – far from it, in fact, as the campaign reenergized what had been a flagging, once-great show. The 6-disc set features audio commentary on a trio of episodes and a spotlight on C.J. Cregg's rise from press secretary to Chief of Staff.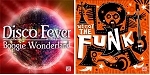 Nobody does mix collections like Time Life, and you'll see I'm right with the single-disc collections Disco Fever: Boogie Wonderland, We Got The Funk, Irie Boogie Hits: Dancehall, and Barry Williams Presents One-Hit Wonders of the 70's (Time Life, $18.98 SRP each). They're retro-rific.
It may be coming to an end (much like Happy Days before it), but you can relive the glory days of That 70's Show with the complete fourth season (Fox, Not Rated, DVD-$49.98 SRP). Eric and Donna break up (and she hooks up with Kelso's brother), Kelso & Jackie continue their dating dance, Hyde's father blows town, and Kitty decides it's time to redecorate the basement. The 4-disc set features all 27 episodes, plus select-episode commentary, a pair of behind-the-scenes featurettes, and a 4-minute retrospective of the season.

There's something inherently compelling in the teaming of Robert De Niro and Jean Reno, and Ronin (MGM/UA, Rated R, DVD-$24.96 SRP) captures it to a "t" in a high-octane story involving top flight mercenaries who must learn to trust each other when a seemingly routine Mafia job becomes too hot to handle. The new 2-disc special edition features an audio commentary with John Frankenheimer, an alternate ending, vintage interviews with the cast, a making-of documentary, and five behind-the-scenes featurettes.
It had to come eventually – with the 6th season of The Andy Griffith Show (Paramount, Not Rated, DVD-$38.99 SRP), a legendary comedy finally met its match, and its name was Color. With the introduction of the spectrum to Mayberry, it seems like all of the charm and skillful writing was sucked out of that quirky corner of North Carolina. Even though he had departed as a regular at the end of season 5, Don Knotts did make a handful of much-appreciated guest spots over the course of the year, ensuring that Barney Fife would live on… Even if Knotts' film career would eventually fizzle.
You take the good, you take the bad, you take 'em both and then you have the first & second seasons of The Facts of Life (Sony, Not Rated, DVD-$39.95 SRP). The truncated first season (it spun out of Diff'rent Strokes halfway through the year) was a mess – too many characters (the dorm was filled with a gaggle of extraneous girls, including the soon-to-be-jettisoned Molly Ringwald) and too little focus on any of them, with the only saving grace being the great Charlotte Rae as housemother Edna Garrett. It was during the second season – after a cast cull left just Tootie, Blair, Natalie and newcomer badgirl Jo – that the show began to hit its marks. The 4-disc set features the 29 episodes from both seasons, plus a pair of retrospective featurettes.
It's simplistic to be dismissive of Life Goes On (Warner Bros., Not Rated, DVD-$39.98 SRP) as just "the show with that Down syndrome actor"… in fact, it's also insulting. The show itself was about so much more than the challenges that faced Corky (Chris Burke) as a Down syndrome kid – they were the challenges that face any kid growing up. Simple as that. The 6-disc set features all 22 first season episodes, plus audio commentary on the pilot, screen tests, and a gag reel.
Okay, so – admittedly – Barry Manilow isn't exactly the epitome of cool. In fact, he's never been cool. Unfortunately, he has managed to craft songs which lodge themselves in the brain of anyone who listens to them, slowly driving them mad. Those tunes include "Copacabana," "Mandy," and "I Write the Songs," and they're all features on a trio of Manilow remasters, complete with bonus tracks – Barry Manilow II, Even Now, & Tryin' To Get the Feeling (Arista/Legacy, $11.98 SRP each). Just try and get them out of your head.
When Sarah Ruttinger (Jennifer Aniston) returns home with her new fiancé (Mark Ruffalo), she begins to unravel a tangled web of rumors and innuendo that point to a far different past for her seemingly sedate, upscale family (including matriarch Shirley MacLaine) than she suspects. Rumor Has It (Warner Bros., Rated PG-13, DVD-$28.98 SRP) is the rare light comedy that I can actually enjoy, buoyed by a snappy script and even snappier performances (particularly the still-wonderful Aniston). Who knew director Rob Reiner still had it in him? Sadly, bonus materials are limited to the theatrical trailer.

Five seasons in and they're still thanking us for being a friend with the still-funny 5th season of The Golden Girls (Buena Vista, Not Rated, DVD-$39.99 SRP), which features audio commentaries with stars Bea Arthur, Rue McClanahan, and Betty White.
Another pair of Showtime's unfortunately lackluster high-concept mini-series Masters of Horror (Anchor Bay, Not Rated, DVD-$16.98 SRP each) hits DVD, this time featuring the efforts of Mick Garris ("Chocolate") and Don Coscarelli ("Incident On and Off a Mountain Road"). Of the two, I'd have to give the edge to Mick Garris, a sentimental favorite ever since his adaptation of Stephen King's The Stand. Both discs are loaded with bonus features, including commentaries, behind-the-scenes featurettes, interviews, and more.