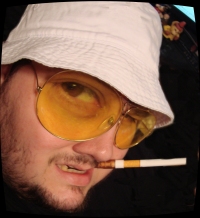 Hello blog. Long time no see.
Have you missed me?
It's been a another long night of work, and rather than going to bed and getting the sleep my body so desperately craves after weeks of "drama" and more IVs than I care to remember (a tale left untold, for now), I do what only the truly sad do to pass the pre-dawn hours as they decompress…
I googled myself.
In doing so, I found the usual complement of links to the many interviews and articles I've done over the years. I'm endlessly fascinated by the comments that other people have for work I still largely feel was done in a vacuum. I've always been pretty critical of the interviews I've done, always worrying that they were largely mediocre affairs that could have been handled much better by someone more talented (I'm still grateful to my old friend Mark, who would always claim - and I really hoped he was being sincere - that I was a far better interviewer than I gave myself credit for).
I ran across a few links to my tribute to Muppet writer Jerry Juhl, a wonderful man whose presence in the world I miss greatly.
I also found out that I died in January of this year. Well, someone named "Kenneth Plume" did, anyway - but seeing as how it's not a terribly common name, it's a genuinely odd feeling to run across something like that, particularly when you're overtired and feeling all melancholic.
But anyhoo, I do promise to get in the swing of posting here at my own little corner of cyberspace, even though I've told no one about its existence, and this is largely an exercise in personal decompression. But you know what? I'm perfectly fine with that.