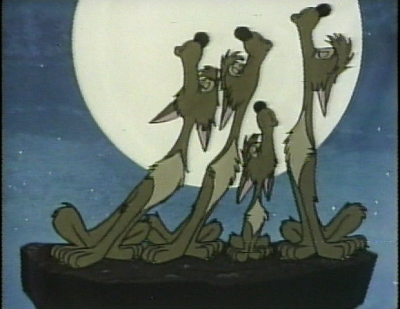 Every so often, a slice of my pop culture childhood submerged deep in my subconscious decides to bob to the surface, and drive me mad.
Like an itch in desperate need of a scratch, the latest snippet was the refrain to a Disney cartoon called THE COYOTE'S LAMENT. Well, it wasn't exactly a cartoon - it was actually linking material used to string together a batch of Pluto cartoons for the early 1960's WONDERFUL WORLD OF DISNEY. The newly -produced linking material featured a multi-generational trio of coyotes - a grandfather, father, and small son - who are reflecting back on those cartoons in the context of the coyote's disappearance in the West, as man moved in and brought civilization. Our trio is serenaded by a quartet of coyotes - voiced by the Sons of the Pioneers - with the following tune:
"Yip yip yip yowl
yip yip yip yay
We howl all night and we prowl all day…
Yip yip yip yowl
yip yip yip yee
You made our lives plain misery…"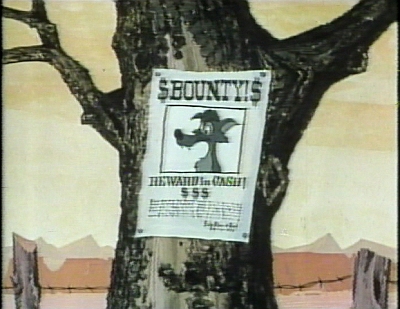 The problem is that this special has never been released on DVD. Or VHS. I used to watch it constantly on my family's RCA videodisc player. Yes, the doomed system that was a glorified record player.
So, what happens when you've got an itch to scratch? You drag the 25-year-old player out of the attic, along with the disc, and you transfer the special to DVD.
That's what you do.
Oh, and then you make an mp3 of the song.
Yeah. That's what you do.
HERE'S THE MP3 of the linking bits, slightly edited to condense it all down a bit. Hopefully it scratches an itch for you, too.