Before we dive into this week's guide (and I begin the always painful process of packing for a trip), I wanted to let you all know that my good buddies over at TV Shows on DVD" are hosting a poll allowing fans to choose the box art for the long-awaited release of The Adventures of Brisco County, Jr. on DVD. Click here to head over and vote.

Also, on a programming note, check out the new comedy special from Carlos Mencia, No Strings Attached, premiering this weekend on Comedy Central (Sunday, March 12 at 10:00pm, to be exact). I really dug Mind of Mencia, and his stand-up is caustic, un-PC tonic that's truly refreshing – and funny – in this day and age.

I wasn't a terribly big fan of the incredible amount of story compression that went into the 3rd Harry Potter adaptation, The Prisoner of Azkaban – it just seemed like I was strapped to a bullet train that wasn't even bothering to stop long enough at important story points to attain comprehension. Oddly enough, I actually thought the compression on the much more sprawling Goblet of Fire (Warner Bros., Rated PG-13, DVD-$30.98 SRP) worked a lot better, and left me feeling much more satisfied with the end result. Harry's fifth year was a big affair, containing the budding romances for all of our heroes, the return of Voldemort and the Deatheaters, and the massive TriWizard Tournament. Like I said – there was a lot going on… Yet, somehow, screenwriter Steve Kloves and director Mike Newell make it work, along with the ever-strengthening acting skills of the kids. There are both a single disk vanilla and 2-disc versions available – but who in the heck wants the single disc? The 2-disc edition features cast interviews, deleted scenes, a behind-the-scenes featurette, and an in-depth look at the TriWizard challenges.
To view the design work of Chip Kidd – which has graced both the covers and interiors of many fine books from dozens of authors on just as many different topics and genres – is to witness a unique artist practicing a craft wholly unique from the surrounding pack. If you doubt that high-falutin' assessment, look no further than the collected work found in Chip Kidd: Book One (Rizzoli, $65.00 SRP), covering the astonishingly productive period between 1986 2006 – a period during which Kidd worked on everything from John Updike to Superman. Speaking of Updike, he's crafted the massive tome's introduction, heaping loving praise upon Kidd's achievements. Heck, when you've become a Jeopardy question, you know you've accomplished something – and Kidd has certainly accomplished quite a bit.

Why did people flock to mediocre garbage like Chicken Little and ignore a gem like Zathura (Sony, Rated PG, DVD-$28.95 SRP)? Based on another boardgame-centric children's book by Chris Van Allsburg (What is with him and board games? Someone's got some issues…), it's the first film in a long, long time that reminded me of the flicks that enraptured me during my 80's youth – flicks like The Goonies, Explorers, The Neverending Story, and The Last Starfighter. Much like Jumanji, it features a pair of completely unprepared kids – this time it's bickering brothers – who are swept up into the space adventure of the antique gears and motors board game Zathura that the youngest sibling stumbles across in the basement of their new home (occupied by their recently divorced, over-stressed and somewhat distant Dad, played by Tim Robbins). What follows is a rollicking, dangerous, and action filled journey through the cosmos – and they never even leave the house. Unlike Jumanji, though, the warmth of the main story – that of two brothers finally able to see eye to eye – is never drown out by CG or Robin Williams. Kudos to director Jon Favreau for pulling off a great film, and one I hope gets a much-deserved life on home video. Bonus features include an audio commentary with Favreau and producer Peter Billingsly, behind-the-scenes featurettes, and a spotlight on the world of Chris Van Allsburg…. But again, buy the guy "Chutes & Ladders" already.
The press likes to claim that the Priceline ads were the reason for William Shatner's most recent cultural comeback, but Shatner would not have gotten those legendary ads if not for a beautiful little comedy gem called Free Enterprise (Anchor Bay, Not Rated, DVD-$19.98 SRP), about a pair of geeks (Eric McCormack & Rafer Weigel) in pursuit of love in sunny LA – who just so happen to encounter their childhood hero… Who's nothing like they expect him to be. Full of pop culture wit and – what makes it all work – real heart, I'm glad the flick is finally getting a bonafide deluxe treatment on DVD, with a 2-disc special edition featuring remastered sound and picture, audio commentaries from filmmakers Mark Altman & Robert Meyer Burnett and the cast (yes – even Shatner), a making-of documentary, deleted scenes, screen tests. The music video for Shatner's rap opus "No Tears For Caesar," a TV spot, and the theatrical trailer.

In the annals of war flicks, Jarhead (Universal, Rated R, DVD-$39.98 SRP) is a unique case. It's got all of the elements – gung ho soldiers ready to utilize their training to fight for their country in a foreign land. Only it's about a war that was over practically before it started, after months of build-up, leaving those highly trained soldiers not just stir crazy, but completely unfulfilled. This particular tale follows Marine Corps sniper Anthony Swofford (Jake Gyllenhaal) from his stint in boot camp to the deserts of Kuwait and Iraq during the first Gulf War, and all of the uncertainty and lack of clarity inherent in that conflict for those on the ground. It's a sobering look at modern warfare and the highly trained cogs in the war machine. Ignore the single disc editions and go with the 2-disc special edition, featuring deleted scenes, interviews, Jarhead diaries, and behind-the-scenes documentaries.

Much like the spin-off "Best-of" collections that came out of the Rocky & Bullwinkle sets for features like Fractured Fairy Tales and Dudley Do-Right, a pair of recurring classics from the Underdog show get their own Best-ofs – Go-Go Gophers and Tennessee Tuxedo and His Tails (Classic Media, Not Rated, DVD-$12.98 SRP each).
Coming so close on its heels, it's hard not to compare the Johnny cash biopic Walk the Line (Fox, Rated PG-13, DVD-$39.99 SRP) with the story of Ray Charles in Ray. Both men had hardscrabble depression-era childhoods, both men were scarred by the deaths of their brothers while they were kids, both suffered from a lust for women and substance abuse – but most importantly, both found refuge in music, and eventually gained international stardom while facing down their demons. Walk the Line – again, like Ray – is held together by a remarkable performance, with the Man in Black being brought to silver screen life by Joaquin Phoenix. Just as vital to the story, though, is Reese Witherspoon as the eventual rock in Cash's life, his wife June Carter. As always, stick with the 2-disc collector's edition (rather than the single disc affair), which features an audio commentary with director/co-writer James Mangold, deleted scenes with optional commentary, a trio of extended music sequences, an extensive making-of/tribute to Cash, a featurette on the Folsom Prison concert, a featurette on Johnny and June's love affair, and the film's theatrical trailer.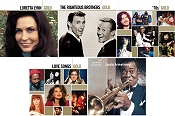 I've praised them in the past, but in an age where shrinking shelf space in bricks & mortar stores has left little room for catalogue releases from most artists, Universal Music's 2-disc "Gold" collections are ready-made primers for anyone unfamiliar with an artist's work – and even manage to throw a couple of rarities (including live, alternate, and demo tracks) that make them worth picking up for even the diehard fans. The latest artist-specific releases feature Loretta Lynn and the Righteous Brothers, while there's also a pair of genre collections spotlighting the 70's and Love Songs (UMe, $19.98 SRP each). Similar to the "Gold" line is the "Definitive" collection, which condenses a given artist down to a single disc of must-have material at a lower price point – sort of a desert island disc. The latest addition is from Satchmo himself, Louis Armstrong: Definitive Collection (UMe, $13.98 SRP). "And I think to myself, what a wonderful world…"
Consider this another one of my gong-banging exhortations to buy the latest issues of Uncle Scrooge and Walt Disney's Comics & Stories (Gemstone, $6.95 SRP each) – the latest issues of which are 351 & 666, respectively – featuring some great stories (and even one or two by the master, Carl Barks.

For some, Japanese cinema begins and ends with Kurosawa, but a newly-released box set celebrates a trio of films from a forgotten maverick, Seijun Suzuki. Reinventing his 60's penchant for yakuza psychedelia, his Taisho Trilogy (Kino, Not Rated, DVD-$79.95 SRP) were set in a 1920's Japan being remade by modernity and on the cusp of the militarist 30's. This 3-disc set features all three films – Zigeunerweisen, Kagero-za, and Yumeji – plus an interview with Suzuki, trailers, and essays.
I'm still on the fence about themed episode collections like the new Star Trek Fan Collective series, the first of which focuses on the Borg (Paramount, Not Rated, DVD-$39.95 SRP). With 14 episodes spanning 4 discs and 3 series (TNG, Voyager, and Enterprise), owners of the previous season sets of each series will be a bit miffed that this set features a new audio commentary on the Enterprise episode "Regeneration" and Okuda text commentaries on another 3 episodes. Why weren't these included in the season sets?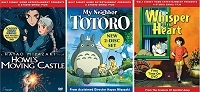 Along with a 2-disc special edition release of Miyazaki's Academy Award-nominated Howl's Moving Castle (Walt Disney, Rated PG, DVD-$29.99 SRP), we get another pair of must-have Studio Ghibli classics, My Neighbor Totoro and Whisper of the Heart (Walt Disney, Rated PG, DVD-$29.99 SRP each). Each 2-disc set features behind-the scenes featurettes, while Howl's and Totoro also contain trailers, storyboards, and more (with Howl's getting a wonderful interview with Pixar's Pete Docter).

With all of the animation books out there, you'd think that at least one would have been written about the art of character design. Well, you'd be wrong. Sure, there have been chapters in many a volume devoted to it, but none that have taken that alchemical art as the main focus – until Tom Bancroft's Creating Characters With Personality (Watson-Guptill, $19.95 SRP). Bancroft, a former Disney animator and creator of the gorgeous you-should-be-reading-this comic book Opposite Forces, expertly distills the process of unlocking appealing designs in diverse styles, depending on the project at hand. It's an excellent foundation on which to build a solid knowledge about the process, and a necessary addition to any art library.

A few years back, Fox tried marketing their 2-disc editions of catalogue classics under the banner of "5 Star" editions. Long out of print, the titles were eventually re-released as single-disc editions – which was unfortunate, since the bonus materials on those second discs were often exceptional in-depth documentaries and interviews. Thankfully, Fox is bringing back those 2-disc editions, packaged in gold foil slipcases, as their new "Awards Series." The films in question are Cleopatra, Speed, The French Connection, and M*A*S*H (Fox, $19.98 SRP each).
If you like your rock southern fried, and you think "Free Bird" is one of the greatest rock anthems ever penned, then you'll probably want to pick up the 2-disc Deluxe Edition of Lynyrd Skynyrd's Gimme Back My Bullets (Geffen, $29.98 SRP). The first disc features the album, completely remastered and sounding better than ever, while disc 2 features the group's live appearance on the BBC's Old Grey Whistle Test. Keeping it in the family is just what Lynyrd Skynyrd Family (Hip-O, $13.98 SRP) does, featuring both Skynyrd hits and tracks from the various spin-off bands formed by the former members after the band broke up.
Still flush from women's lib, the 70's were literally flooded with series starring powerful female characters – Maude, Charlie's Angels, Wonder Woman, Alice, and Angie Dickinson in Police Woman (Sony, Not Rated, DVD-$49.95 SRP). As Sergeant Suzanne "Pepper" Anderson, Dickinson starred as the LAPD's top undercover cop, backed up by a bevy of guest stars – from Larry Hagman and Pat Morita to Bob Crane and Philip Michael Thomas. The 5-disc complete first season features audio commentaries form Dickinson on select episodes.
By the time Hogan's Heroes hit the halfway point of its 6 season run in season 3 (Paramount, Not Rated, DVD-$38.99 SRP), the formula was completely locked – Hogan and his motley crew subvert the authority of prison camp commandant Col. Klink through farcical hilarity. It's a solid TV classic in the same mode as Gilligan's Island or Green Acres, and if that's good enough for you, then this set is worth adding to your collection. Personally? I dig it.
Every time you looked around, it seemed like there was another celebrity starring in another TV movie series in the 80's – and one of the most viewed was the series of telefilms based on Kenny Rogers' song "The Gambler." All three of those initial telefilms (The Gambler, The Adventure Continues, & The Legend Continues) starring the bearded one himself are collected in The Legend of the Gambler (Time Life, Not Rated, DVD-$39.95 SRP). Heck, you even get a limited edition set of Kenny Rogers playing cards… So you better know when to hold 'em, and know when to fold 'em…
On the eve of the hideous Tim Allen-starring remake of Disney's The Shaggy D.A., thank the gods of cursed human-to-canine transforming jewelry that we at least get remastered special editions of the original Dean Jones Shaggy D.A. and its Tommy Kirk-starring predecessor, The Shaggy Dog (Walt Disney, Rated G, DVD-$19.99 SRP each). Both films sport audio commentaries and featurettes, with the original Dog sporting a touching tribute to the late Disney staple Fred MacMurray).

Next Friday is St. Patrick's Day, so why not start getting a bit o' the Irish into your entertainment rotation early, starting with The Essential Chieftains (RCA Victor, $24.98 SRP), with 2-discs spanning 40 years as Ireland's musical ambassadors, featuring both traditional tunes and their star-studded collaborations. If you'd just like a 2-disc set that will make your St. Paddy's even more traditional, pick up Whiskey in the Jar: Essential Irish Drinking Songs & Sing Alongs (Sony Legacy, $19.98 SRP) – and yes, "Danny Boy" is there. Finally, what's an Irish celebration without a concert film from the Irish Osmonds – The Corrs: Live in Geneva (Rhino, Not Rated, DVD-$19.98 SRP).

If you want a quick and easy visual clue to identify the fifth and final season of The Brady Bunch (Paramount, Not Rated, DVD-$38.99 SRP), look no further than the ludicrously uniform perms that all of the show's menfolk took to sporting. It's almost like they all caught the hair version of a cold. Not only did these 22 episodes give us the musical stylings of Johnny Bravo, but also the utterly forgettable jumping the shark of Cousin Oliver.
It's not the worst, but I can't help but cry out "inappropriate touching" when I view a touchy-feely fuzzfest like Curtis Hanson's In Her Shoes (Fox, Rated PG-13, DVD-$29.99 SRP). Like oil and water, flaky Maggie (Cameron Diaz) and dependable sister Rose (Toni Collette) who share a lot, bicker a lot, and eventually fall out – only to be brought back together on a quest for a recently discovered long lost grandmother (the teary-flick touchstone Shirley MacLaine). Bonus features include a trio of behind-the-scenes featurettes.

Based on the exploits of NYPD detective Barney Ruditsky in the roaring 20's, The Lawless Years (Timeless Media Group, Not Rated, DVD-$39.95 SRP) was a 1959-1961 TV series that recreated those exploits long before shows like Law & Order. This 3-disc set contains all 27 first season episodes, guest-starring up-and-coming actors like Burt Reynolds and Martin Landau.
How many people actually remember there was a short-lived TV show based on the true life fight of small-town sheriff Buford Pusser, starring Bo Svenson is the role made immortal by Joe Don Baker? If you don't remember, then you might want to pick up the 2-disc collection of the complete Walking Tall (Sony, Not Rated, DVD-$24.96 SRP), containing all 7 episodes.

If The Producers has gotten you thinking about the surprisingly interesting tales of Hollywood musicals gone horribly wrong, then you'll get a real kick out of Second Act Trouble: Behind the Scenes at Broadway's Big Musical Bombs (Applause, $27.95 SRP). As the title suggests, it's a journey through all of the times shows on the Great White Way went so very wrong.

Why didn't Lisa Loeb ever take off beyond her hit Reality Bites hit "Stay"? Listening to the 18 tracks found on The Very Best of Lisa Loeb (Geffen, $13.98 SRP), I found myself wondering that again and again as I dug what I was hearing. Why don't you giver her a spin and see for yourself…

Paper Clips (Hart Sharp, Not Rated, DVD-$24.99 SRP) is the interesting story of a middle school class in Tennessee whose study of the Holocaust resulted in a project that brought home the horrible nature of the Nazi's crime in a unique fashion – via paper clips. Invented as a means of showing anti-Nazi solidarity by the Norwegians, paper clips were collected as a means of quantifying the horrific death toll inflicted by the Holocaust – and once word of the project spread across the world, the tiny fasteners flowed in – eventually totaling 11 million, all of which were then housed in an authentic German rail car and made a permanent memorial to a dark chapter of modern history. The only thing marring this poignant documentary is the wretched "PTC Seal of Approval" that adorns the DVD's cover – but don't hold that against the film.
If you're in the mood for a piece of harmless romantic comedy confection, there are worse flicks than Prime (Universal, Rated PG-13, DVD-$29.98 SRP), which stars Uma Thurman as a 37 year-old single woman who falls for a 23 year-old painter… Who happens to be the son of her therapist (Meryl Streep). Romantic comedy ensues. Bonus features include deleted scenes and bloopers.