The second annual IGN FilmForce Holiday Havoc has come to a close, and we're all packing up for the annual decompression of a week sans work, eager to recharge our batteries and just get the hell out of Dodge – you know… the true meaning of the season.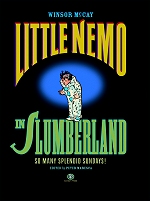 Every once in awhile, you run across something that just knocks your socks off – almost literally. The kind of uber-cool item that makes you wonder what the world would be like without something so wonderful in it, and happy that that's not the case. That was my instant reaction when I held the very first full-size collection of Winsor McCay's groundbreaking comic strip Little Nemo in Slumberland (Sunday Press Books, $120). Printed in the massive tabloid size in which the original Sundays ran (16"x21"), McCay's artwork is a wonder to behold, particularly with the restoration undertaken here. Editor Peter Maresca has set a new standard for the presentation of classic comic strips that surpasses even the groundbreaking work done recently by Fantagraphics on Peanuts and Dennis the Menace. I simply can not find the words to gush about this beautiful collection more. I can think of no better gift for the comics fan in your life (or for yourself) than this edition, and I fervently hope they've got more up heir sleeve. Also available is a tabloid size 15-month calendar ($22.95) with choice images sure to make the passing of each month a delight to behold.
If all this talk of Nemo has gotten you interested to learn more about the artist behind the strip – and the first animated cartoon character, Gertie the Dinosaur – you should definitely pick up animation historian John Canemaker's Winsor McCay: His Life and Art (Abrams, $45.00 SRP). As comprehensive as his other (must-have) art tomes, and the perfect companion to the Nemo book.
Animation fans will kick themselves if they pass up the latest wave of Disney Treasures (Walt Disney, Not Rated, DVD-$32.95 SRP each), full of gems culled from the Disney vaults and presented by film historian Leonard Maltin. The latest wave (of what one hopes is many more to come) contains the complete Adventures of Spin & Marty from The Mickey Mouse Club, The Swamp Fox, Disney Rarities (which more than lives up to its title, collecting odds and ends that don't readily fit into other sets, such as the Alice comedies of the 20's and various one shot shorts and featurettes, like Ben & Me), and the second volume of The Chronological Donald Duck (which encapsulates his wartime period up until the latter part of the 40's – all amazing). Bonus features include introductions from Maltin, audio commentaries, featurettes (including a long-overdue spotlight of Carl Barks on the Donald set), and still galleries.
No matter how many TV shows there have been released to DVD in the last few years, there are still hundreds more – some short-lived gems, some forgotten classics – that remain unreleased. Filling that niche with a little of both of those categories is the recently launched S'More Entertainment, which inaugurates their offerings with the first 26 episodes of Wally Cox's memorable 50's sitcom Mr. Peepers (S'More, Not Rated, DVD-$39.99 SRP), plus the entire run of Dom Deluise's foray into television comedy (from Carl Reiner, Bill Pesky, and Sam Denoff, no less), Lotsa Luck (S'More, Not Rated, DVD-$39.99 SRP). Both sets feature the original pilots, interviews, and more. I can't wait to see what else S'More has up their sleeves…
I know there are plenty of fervent, over-the-top fans out there (I was going to make a "Brown-nose" joke here, but I won't), but I never liked Firefly. At all. I tried to – particularly since I was a big fan of both Buffy (before it crapped out something fierce in its final, pathetic season) and Angel (which managed to get even better as it went along) – but I just felt that Firefly was an overwrought, too-affected attempt at doing "different" sci-fi. While nothing to write home about, I will say that I enjoyed the big screen outing, Serenity (Universal, Rated PG-13, DVD-$29.98 SRP), more than its TV roots. Regardless of what I say, though, the Brownies will want to snap up this edition, full of deleted scenes, outtakes, featurettes, and a commentary and intro from Joss Whedon.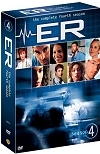 If you want a shortcut to remind you what the big "event" was in ER's fourth season (Warner Bros., Not Rated, DVD-$49.98 SRP), that was the year of the "live" premiere episode, "Ambush." The clock was also ticking on George Clooney's exit, and you could feel the strings being pulled to facilitate his exit. Oh – and the pain in the… you know… Dr. Elizabeth Corday (Alex Kingston) made her debut. So there you go. Bonus features include a pair of featurettes on the live show, deleted scenes, and the always-welcome gag reel.
Plan 9 from Outer Space (Legend Films, Not Rated, $19.95) is every bit as bad as every cliché has made it out to be – but it's also of the "laughably bad" vein of campy bad, that's sure to make you laugh at the wretched abomination unspooling before you. This new edition features both a restored version of the black & white original, plus a colorized print utilizing Legend's quite good colorization technique. Long avoided by the folks at MST3K because it was just "too easy," this edition gives you the next best thing, courtesy of an audio commentary from Mike Nelson. The disc also features rare Ed Wood home movies, commercials, deleted scenes, the trailer, and the "Lost Plans 1-8." If you order directly from Legend's site, you can get an edition signed by Mike Nelson himself.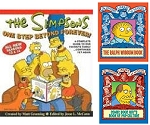 It literally does seem like forever, but the next installment of the deluxe Simpsons episode guide – The Simpsons One Step Beyond Forever : A Complete Guide to Our Favorite Family…Continued Yet Again (Harper Collins, $14.95 SRP), covering seasons 13 & 14 – has finally been released. Of course, as Simpsons fans, you're also obligated to buy Comic Book Guy's Book of Pop Culture and The Ralph Wiggum Book (Harper Collins, $9.95 SRP each), both from the recently launched Simpsons Library of Wisdom. The power of Ralph compels you.
Okay, well, I gave it another shot, but I still can't muster any interest in the reimagined Battlestar Galactica, particularly in the water-treading second season (Universal, Not Rated, DVD-$49.98 SRP). I know there are fans that are absolutely gaga over it, feeling it's some kind of brilliant piece of sci-fi television… And all I can say is, okay, good for you. I'm glad you like it. The second season set features all 10 episodes, plus the podcast commentaries originally available on the website, and deleted scenes.
The perennially downtrodden Salinger clan is back for the complete second season of Party of Five (Sony, Not Rated, DVD-$49.95 SRP), in a season in which just about everyone's hopes and dreams are shattered, and they even lose the family restaurant. Things would only go from bad to worse in coming years when Charlie finds himself stranded on a Pacific island. Bonus features include cast & crew commentaries and an interview with Jennifer Love Hewitt.
You know, it's getting that I'm leery to buy any new DVD nowadays, for fear that my purchase will soon be obsolete (and my money wasted) when a new uber-edition of said flick is released. Such is the case with the new 2-disc "Razzle-Dazzle Edition" of Chicago (Miramax, Rated PG-13, DVD-$29.99 SRP), which boasts an audio commentary with Rob Marshall & Bill Condon, a deleted musical number, a history of the musical, extended musical performances, production featurettes, and more. Sheesh.
Like a one-woman show with heavy make-up, Tracey Takes On found Tracey Ullman "taking on" a different topic in each episode, exploring it with a clutch of characters that ranged from a young girl to a swarthy male cab driver. The topics ran the full gamut from death & fame to family & royalty, featured a bevy of guest stars (Michael Palin, Jon Favreau, Hugh Laurie, Tobey Maguire, Cheech Marin, Michael McKean) and were usually quite facile in their satire. The 3-disc first season set (HBO, Not Rated, DVD-$34.98 SRP) features all 10 episodes, plus Tracey Takes On New York, shorts, and a character slide show.

Featuring essentially the same bonus materials as the original Ultimate Toy Box release, the main selling point of the new Toy Story 2 special edition (Walt Disney, Rated G, DVD-$29.99 SRP) – if you don't already own the flick) is the remastered sound and picture, which manages to improve on the already stellar old release. There's also a sneak peek at the next Pixar opus, Cars.

Fans of light opera and Monty Python will probably snap up the release of the 1987 televised performance of Gilbert & Sullivan's The Mikado (A&E, Not Rated, DVD-$24.95 SRP), featuring Eric Idle as the "Lord High Executioner" Ko-Ko. Bonus materials include a making-of featurette and cast bios.

While not offensive (read: Ephron-esque), there's nothing terribly noteworthy as the by-the-numbers romantic comedy Must Love Dogs (Warner Bros., Rated PG-13, DVD-$28.95 SRP), about a divorced pre-school teacher (Diane Lane) who uses an online service to try and find a man. Unbelievably, she passes up Mr. Right (John Cusack)… or does she? Aren't you… intrigued? Watch the movie! Bonus features include a gag reel, deleted scenes with optional commentary, and the theatrical trailer.
From its earliest domestic role to its global power position, the wonderfully comprehensive 5-part Battle History of the United States Military (History Channel, Not Rated, DVD-$59.95 SRP) more than lives up to its title, going in-depth on the history and development of each branch of the U.S. Military. Via combat footage and commentary from historians and veterans, it's a historical document par excellence.
I've been in a documentary mood lately, and was particularly interested in a pair that looked at the dark underside of US history. Unfinished Business (Docurama, Not Rated, DVD-$26.95 SRP) looks at the Japanese-American internment camps set up during WWII hysteria to house American citizens guilty of nothing but their ethnic heritage, and a trio of resistors who refused to submit to the relocation order – and were subsequently convicted and imprisoned. The other film, A Time for Burning (Docurama, Not Rated, DVD-$26.95 SRP), focuses on all-white Omaha, Nebraska Lutheran church in whose progressive pastor tried to convince his parishioners to reach out to their fellow black Lutherans sin the mod-60's. Powerful stuff.
When faced with life as a quadriplegic – be it from an accident, a gunshot, or an infection – there are those whose lives collapse, there are those who soldier on, and there are those who, literally, grab life by the ball via an intense form of rugby dubbed Murderball (ThinkFilms, Rated R, DVD-$29.99 SRP). This documentary tells the story of the world-class athletes who refuse to lie down, but instead engage in gladiatorial combat with every bit as much passion and intensity as their bipedal equals. The DVD features commentary, behind-the-scenes featurettes, the Jackass Murderball special, and more.
The seemingly-random murder of their adoptive mother in a convenience store sends Four Brothers (Paramount, Rated R, DVD-$29.95 SRP) - Mark Wahlberg, Garrett Hedlund, Tyrese Gibson & Andre Benjamin - on the path of vengeance, but they soon uncover a tangled criminal web involving a local kingpin. A great ensemble and a tight little script make for a nice flick worth spinning. Bonus features include an audio commentary, behind-the-scenes featurettes, deleted scenes, and the theatrical trailer.
There's no understanding many of the tensions still in pay in the modern middle east without a full understanding of the conflicts that shaped the middle ages – and the 2-disc The Crusades: Crescent & The Cross (History Channel, Not Rated, DVD-$29.95 SRP) does a great job of summing up the political, cultural, and religious tapestry that comprised the First, Second, and Third Crusades. The set also features a behind-the-scenes featurette and a bonus documentary on the Knights Templar.

In a casting move that is still a welcome surprise, the fourth season of The Shield (Fox, Not Rated, DVD-$59.98 SRP), Glenn Close joined the cast as Monica Rawling, the new, take-no-guff captain. Vic & Shane are stuck on regular detective duty after the dissolution of the Strike Team, and run smack into Rawling's agenda. The 4-disc set features all 13 episodes, plus audio commentaries, deleted scenes, and a documentary.

Like a goth cross between David Blaine and David Copperfield, Criss Angel's death-defying stunts in the first season set of Mindfreak (A&E, Not Rated, DVD-$24.95 SRP) are enough of an oooo-ahhh spectacle to give enough bang for your buck. With celebrity guests including Mandy Moore and Penn & Teller, it's got the street-cred necessary to erase those pesky Blaine comparisons… Because we all know what an A-class magician Mandy Moore is. The 2-disc set features all 15 episodes, plus audio commentaries, an interview, interactive illusions, and a guide to creating your own illusions.
It was never the greatest of sci-fi series, but the fact that its cast was headed by Roy Scheider always left a warm spot in my heart for the adventures of SeaQuest DSV (Universal, Not Rated, DVD-$59.98 SRP). It was also a unique show, in that instead of exploring the outermost reaches of space, the crew of the SeaQuest explored the uncharted depths of the Earth's oceans while defending the 21st century's nascent undersea colonies from unknown dangers. The complete first season set features all 23 episodes, plus over 30 minutes of deleted scenes.
If there's one major lesson to be taken from the story of grizzly expert and wildlife preservationist Timothy Treadwell – as documented in Werner Herzog's mesmerizing Grizzly Man (Lions Gate, Rated R, DVD-$27.98 SRP) – it's a respect for nature. Maybe that's because Treadwell – who lived unarmed amongst his beloved Grizzlies for 13 summers – was eventually mauled and eaten by one, in an event which was actually documented. You (thankfully) don't hear that audio, but you do see Herzog listening to it… And his facial reactions are more than enough. As far as bonus features go, all you get is a lengthy doc on the flick's music.
Like kryptonite, despite my higher-than-thou, deep-seated obligatory distaste for the lowbrow entertainment that is America's Funniest Home Videos, if it comes on, I can't take my eyes off of it. My will is even weaker when confronted by the subject matter of the 3-disc collection AFV: The Best of Kids & Animals (Shout! Factory, Not Rated, DVD-$29.95 SRP). You just try and resist something as sublime as the bat (or anything else) to the groin.