This week's column is a difficult one for me, because it forces me to confront the issues I have with my hometown, on the eve of my high school reunion (which I will not be attending). No one should attend any high school reunion under their 20th – at a point when people have actually accomplished something in their lives… careers, kids, death. What have you. Which brings me to the fact that…

I hate Ryan Adams. There – I said it. I hate Ryan Adams because I dig his music, and for what it does to me based on that insidious likeability. It makes me feel nostalgic about my hometown – which happens to be Adams's hometown as well – Jacksonville, NC. You see, Jacksonville is a military town, bordered by country and coast, dotted with pawn shops and car dealerships and motels. It's not really a place you're supposed to be nostalgic about, from its interminable stoplights to its ten McDonald's franchises packed into a 5 square mile area. And yet, particularly with his new country-heavy album – Jacksonville City Lights (Lost Highway, $13.98 SRP) – Adams makes me feel for this Carolina backwater. Why couldn't he have made a crap album about Onslow County's crown jewel? Bastard…
I didn't have it in time to feature last week, but I have to say – the Alfred Hitchcock Masterpiece Collection (Universal, DVD-$119.98 SRP) should be a prominent fixture on the shelves of any self-respecting cinephile, containing as it does the entirety of the suspense master's prolific Universal oeuvre. What films am I talking about? Let's see if any of these ring a bell – Saboteur, Shadow of a Doubt, Rope, Rear Window, The Trouble With Harry, The Man Who Knew Too Much, Vertigo, Marnie, Torn Curtain, Topaz, Frenzy, Family Plot, The Birds, and Psycho. How can you not be awestruck at a collection encompassing so many classics, all in one handy package? Each film is fully remastered, supplemented by 14 documentaries and 9 featurettes. Heck, there's even an additional bonus disc with the AFI tribute to Hitchcock, Masters of Cinema: Alfred Hitchcock, and spotlights on The Birds, and Psycho. How prestigious is this collection? Even the box gets all spiffy with a velvet finish. Posh treatment for a beautiful set.

How many times do people have to be told that Arrested Development is one of the best comedies ever to grace the idiot box before they'll finally listen? Anyone who watches the complete 18 episode run of the second season (Fox, Not Rated, DVD-$39.98 SRP) and still isn't swayed must have ice water in their veins and tapioca in their heads. Bonus features include audio commentaries on a trio of episodes (far too few!) a blooper reel, and an easter egg featuring the hilarious ads for George Michael's high school election.
It's taken me a few weeks to finally get enough free time to start reading Neil Gaiman's latest novel, Anansi Boys (Morrow, $26.95 SRP), and I'm loving it so far (high praise indeed from one as picky as I). For an almost ludicrously in-depth analysis from my good buddy (and IGN columnist) Peter Sanderson, click here.

Comparing the first and sixth seasons of South Park (Paramount, Not Rated, DVD-$49.95 SRP) is like comparing a high school freshman to their post-college selves – sure, there are similarities, but there's a level of sophistication, intelligence, and worldliness that's just not present in their younger years. By the sixth season, South Park had morphed from a funny, sometime puerile comedy into one of the foremost satires of our age, standing shoulder-to-shoulder with Jon Stewart's Daily Show (and no, I am in no way being facetious). I would even go so far as to say, despite this season's wonderful "Simpsons Did It," that Trey Parker & Matt Stone have replaced The Simpsons as the sharpest, and most incisive, comedy on television. Look at the critique of the Catholic Church in "Red Hot Catholic Love," sensitivity training in "Death Camp of Intolerance" (which also gave us Lemmiwinks), overreactive parenting in "Child Abduction Is Not Funny" and "My Future Self n' Me," or even the wretched tinkering of Lucas and Spielberg in "Free Hat." That, my friends, is what brilliant satire is – not the lumbering hulk that The Simpsons has become. As with the past few seasons, Trey & Matt prove their brief mini-commentaries for each of the 17 episodes, but despite their claim that it's more than enough, I certainly wish they had talked a bit longer about the construction of some of the stories. Regardless, this long-awaited set is a keeper, and makes me hope that Paramount will be much quicker in getting future seasons out.
How is it that 11:14 (New Line, Rated R, DVD-$19.97 SRP) went almost unreleased in theaters, and was met with indifference? Five lives hinge on a single moment in a small town, involving a disastrous blend of murder and happenstance that seemingly begins when a young man's life goes to plaid as the clock turns to 11:14pm. The twists and turns are half the fun, and the cast – which includes Rachel Leigh Cook, Hilary Swank, and Patrick Swayze – are pitch perfect. Films like this so often can be too clever for their own good – his one manages to pull it off. Bonus features include an audio commentary with director Greg Marcks, deleted scenes, a making-of featurette, and a storyboard gallery.
Since Buffy crashed and burned at the end, leaving me disappointed with what had once been a brilliant show, it's left me without a show featuring a strong female protagonist that I could latch on to and enjoy. Well, Veronica Mars (Warner Bros., Not Rated, DVD-$59.98 SRP) managed to fill that spot, and without the help of vampires or a Hellmouth. Nope, all it took was ubercutie Kristen Bell and her season long turn as a small town Nancy Drew in search of the person who murdered her best friend and restore her ex-sheriff father's tarnished reputation, as he was forced to resign after accusing the girl's billionaire father of the murder. By golly, I like this show. The 6-disc set features over 20 minutes of unaired scenes and an extended version of the pilot.

If someone were to make a big screen version of The Critic as a cross between an SNL character flick and a Christopher Guest improv-a-thon, you'd probably wind up with the not-as-brilliant-as-should-be Jiminy Glick in LaLaWood (MGM/UA, Rated R, DVD-$24.96 SRP), starring Martin Short as his large alterego who perfectly encapsulates a kind of clueless entertainment journalism that is far too prevalent. The film is funny enough to make it an enjoyable watch, but the real highlight is its deft skewering of David Lynch. Just trust me on this. As far as bonus features go, you get what you'd expect from this type of flick – plenty of deleted scenes.
The fire may have waned as we put more distance from the last installment of Peter Jackson's Lord of the Rings films, but that doesn't mean you should refrain from picking up a copy of Alan Lee's beautiful Lord of the Rings Sketchbook (Houghton Mifflin, $30.00 SRP). Containing over 150 illustrations and 20 full-color plates, it's a tome that you'll flip through with eyes fully agog.

With the release of Soap's fourth and final season (Sony, Not Rated, DVD-$29.95 SRP), the twisted, hilarious tale of sisters Jessica Tate (Katherine Helmond) and Mary Campbell (Cathryn Damon) – and their dementedly surreal extended families – comes to an end, but oh what an end it is. Jessica awakes from her coma only to get kidnapped by counterrevolutionaries, Mary fears her newborn baby is the spawn of her tryst with an alien Burt (Richard Mulligan), while the real Burt is being blackmailed by a mob boss who staged a series of naughty photos, Jodie (Billy Crystal) wins custody of his daughter but is threatened by the mother… Oh, it's all too much. If you've never seen the show, grab all 4 seasons, buckle down, and enjoy a truly classic sitcom (although the early seasons slightly edge out the latter, if only due to the presence of Robert Guillaume as caustic butler Benson).

Launched in 1974, Los Angeles-based Z Channel was one of the country's first pay cable stations, serving up an eclectic programming slate that left a memorable mark on those who viewed its offerings – a slate that went into overdrive when Jerry Harvey took over as head of programming in 1980. Z Channel: A Magnificent Obsession (Hart Sharp, Not Rated, DVD-$24.99 SRP) chronicles the rise and fall of Z Channel, much of it in tandem with Harvey's descent into madness and a shocking murder/suicide. The 2-disc set features extra interviews, and AFI panel, commentary, a radio interview with Harvey, and more.
I have always – always – been a bigger fan of The Jeffersons than All in the Family. Family is, inarguably, a landmark show, but The Jeffersons always made me laugh more when I would watch back-to-back episodes in syndication growing up. It's been a long, long, LOOONG time coming, but the 3-disc third season (Sony, Not Rated, DVD-$29.95 SRP) – featuring all 26 episodes – is finally here after a multi-year wait. They better get the next piece of the pie to us a lot quicker.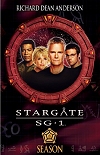 Will nothing stop Stargate SG-1? Entering into its 8th season (MGM/UA, Not Rated, DVD-$55.95 SRP), it became the longest-running science fiction shows in US TV history (second only to Doctor Who on the world stage). The 8th season also brought Michael Shanks back to the cast after a brief hiatus, and saw the fallout of season 7's alien invasion, plus some cast goodbyes (one in death form) and a continued reduction in the presence of one Richard Dean Anderson. Bonus features include audio commentaries and featurettes… But not additional Richard Dean Anderson.
Who needs Vin Diesel when you can have the high-octane thrills of the original Gone in 60 Seconds (BCI, Rated PG, DVD-$24.98 SRP), fully remastered and loaded with extras, including behind-the-scenes featurettes and documentaries?
Warner Bros. continues to earn mucho brownie points from me for their offbeat yet most welcome collections of catalogue titles, the latest being a collection of 9 horror classics from producer Val Lewton, contained within the appropriately titled Val Lewton Collection (Warner Bros., Not Rated, DVD-$59.92 SRP). The films in question are Cat People, The Curse Of The Cat People, The 7th Victim, Shadows in the Dark, The Leopard Man, The Ghost Ship, I Walked With A Zombie, The Body Snatcher, Isle Of The Dead, and Bedlam. All are genre classics, but the pairing of Cat People and the non-sequel Curse of the Cat People is the real keeper here. Bonus features include commentaries, trailers, and a new documentary, Shadows in the Dark: The Val Lewton Legacy.
Get ready to hardy har har for the holidays with a festively-themed collection of the common man's funniest bits on America's Funniest Home Videos: Home for the Holidays (Shout! Factory, Not Rated, DVD-$14.98 SRP), culled from the Tom Bergeron era. Come on, candy cane to the crotch!

A far less guilty pleasure to ring the holidays season in early is Christmas with SCTV (Shout! Factory, Not Rated, DVD-$14.98 SRP), which features the two legendary holiday episodes of the equally legendary comedy classic – "SCTV Staff Party" (in which John Candy's Johnny LaRue gets his face-to-face time with Santa after a holiday "Street Beef" gone south) and "Christmas with Catherine O'Hara and Andrae Crouch." Both episodes feature audio commentaries, and there's even a featurette on the Juul Haalmeyer Dancers.

Unleashed (Universal, Not Rated, DVD-$29.98 SRP) is one of those small little films that you expect so little from and, therefore, manage to catch you completely by surprise. It's also Jet Li's most nuanced performance, as a man raised from childhood by a brutal crime lord (Bob Hoskins) with only one purpose – to be his own personal killing machine. He manages to get free and finds his way to a blind piano tuner (Morgan Freeman) who takes him in, but his past is not far behind. Think of it as a martial arts version of Pete's Dragon… Just think about it. The DVD features an unrated, extended cut of the film, plus a look at the fight sequences, a behind-the-scenes featurette, an interview with director Louis Leterrier, and music videos.
I love it any time a classic Hollywood icon's catalogue gets the restored DVD treatment, which Warner Bros. has elevated to an art as of late. It's ironic, then, that one of the restored John Wayne classics getting that treatment from Paramount was originally a Warners flick – Hondo. Obviously, the rights to both that and McLintock! (Paramount, Not Rated, DVD-$14.99 SRP each) – the other film getting all snazzed up – have reverted back to Wayne's Batjac Productions. Both films look and sound wonderful, and bonus features include commentaries (Leonard Maltin, western historian Frank Thompson, and actor Lee Aaker on Hondo – Maltin, Thompson, Maureen O'Hara, Stefanie Powers, Michael Pate, Michael Wayne, & Andrew McLaglen on McLintock!), introductions from Maltin, behind-the-scenes featurettes, interviews, trailers, and more. I can't wait to see what's next.

The real highlight of The Beatles: From Liverpool to San Francisco (Eagle Vision, Not Rated, DVD-$9.98 SRP) – an otherwise forgettable and cursory documentary overview of the Fab's career – is the rare television appearances peppered throughout. For those alone, the disc is worth picking up.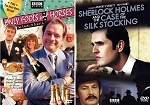 BBC continues to roll out classic TV product, both new and old. On the old side, there's the latest volume of Only Fools and Horses (Not Rated, DVD-$59.98 SRP), featuring the complete 6th series plus the 1989 Christmas special The Jolly Boys' Outing. Rightfully considered a classic of British comedy, it focuses on the failed schemes of cockney con man Derek Trotter (David Jason), who's convinced the big score is always right around the corner. His kid brother (Nicholas Lyndhurst) is continually pulled in and tries to offer some vague sense of reason, but it doesn't stop Derek from reaching for the brass ring. On the newer side, there's Rupert Everett as the titular detective in Sherlock Holmes and the Case of the Silk Stocking (Not Rated, DVD-$19.98 SRP), as Holmes and Watson (Ian Hart) reunite to track down a serial killer tearing apart the aristocracy in 1902 London. The DVD feature commentary with director Simon Cellan Jones and producer Elinor Day.

It's not prime Will Ferrell, but there's a marginally-likeable family flick nature to his turn as a frustrated father-turned-soccer-coach in Kicking & Screaming (Universal, Rated PG, DVD-$29.98 SRP), as the formerly mild-mannered Phil Weston (Ferrell) becomes a raving nutter on the field, eventually going up against the team coached by his hard-as-nails dad (Robert Duvall). The disc features deleted scenes, outtakes, a behind-the-scenes featurette, and more.