In less than a month, I'll be holed up in muggy Atlanta, siting on panels, waxing Plumosophic, and co-hosting the 3rd annual mega-colossal Needcoffee Seventh Annual Gonzo Moving Pictures Extravaganza at DragonCon. Here's hoping you're all booked for a fun-filled weekend of me looking the fool.
First off, another one of those program notes (since I've been in a nonfiction mood lately with my limited TV-viewing) – The History Channel's documentary Ape to Man airs this Sunday, August 7th, at 9pm/8c. Detailing the quest to fully trace the evolution of, well, ape to man, it's a fascinating look at the convergence of genetics, archeology, and history.
Although I'm loathe to answer the question, if pressed to name a favorite film I would most certainly place the original Ghostbusters towards the top of the list. Every kid has a film that was released at just the right time to resonate with them (and completely ensnare their imagination so fully that they dress up in their father's flight suit, strap on a proton pack made from an old concentration game and a microphone, and patrol the neighborhood on their bike for specters… but I digress…), and this film fit the bill during my impressionable youth. Although the new 2-disc Ghostbusters Gift Set (Sony, Rated PG, DVD-$19.94 SRP) doesn't contain anything truly new in terms of special features compared to the original releases of the film and its sequel (save for the inclusion of a pair of episodes from the Real Ghostbusters cartoon and the odd exclusion of the first film's video commentary feature), it does sport brand new, quite spiffy transfers for both flicks – which, frankly, is a good enough holdover for me, until the uber-edition comes out (featuring the must-have Ray Parker, Jr. music video). There's also a quickie "scrapbook" included in the package which features some artworks and pics from the film, but it's really neither here nor there in terms of desirability.

Believe it or not (and yes, I did have to go for the obvious opening line), but the 3rd and final season of The Greatest American Hero (Anchor Bay, Not Rated, DVD-$39.98 SRP) is already hitting DVD. It seemed like only yesterday that the beloved "classic" TV series was one of those programs being loudly pined for by pop culture geeks the world over… And now it's all over. There are no bonus features this go round, but who cares? We've got the whole series now!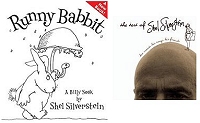 It seems like such a simple concept – swap the first letters of words in your prose, and watch as the verbal delights unfold. It may sound simple, but it took the late Shel Silverstein (he of Where the Sidewalk Ends & A Light in the Attic) to make it the instant classic that is Runny Babbit: A Billy Sook (Harper Collins, $17.99 SRP). While you're entering that world, why not pick up The Best of Shel Silverstein (Columbia/Legacy, $11.98 SRP), a disc collecting Silverstein's classic prose and songs, and a must-have for any child you may happen to know… Including yourself.
The last few seasons were painfully awkward (in that "the time has come to call it quits" kind of way), but it takes only the first few minutes of The Cosby Show's premiere episode to remind me just what a truly funny (and groundbreaking) sitcom it once was. Based largely on Cosby's stand-up (in fact, some of the bits are recreated nearly verbatim), you instantly get swept up in the family Huxtable, without the sense of treacly sap that eventually swallowed up the family comedy genre during the rise of ABC's "TGIF" block. Check out the first season (UrbanWorks, Not Rated, DVD-$49.99 SRP and see if you don't agree. The 5-disc set features all 24 episodes, plus the 90-minute Cosby Show: A Look Back special, deleted scenes, bloopers, audition footage, celebrity guest appearances, and cast retrospectives. A caveat, though – for some ungodly, unknown, and unforgivable reason, the set features the syndication cuts of the episodes – which means there's tons of material missing. What's the deal, people? I hope this issue is rectified post-haste – this show deserves better.
When I travel, I often bring plenty of movies with me to fill any downtime. The only problem is that I've always hated – HATED – the tinny sound you get out of laptop speakers. Compounding the problem, I recently bought myself an MP3 player, and those speakers just don't cut it when I want to cue up some music to listen to whilst working (something I'm doing right now, as Queen's "Bohemian Rhapsody" plays). I've explored the option of portable speakers in the past, but always encountered models that were far too clunky to travel with, and didn't feature terribly great sound, either. Thankfully, I've finally found a solution in the Gen3 Portable Speakers from Sonic Impact ($59.99 SRP). Measuring only 4" tall, they feature aluminum-skinned flat panels for maximum high/low frequency response, and a 1 watt per channel (RMS) effective output of a 3 watt per channel system (bottom line – they sound great). Even better, they run on only 4AAA batteries (a USB power cord and AC adapter is available via their website). Heck, you even get a hardcover case for easy transport (which makes it about the size of a small, thick notebook). These are truly beautiful marvels of engineering, and – joy! – it means I can watch movies and listen to music on trips without wanting to drive pencils into my ears… Quite a boon, that.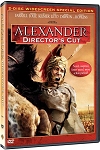 Various groups were up-in-arms when Oliver Stone announced he would be editing the DVD release of his historical epic Alexander (Warner Bros., Rated R, DVD-$29.95 SRP), claiming it would be excising the content related to the Great one's flexible sexual preferences. Well, they needn't have been worried – that material is still here, but the "tightening" Stone did to the film does little to make it an enjoyable experience, as it still is a draggy, ponderous affair that is ill-served by the miscast Colin Farrell, who plays the role as a pissy Russell Crowe-lite. The 2-disc set features an incredibly defensive audio commentary with Stone, a trio of behind-the-scenes documentaries, a features on the Vangelis score, and the theatrical trailers.

Spend this Saturday morning being completely weirded out in a disturbingly enjoyable way watching Saturday Morning with Sid & Marty Krofft (Rhino, Not Rated, DVD-$14.95 SRP), featuring the premiere episodes of Krofft classics H.R. Pufnstuf, The Bugaloos, Lidsville, Sigmund and the Sea Monsters, Land of the Lost, The Lost Saucer, and Far Out Space Nuts. There's also a interviews and a Lidsville commentary with George Lopez. Proceed to full freak-out mode.

If you have fond memories of when you were actually interested in the mythology that eventually devoured The X-Files, be sure to pick up the second volume collecting those episodes from seasons 3,4, & 5, The X-Files: Black Oil (Fox, Not Rated, DVD-$39.98 SRP), which contains commentaries on selected episodes and the first part of a brand new mega-documentary, "Threads of Mythology."
Even though there's definitely something lost in the translation to a smaller format, I still get a kick out of the films produced for IMAX – if only because they tend to contain some of the most stunning visuals you'll ever see, regardless of the medium. Such is the case with the IMAX look at the International Space Station (Warner Bros., Not Rated, DVD-$19.98 SRP), and by golly, the views of our planet are truly spectacular. The DVD includes an audio commentary with director Toni Myers and astronaut Marsha Ivins, audio/visual tours of the station, a featurette, and a gallery.
Clearly the precursor to today's reality TV craze, the idea of filming everyday people for the entertainment of the TV audience at home started with Allen Funt's Candid Camera way, way back in 1949(!). You can now experience the choicest of highlights spanning a half-century in the 10-disc Candid Camera: 5 Decades of Smiles set (Rhino, Not Rated, DVD-$99.95 SRP). The earliest material is still the funniest (before the era of America's Home Videos made watered-down versions of the classic Funt "gotcha" moment de rigeur, abandoning the borderline sadism of some of the original setups), and it's still shocking to see the material Funt captured in the controversial 1960's episode in which he snuck cameras into the Soviet Union.
Jeff Lynne was a shameless as Oasis when it came to their slavish love of the Beatles showing up in their songs, but I could really care less when the tunes are as infectious as the ones featured on the newly-remastered All Over the World: The Very Best of Electric Light Orchestra (Epic/Legacy, $18.98 SRP). I hereby dare anyone dismissive of Lynne and ELO to listen to "Mr. Blue Sky" and not get caught up in its unbelievably infectious execution… It's an unresistable impossibility, I tell you! Of course, I still don't know why Simon is on the cover…
As flawed as Katsuhiro Otomo's Victorian-era steampunk epic Steamboy (Sony, Rated PG-13, DVD-$26.96 SRP) is, it's required viewing for the breathtaking visuals alone. And honestly, after a legendary flick like Akira, it's hard for anyone to live up to their legacy, but there's just something about Steamboy – which tells the tale of young inventor Ray Steam, who uses his steam-powered mechanical devices to fight off a mysterious invading force of futuristic war machines decimating London – that just never comes together, and it's a shame, because this is so very, very close to being the follow-up it should be. The DVD features a featurette on the English dub, an interview with Otomo, a landscape study, the end credits sequence sans text, production drawings, and animation onion skins.
In this age of DVD glut, it's a bonus when a pair of classic – yet long-unreleased – titles from a major Hollywood legend make it to market, and such is the case with the John Wayne's The High and the Mighty (Paramount, Not Rated, DVD-$19.99 SRP) and Island in the Sky (Paramount, Not Rated, DVD-$14.99 SRP). Both titles have been beautifully restored and remastered, and are filled to the brimming with bonus features, including commentaries, featurettes, trailers, newsreel footage, and much, much more. It's an added bonus that both films are pretty damn good, too.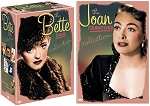 While we're touching on screen legends being well-served by DVD, be sure to check out the recently-released pair of box sets spotlighting two of the most iconic actresses ever to hit Hollywood via the Bette Davis and Joan Crawford collections (Warner Bros., Not Rated, DVD-$49.92 SRP each). The Bette Davis set features The Star, Mr. Skeffington, Dark Victory, Now, Voyager, and The Letter. The equally impressive Crawford set features Humoresque, Possessed, The Damned Don't Cry, The Women, and Mildred Pierce. All the films are beautifully remastered and loaded with extras, including commentaries, featurettes, trailers, shorts, and more.
It's not a terribly clever take on the classic Guess Who's Coming To Dinner – in this, a white fiancé (Ashton Kutcher) surprises his wife-to-be's black family, including her none-too-happy papa (Bernie Mac) – but there's enough entertainment in Guess Who (Sony, Rated PG-13, DVD-$28.95 SRP) that I can't completely dismiss it. Don't you hate when that happens? Bonus features include an audio commentary with director Kevin Rodney Sullivan, deleted scenes with optional commentary, a making-of featurette, and a tepid gag reel.

Years before his show for Thames television took off like a rocket and made him a worldwide star, Benny Hill launched the original Benny Hill Show on BBC in 1955. Still cheeky but not nearly as slapsticky as he would eventually become (but oh, so funny), the best of those early years are collected on Benny Hill: The Early Years (BBC, Not Rated, DVD-$19.98 SRP). Originally available on VHS, the DVD edition has been expanded with 34 minutes worth of additional sketches. The only thing missing is the yackety sax.